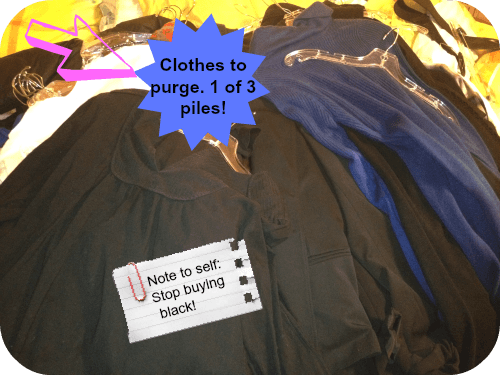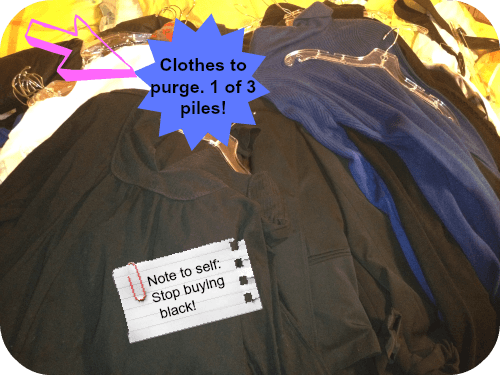 It's still warm in Minneapolis, but with the Jewish High Holidays around the corner, my inner rhythms told me to clean out my closet. I don't mean that as a euphemism for a "spiritual house" cleaning. I'm talking about my actual closet, the one that holds my clothes.
Now, I don't want anyone thinking I'm materialistic for associating the High Holy Days with closet clean-out time. If you read this blog or know me in person, then you're probably aware that I'm about as Jewey McJewerson as they come.
To tell you the truth, I DO accomplish a little spiritual reflection around this time as well, which usually results in me committing to one new Jewish "activity." Sometimes the commitments are enormous. Six years ago, for example, I decided to start using the mikveh. A few years later I began making big meals for the nights of Sukkot. During past High Holiday seasons of my adult life, the spiritual additions have been smaller in scale, but much more difficult like thinking before I speak. (Haven't quite mastered that one yet.)
So don't you worry. I might be talking about jeans and dresses for the rest of this post, but over the next week or so I'll take the time (probably not on the blog, not sure) to analyze the deeper elements of my life. In the meantime, I've been busy uncovering the hard truths about my wardrobe. Friends, I have to tell you, the findings are not good.
10 THINGS I LEARNED FROM MY BIGGEST CLOSET PURGE
EVER

*

*Why EVER? I actually clean out my closet all the time. It's kind of a sickness. However, this time clean out was very different. It was a serious purge. For the past eight years as I've been either pregnant, nursing, or planning to get pregnant again, I've held on to clothes that I thought I might need for those "let me hide in this giant black sweater" times. We are now beyond those times. Hence, the most ruthless closet purge "EVER."

1. I own three ill-fitting black blazers and one gray one. I had to ask myself how these blazers made the cut every other time I looked for clothes to give away. Maybe it's because two of them were from expensive suits that my parents bought me when I needed nice clothes for my engagement parties and wedding showers. Which were twelve years ago. TWELVE. The discovery of the blazers also begs the question, why was I dressed in stuffy business attire for my wedding showers? Mom, I know you're reading this. I want answers. UPDATE: My mom responded in the comments section.

2. Every item I bought at Neiman Marcus's discount store "Last Call" has sat unworn for years. Which means it's time to let those items go. It's also time to stop saying, "I'll probably wear this," when I'm about to buy anything, no matter how discounted. Unless I have an occasion in mind, I cannot purchase it no matter how great the deal is. Period.

3. Apparently most of what I buy is black. See the picture at the beginning of this post of the clothes I'll either consign or donate. There are two more piles like it in front of my bed. Enough said.

4. Wool + short sleeve = completely nonsensical.  In what universe is it cold enough for wool, but hot enough for short sleeves? I vow to never buy a dress or sweater in that combination again.

5. I own a lot of clothes from Old Navy and Target's "teen" section. There is nothing wrong with this, it's just an interesting observation. (Interesting to me, at least.) It also explains #6.

6. Every casual dress I own is too short. Because I am 35, not 15.

7. I love jeans, and I own practically no shirts. I really need to stop buying jeans. I have every style and size that I could ever need, but of course I wear the same pair all the time.

8. Every sweater I own is pilled. Which is why I'm donating all of my sweaters.

9. None of my nice black pants fit. Because it's not 1998, and I'm not running around in black pants every day. Unless they are yoga pants.

10. I have nothing to wear for the High Holidays. See how I pulled it all together here? If you go to my synagogue, I'll be there in one of the aforementioned ill-fitting blazers. I hope you'll come over and say hello!



Thought you guys might enjoy Rebecca and Elissa dressing up in some finds from the giveaway pile. You have to admit they're pretty
cute. The girls, not the Old Navy t-shirt dresses.
The following two tabs change content below.
Nina Badzin is a freelance writer, a lead writing instructor at ModernWell in Minneapolis as well as ModernWell's book club director. She reviews 50 books a year on her blog, writes reviews for other sites, and has a friendship advice column at The HerStories Project. She lives in Minneapolis with her husband and four children.
Latest posts by Nina Badzin (see all)