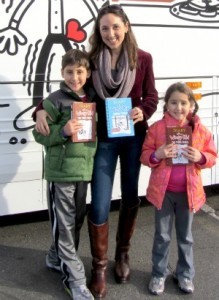 Today I'm sharing the literary highlight of the year for the Badzin household. Sam, Rebecca, and I met Jeff Kinney, author of The Diary of a Wimpy Kid series! Or as I like to call it, The Books that Got My Son to Read series.
I was thrilled when I heard that my blogging friend, Hallie Sawyer, got us a last-minute connection with Kinney's PR people to attend any of the Wimpy Kid events in the Twin Cities.
Okay, at first I wasn't thrilled.
First I thought, this won't work. The after school event was all the way in St. Paul at the worst time of the day to drive. I don't think I've mentioned this on the blog before, but I'm a total WIMP about driving outside of my 5-mile comfort zone. And no, Minneapolis and St. Paul are not mere minutes apart.
The evening event at Mall of America was going to be way too packed, which left only one choice–Wild Rumpus.
Wild Rumpus is a wonderful children's bookstore located in a charming and easy part of town. BUT, it would mean taking the kids out of school early. And I'm not the kind of cool mom who takes the kids out of school on a whim. I'm not the kind of mom who does anything on a whim, really. Picture me with a tight bun, a pencil in my hair, and little glasses that sit at the end of my nose. It's not what I look like on the outside, but it's how I feel on the inside–prim and wound tight.
But don't worry because an hour later I thought, Why can't I, just this once, BE the cool mom. I called Mr. Kinney's PR guy to find out where we should meet the Wimpy Kid tour bus (a special treat for local bloggers and their kids). Then I called the school and asked them to have Sam and Rebecca waiting for me in the office. We rushed to Wild Rumpus, barely making it on time to get a tour of the bus before the signing inside the store.
Sam's and Rebecca's favorite part of the afternoon, aside from the surprise of leaving school early, was watching Mr. Kinney make a small sketch of a Wimpy Kid character near his signature. MY favorite part was seeing kids sprawled around the store reading book #7. We also saw kids reading on benches outside and in Sebastian Joes where we went for big scoops of ice cream immediately after the signing. One boy at the ice cream shop was already halfway through the book.
"How is it?" I asked him. He said it was "the best one." But the absolute most important moment was when the boy told us he was in fifth grade. I watched Sam's face and entire demeanor light up with pride. Sam, a second grader for whom reading has not been the easiest subject, felt excited about going home to read the latest installment of his favorite series (a series I've mostly read to him until recently). And he felt proud that he would be able to do it on his own.
Want a chance to win a copy of the newest Diary of Wimpy Kid book or ANY of the Wimpy Kid books? This is my easiest giveaway ever. Rules are below.
Our Diary of a Wimpy Kid Afternoon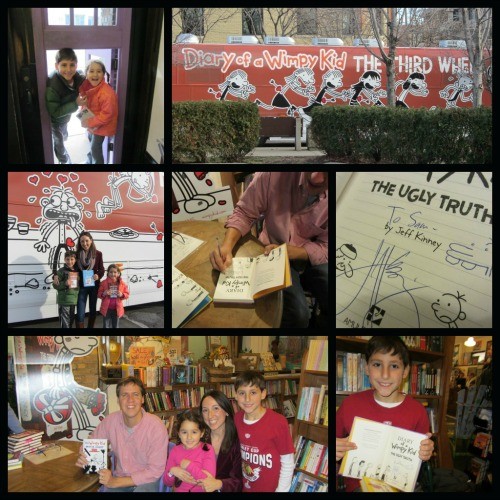 HOW TO WIN A FREE WIMPY KID BOOK
All you have to do is leave a comment saying you want a book. ONE random winner will get a brand new copy of any book in the series you want straight from the publishers. It's that easy. You have until Monday, 11/26 at midnight to enter.
AND SPEAKING OF GIVEAWAYS . . .
I'm excited to announce the SIX winners of my two-year blogging anniversary prize party.  I used randompicker.com, which I 100% recommend because it was insanely easy to use and actually kind of cool. Here's what the site spit out:
Allison Lynn
Jenny Fuller
Lara Schiffbauer
Julia Monroe Martin
Carrie @Tempo Life Coaching
Tiffany Drew
Congrats to the winners and thanks to everyone else who entered. I appreciated the support so much on last week's post. The winners should email me right away at ninabadzinblog@gmail.com so we can discuss logistics. Also, I'm too lazy to go back and see what you said you wanted to win so you get to pick again. Your choices are a book from my 2012 Reading Challenge list, a $20 gift card to your favorite independent bookstore, a gift card for a barre class, or a blogging consultation from me.
Photo credits: Nina Badzin (all me this time you guys!)
The following two tabs change content below.
Nina Badzin is a freelance writer, an advice columnist at The HerStories Project, and a co-founder of The Twin Cities Writing Studio. She lives in Minneapolis with her husband and four children.
Latest posts by Nina Badzin (see all)