I'm a little too good at keeping my world small and simple. It's a control thing. I suffer from the need for that– for the sense, however false, that I have a handle on all the spinning plates, that nothing will blindside me.
I've always been like that, even before I had kids. Whatever tiny inclination of adventure and spontaneity I had before I became a mom is mostly gone now.
But I'm not complaining about this stage of my life. When I was sixteen I used to feel not quite like a "normal" teenager. I liked going to Broadway shows, or the sushi restaurant near my house, or staying in with friends or my boyfriend to watch a movie. I loved to read. I genuinely hated doing "cool kid" stuff like looking for a party. I felt the same way in college. I think I was always sort waiting for the time when it was socially acceptable to just be boring old ME.
And here I am at 36. I love it! I feel so lucky that I get to be a mom, a wife, a writer and a member of my community. I know that the thirty-something heroine of every novel and sitcom inevitably complains about living in the suburbs; complains about how bored they are, etc. As it turns out, I'm very well-suited for suburban Mom life. It's 100% my speed and I would not trade any part of it.
However, like I said, I am a bit too good at keeping my world and my "community" small. I feel put out if I have to drive more than fifteen minutes away from my house or my kids' schools. I have a mini-anxiety attack if I'm going somewhere unfamiliar and I get lost or I don't know where to park and so on. I'm completely ungraceful about last minute schedule changes for my kids or for me. Believe me, I realize that this nervous-nelliness is not among my most attractive qualities.
People might not understand what I'm saying because here I am with this blog where I often express my  opinion about this, that and everything. I'm not saying that I'm uncomfortable "putting myself out there" when it comes to the computer screen or the printed page. I'm saying that given the choice between staying home and traveling I would pick STAY HOME every single time. I could eat the same thing every day for a month. See the same people. Do the same exercise. It's a physical "smallness" and simpleness I'm talking about.
I tell you all of this to explain why it was a BIG DEAL that I auditioned for Listen to Your Mother (a live show with readings about motherhood started by writer and blogger Ann Imig in Madison in 2010 that has been produced in increasingly more cities for the past three years, but is coming to the Twin Cities for the first time on May 9th).
Around 75 writers in the Twin Cities submitted essays. Thirty-five of us were asked to audition. The audition entailed reading our pieces to the directors and producers in a random warehouse in St. Paul. I'm not kidding when I say that shlepping to and finding that random warehouse was harder for me than the actual audition.
I was thrilled, but also nervous when I learned that I'd earned a spot in the cast of fourteen. I worried that my essay would seem silly compared to the others. I worried that some unforeseen issue would keep me from the rehearsals, which were in neither a location nor on a day of the week that fits into my life in any way whatsoever. I worried I'd lose my spot if I couldn't make it. Or worse, I'd keep my spot, but have no idea what I was doing. I'm still completely anxious about figuring out the schedule for the day of the show. Don't I sound like a barrel of fun?
The entire process has reminded me how easy-breezy I keep my life and how important it is to push myself  to do new things, to figuratively and literally drive out of my way.
The good news is that I made the rehearsal last weekend with no problems! I can't tell you what a fantastic show this will be and how honored I am to read my work among the heartfelt words of these other writers. There are laughs in the show and plenty of tears. I'm excited to be part of a new community of women I would never have met in my otherwise "simple" life.
If you live nearby I hope you'll consider coming! The show is at 7PM on May 9th at the Riverview theater in South Minneapolis. Tickets are $15 and the info is here.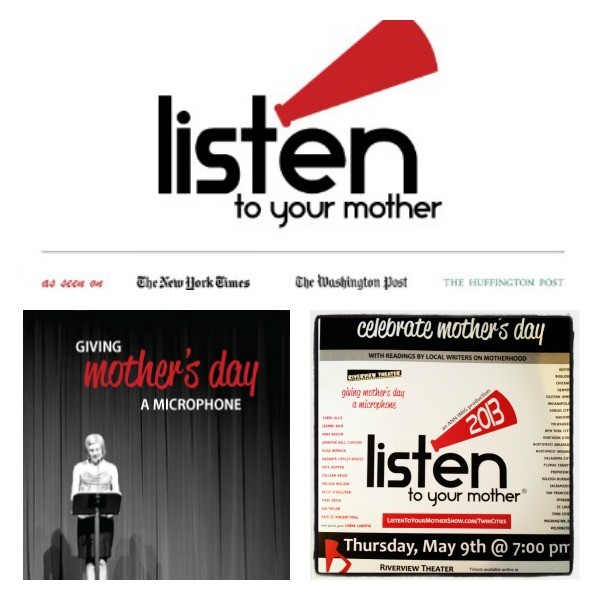 The following two tabs change content below.
Nina Badzin is a freelance writer, an advice columnist at The HerStories Project, and a co-founder of The Twin Cities Writing Studio. She lives in Minneapolis with her husband and four children.
Latest posts by Nina Badzin (see all)