I considered several titles for this post.
– I Have Nothing to Wear: A Sob Story
– I Don't Know How to Dress in the Summer 
– I Never Developed a Sense of Style
– I Hate Everything in My Closet
– I Have a Seriously Bad Attitude about Clothes
I wrote about my clothing woes once before when I did the biggest closet purge ever about a year after giving birth to my fourth child. In that post I explained that my closet problems have nothing to do with organization. Since I rarely feel attached to the clothing I own, I don't find it hard to give stuff away. In fact, I hate most of my clothes. I really do. I'm aware that the previous paragraph makes me sound like a petulant tween. And since I'm normally of the "if you don't like it DO something about it" mentality, I decided to finally call my friend Lisa Kotlarz, who happens to be a professional wardrobe consultant and owner of her own business, Style Update.
Being a wardrobe consultant means Lisa will come to your house and organize your closet; she'll create new and fun outfits from the clothes you already own; and she'll shop with you or for you when you're ready to add to your wardrobe or even change your look. I love that Lisa will work with what I already own since going on some kind of shopping spree is not part of my plan (or my husband's). She's coming over tomorrow morning and I'm really excited.
Okay, I'm also a little nervous.
I've known about Lisa's services for a while, but I was nervous to make an appointment. I was afraid to admit to Lisa how clueless and aimless I feel when I'm shopping, how unoriginal I feel when I walk into a room, and how simultaneously overwhelmed and underwhelmed I feel whenever I have to get dressed to leave the house in anything other than workout clothes. I'm overwhelmed by the task of trying to look put together and underwhelmed by the same old lame/safe choices in my closet (even if those items are brand new). I feel especially ill-equipped to put outfits together in the summer. Once in a while I'll wear shorts, but I don't feel quite right, at 36, with that much skin flashing all over creation. I have a hard time finding casual dresses, and I don't know how to put together tops and skirts in a way that works.
I suppose I'm a little more conservative in my style and comfort level than some other women my age, which is why I often feel dowdy and over-layered. I'm not planning to show more skin. I'm simply hoping Lisa can help me stay true to what I like, but in a way that looks fresh. Figuring Out My Sense of Style (OR AT LEAST THAT'S THE PLAN!)
Lisa gave me the same pre-appointment assignment and questionnaire that she gives all of her clients.
#1. I had to organize my closet by clothing type. (Easy for me!)
#2. I had to pick out five of my go-to outfits or wardrobe pieces for her to see when she gets here. (Easy. I often wear the same things.)
#3. She suggested I cut out pictures from magazines that inspire me, or make a Pinterest board.
#4. I had to answer some questions such as the following:
– Which well-known woman's look do you feel resembles yours? (I don't know. None.)
–What words would you use to describe your style? (I have no idea. That's the problem.)
Those questions stumped me. Even answering where I shop and why (Target and Old Navy. Because I'm there.) gave me something to think about, which was: I don't put much thought into my wardrobe AT ALL. And this is why I ultimately felt drawn to call Lisa in the first place. I'm ready to–please forgive this expression–"own" my look. I don't want to feel sheepish when I walk into a store.
I don't want to feel inept when I get dressed. Is wardrobe happiness a life or death issue? NO, obviously it isn't. But we do have to put clothes on every day. Why not make it a fun, true reflection of our identities? The goods news is that I'm not a total lost cause. Thanks to Lisa's assignment to make a Pinterest board of looks I like, I can feel good knowing that I DO like some of my wardrobe (jeans, jackets, and tall boots). However, I seem to like ONLY that look, which will not necessarily help me in the summer.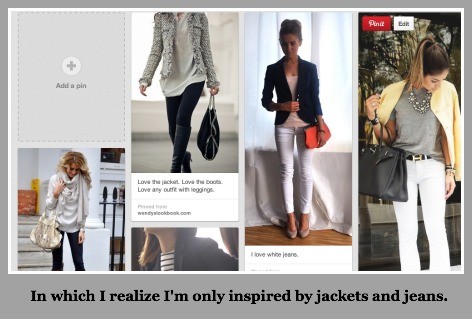 So, Lisa is coming tomorrow with a camera and with her honest eye. I will report back next week! In the meantime, follow Lisa on Facebook, Twitter, and Pinterest. She's always offering great ideas. Happy Independence Day! Nina 🙂

The following two tabs change content below.
Nina Badzin is a freelance writer, a writing workshop leader at ModernWell in Minneapolis, ModernWell's book club host, and the friendship columnist at The HerStories Project. She reviews 50 books a year on her blog and writes essays, short stories, and articles for other sites and print magazines. She lives in Minneapolis with her husband and four children.
Latest posts by Nina Badzin (see all)