How to Give a True Compliment:
Oh, you thought I would have the answer to that? This week at Brain, Child Magazine I'm discussing our culture's hyperbolic way of talking and writing about every detail of life. The most ordinary meal is "amazing." Each picture a child brings home is "gorgeous." I'm as guilty of this overuse of over-the-top adjectives as anyone, but I'm trying to get back down to Earth.
Come and chat with me about it at Brain, Child. (If I were not trying to tone it down a bit these days, I would have added a !!! to the end of that sentence.)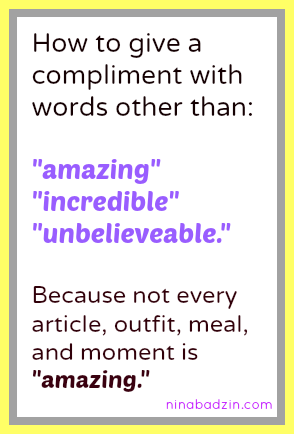 The following two tabs change content below.
Nina is a freelance writer with work that has appeared regularly at Brain, Child Magazine, Kveller.com, The Huffington Post, The Jewish Daily Forward, Tcjewfolk.com, Writerunboxed.com, and elsewhere. Her short stories have appeared in over a dozen literary magazines. She was thrilled to participate in the 2013 cast of Listen to Your Mother, and she enjoys co-leading the book review site GreatNewBooks.org. Nina lives in Minneapolis with her husband and four children.
Latest posts by Nina Badzin (see all)