For this week's quick Friday Find I'm excited to tell you about The Theory of Opposites by New York Times bestselling novelist, Allison Winn Scotch.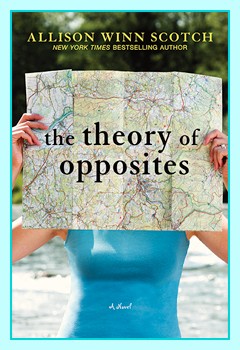 I read the The Theory of Opposites on my trip to New York last week and loved having a fun, thought-provoking story to read on the ride. Fans of Winn Scotch's work will love this story of considering what life might have been like if you had taken another path. The plot, in which the main character, Willa, and her husband take a two month break, will force you to think about fate versus free will and the consequences of our decisions. I don't want to say more because I hate when people ruin the story for me!
I will tell you, however, that Winn Scotch's publication story for Theory, her fifth book, is an interesting one, too. An industry expert, she made the informed decision to self-publish her latest book instead of going with the traditional method. Her latest news is that Jennifer Garner's production company already picked up the film rights.
But the best news FOR YOU is that one* commenter will win a brand new copy of the book! Just leave a comment saying you'd like to be entered. AND let me know if you're in the fate or free will camp? Do things happen for a reason or is everything random? If you're not sure or you're undecided, you can say that too.
*The winner will be chosen using randompicker.org on Friday, November 29th.
Meanwhile, there are still two days left to enter my three-year blog anniversary giveaway. I'm letting you choose ANY book you want to read that was published in 2013. Hey–maybe you'll be the winner two books. You never know!
Disclosure: I was provided with a free copy of The Theory of Opposites in exchange for an honest review. All opinions are mine.
The following two tabs change content below.
Nina Badzin is a freelance writer, an advice columnist at The HerStories Project, and a co-founder of The Twin Cities Writing Studio. She lives in Minneapolis with her husband and four children.
Latest posts by Nina Badzin (see all)