You might think the two subjects of my failed novels and vacation compatibility have nothing in common. Well, you would be right. Nevertheless, I have two essays to point you towards this week and those two topics.
On Brain, Child Magazine, I talked about my parents' vacation compatibility, and the moment I realized that my husband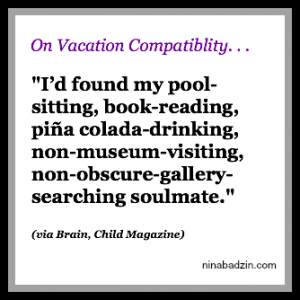 and I had our own version of the "perfect" trip that was very different from the only version I thought existed. There's also a fun picture of my parents, my sisters, and me circa 1978.
Then for Thanksgiving week, I was given this assignment by author Jessica Vealitzek: "Tell us something you are grateful DIDN'T happen." This is where the failed novels come in with my story of why I'm elated that the two novels I wrote never made into the world. It's one of those everything-happens-for-a-reason tales.
Also, I'm excited to announce that the winner of last week's three year blog anniversary giveaway is Julie Luek! She gets to choose any book (print or ebook) that was published in 2013, and I will send her a brand new copy. Yay for books as gifts!
The giveaway for Allison Winn Scotch's The Theory of Opposites is still open until this Friday (Nov 29th).
Happy Thanksgiving and Happy Hanukkah to those who celebrate!
The following two tabs change content below.
Nina Badzin is a freelance writer, a writing workshop leader at ModernWell in Minneapolis, ModernWell's book club host, and the friendship columnist at The HerStories Project. She reviews 50 books a year on her blog and writes essays, short stories, and articles for other sites and print magazines. She lives in Minneapolis with her husband and four children.
Latest posts by Nina Badzin (see all)