Friendship is one of my favorite topics. I've discussed moving to Minneapolis and how hard it was to make new friends as an adult. I've written about the role of couple friends in a marriage, the power of giving friends the benefit of the doubt, the five factors of friendship chemistry, and the rarity of a friend who, instead of always agreeing with you, can tell you when you're making the wrong call. I've even dedicated an entire post just to proclaiming my belief that Oprah and Gayle are really just friends.
The EXCITING news I have to share today is that one of the friendship essays I'm most proud of, "The Case For a Friendship Break," about how one of my very best friends from college and I overcame a two year pause in our friendship, was chosen for a book of essays on friendship called The HerStories Project: Women Explore the Joy, Pain, and Power of Female Friendship. And the book's big launch day is TODAY.
I've read the other 49 essays in this book, and if you also like all aspects of friendship (the good and the bad), then you will absolutely love this anthology. I'm honored to have my work alongside these other writers, including my friend and New York Times Bestselling author, Jill Smokler, who wrote the foreword.
Here's a bit more about The Herstories Project, from the editors Jessica Smock and Stephanie Sprenger:
"In this book, 50 women writers paint real pictures of friendship; in addition to paying homage to the beauty and power of their relationships, they share the gritty details of bitter friendship breakups and uncomfortable life transitions. This anthology will enable readers to find their own stories in the words of others, cause them to reflect on their own unique friendship history, and perhaps even inspire them to rekindle connections with women who have shaped them. The authors of this book share their stories of friendship loss, enduring bonds from childhood, navigating the transition to motherhood, and renegotiating the role of friendship in their adult lives. The diverse essays in this collection will evoke tears, laughter, and a deep recognition and appreciation for the friends with whom women everywhere share their lives."
You can learn more about the book and the fantastic contributors (can I call myself "fantastic?") at The HerStories Project website. The book is now available on Amazon as a paperback copy or an ebook. Wouldn't this make the perfect gift for a friend, mom, aunt, grandmother, or ANYONE who loves the topic of friendship? I think so!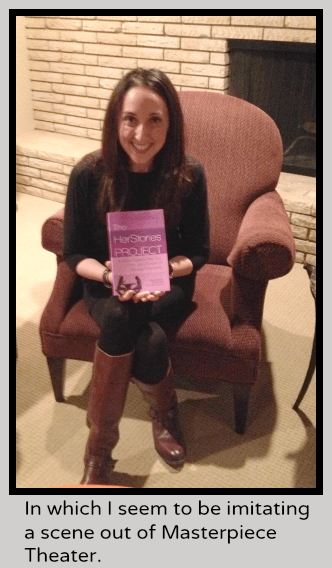 ---
The following two tabs change content below.
Nina Badzin is a freelance writer, an advice columnist at The HerStories Project, and a co-founder of The Twin Cities Writing Studio. She lives in Minneapolis with her husband and four children.
Latest posts by Nina Badzin (see all)