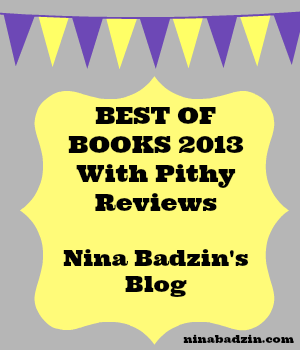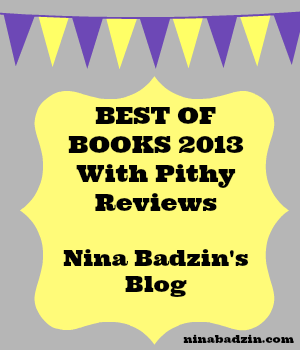 Throughout the year I like to keep track of the books I read and include pithy reviews. The benefit of doing this is that when a friend asks for a recommendation, I can glance at the pithy review page and remember why I liked a book. I may finish a book or two before the end of the year, but since I'm a bit over my goal of fifty, I think I'll let myself reread some David Sedaris and Nora Ephron for fun. (I keep track of movies as well by the way! I only saw 11 and at least a third were on Lifetime. Kind of sad for a movie lover like me.)
I hope you enjoy the list. Let me know what some of your favorites were in 2013! And Merry Christmas to everyone who celebrates!
MY FAVORITES IN NO PARTICULAR ORDER
Where'd You Go Bernadette by Maria Semple
The whole time I was reading this book I kept thinking "This is such a strange book." But I definitely enjoyed reading it because of its strangeness. I really liked that the story is told in letters, emails, and other documents from a variety of characters. That Semple pulled the entire plot together in this way was really impressive. The character of Bernadette with her disregard for what most people think combined with her worry over that attitude made her more realistic than the typical quirky character in novels.
Beautiful Ruins by Jess Walter 
Beautiful Ruins is a gorgeous epic novel that goes back in forth between 1962 Italy and modern day America. I loved the way Walters weaved seemingly random characters and story lines into a cohesive and moving story. I hate ruining the plot of a book so I won't say more. Just trust me that Beautiful Ruins is a brilliantly told story with exceptional writing.
The Silver Star by Jeanette Walls
I remember staying up an entire night to finish The Glass Castle, the unforgettable memoir by Jeanette Walls. I read her new novel, The Silver Star, in two nights. I was drawn in by the voice of the narrator, Bean, and by Walls' continued theme of irresponsible adults who create children who are wise beyond their years. About 2/3 into the story, I was less enthralled with the plot than I had been up to that point. I don't want to give details because it would ruin the story, which I still think is worth a read. I especially enjoyed the tone and both the overt and indirect nods to To Kill a Mockingbird throughout the book.
Still Writing by Dani Shapiro
This book did not disappoint. I loved Shapiro's insight on all aspects of writing. My full review is at GreatNewBooks.org.
Carry on Warrior: Thoughts on Life Unarmed by Glennon Doyle Melton
I really enjoyedthis book and seem to be the only blogger who didn't know about Glennon before reading it. I appreciated her writing style and her honesty. I didn't even mind all the church talk.
The Interestings by Meg Wolitzer
Really loved it. My full review is at Greatnewbooks.org.
 Let's Explore Diabetes With Owls by David Sedaris
This is Sedaris's newest collection of essays. It's amazing how he can make something out of nothing (in terms of subject matter). I was particularly interested in his essay "Day In, Day Out" in which he described his meticulous process of writing in a journal every morning about the little details of his observations from the previous day or in general.
The First Affair by Emma McLaughlin and Nicola Kraus
I raced though this book (by the authors of The Nanny Diaries) in two nights. It was definitely not the kind of book I've been reading the past few year. I was due for a fun, racy read. The story is loosely based on the Monica Lewinsky scandal. Not gonna lie to you, the racy parts were for sure my favorites. And I might have read those sections twice. Also want to acknowledge that I made all of my friends read this and nobody liked it as much as I did. Not sure what that says about me. Or about them.
 A Hundred Summers by Beatriz Williams
The plot picks up more and more and this lovely historical novel becomes quite a page turner. I'm not saying more about the storyline because so much depends on not knowing certain elements until they become clear in the book. I can say that this book has romance, friendship gone wrong, jealousy, and much family drama. It's a good one! I highly recommend it.
Me Before You by JoJo Moyes
This one seems like a light book at first when Moyes gives us a heroine with the typical plight. Louisa "Lou" is a woman down on her luck. She has no money; she lives with her parents who also need money; and she's been stuck in a going-nowhere relationship as well. Once she loses the food service job she should have left years earlier, she accepts a position as an aid to an extremely wealthy man who is a quadriplegic. Will and Lou instantly dislike each other, but over time their working relationship gets more complicated. The character development is incredibly well crafted and the plot, which you might think will be predictable even based on this short summary, is actually quite surprising. It kept me up through the night.
One Last Thing Before I Go by Jonathan Tropper
Very standard Tropper. Love the dialogue and the voice of his prose. The story wasn't particularly compelling, but I liked the characters and generally enjoyed the book. My favorite of his is still This is Where I Leave You.
The Husband's Secret by Liane Moriarty
This book has had tons of coverage–at least on Twitter and among book bloggers. At first I was feeling doubtful that it deserved so much hype. But at the end, I was really impressed with how it all came together. My full review is at Great New Books.
 The HerStories Project edited by Jessica Smock and Stephanie Sprenger
If you're obsessed with the ins and outs of friendship like I am, then you will really love this anthology. (Disclosure: I also have an essay in here!)
For one more list to consider, my colleagues at Great New Books created a list of favorites as well.
HAVE A GREAT WEEK!
The following two tabs change content below.
Nina Badzin is a freelance writer, a writing workshop leader at ModernWell in Minneapolis, ModernWell's book club host, and the friendship columnist at The HerStories Project. She reviews 50 books a year on her blog and writes essays, short stories, and articles for other sites and print magazines. She lives in Minneapolis with her husband and four children.
Latest posts by Nina Badzin (see all)