In early December I made a big change to my schedule that would end up being the most rewarding and successful habit change I've ever attempted. As I reported on December 10th, with my "Do the Work" post, I had finally started getting up at 5Am to write, a habit I 'd been wanting to adopt for years, but never felt I could achieve. By the time I wrote that post, I had already been getting up early for a few weeks. I was as motivated then as I am today.
As it turns out, I'm a slow writer. I'm not the type who can whip out a 900-word essay just like that. As my deadlines for Brain, Child and for some freelance assignments started bumping up next to each other, I knew I had to make a drastic change. Staying up until 2AM every night was making me lethargic and unhappy during the day hours when I needed to be attending to my life.
At some point in late December when I'd crossed the one-month mark of 5AM work sessions, I saw a call for "Before and After habit change stories" from Gretchen Rubin, writer of The Happiness Project blog and author of one of my favorite motivational books, The Happiness Project. She's in the middle of writing her next book, which is about the difficult task of changing habits. These days on her blog, Gretchen reports on the research she's uncovering about personality types, habits, and how to make changes. Once a week she presents one of the before and after stories.
I've been a huge fan of Gretchen's work since I read The Happiness Project two years ago. I get her daily blog posts in my inbox, but I usually wait until Sunday to read them all. And that is why I had no idea that Gretchen had chosen my story to feature on Friday until my Twitter and blogging friend Shana mentioned it on Twitter. (No, I was not told by Gretchen beforehand, which is just fine. I really enjoyed the pleasant surprise!)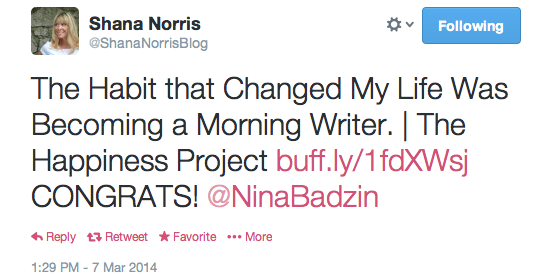 SO, without further ado, I'm thrilled to share the post on The Happiness Project blog with you. My little story is just a small part. Gretchen's take is the most interesting aspect because as always she shares her research and insights into what makes people behave the way they do. Plus, you already know the happy ending for me: I wake up five days a week (Monday-Friday) at 5AM. I work until 7AM, then it's game on with the kids.
In Gretchen's post, I also mention how this schedule helps me with the social media side of blogging during other parts of the day, too. Come see why!
---
The following two tabs change content below.
Nina Badzin is a freelance writer, a lead writing instructor at ModernWell in Minneapolis as well as ModernWell's book club director. She reviews 50 books a year on her blog, writes reviews for other sites, and has a friendship advice column at The HerStories Project. She lives in Minneapolis with her husband and four children.
Latest posts by Nina Badzin (see all)