You guys, this week's Friday Finds post has an excellent recipe and other fun links, but it's mostly dedicated to the two kitchen gadgets that I can't stop talking about.*
#1. SPIRALIZED VEGETABLES
The 1st gadget is the Paderno World Cuisine Tri-Blade Spiral Vegetable Slicer, which is currently $34 on Amazon. I discovered the world of spiralized vegetables from Lee Hersh, a blogger I met while I was writing an article for Edina Magazine about fitness options in town. Lee taught the Corepower Yoga class I sampled. Aside from being a great yoga teacher, Lee is a recipe creator, photographer, and popular food blogger. I've enjoyed many of her posts, but this one on spiralized vegetables made me a permanent fan.
From Lee, I found Ali, who writes a food blog entirely dedicated to spiraling! Her site, "Inspiralized," has quick tutorials on how to spiralize all kinds of foods and what to do with those piles of curly sweet potatoes, beets, zucchini and more.
Before I share the recipe I've been loving, I have to tell you that this gadget is not so high quality. The entire unit feels cheap while you're using it. That said, it's only $34 and there doesn't seem to be a better option out there.
#2. CUISINART MINI-PREP PLUS
The 2nd gadget I've been using all the time (more often than the spiralizer) is the Cuisinart Mini-Prep Plus ($39) that I received free with some other gadget I bought at Kohl's 10 years ago and did not start using until recently. It chops garlic, onions, fresh herbs, or whatever else will fit in that 3-cup bowl. I've been making small batches of dressing in the Mini Prep, chopping tons of herbs and other recipe boosters, and making the batter for the 3-ingredient pancake I wrote about in my 30 Days of Clean Eating Midway Report that went out to email subscribers only. (I'm still working on the Life After 30 Days of Cleaning Eating Report! Send me a note at ninabadzinblog@gmail.com if you want that Midway Report from a few weeks ago and you're a new subscriber or you follow via Bloglovin' or some other blog reader.)
#3. THE "SPAGHETTI" AND MEATBALL RECIPE WE'VE BEEN EATING ALL WEEK
Now that I've got the spiralizing technique down, we've been eating a lot of zucchini and summer squash "noodles" around here. And you know what's delicious on top of a big pile of vegetable noodles? MEATBALLS! I've made many meatball recipes in my time. The meatball recipe below was inspired from the book The Slim Palate by Joshua Weissman. His recommendation to add minced fresh rosemary to the beef is something I had never tried. The meatballs are delicious and fragrant and a lot less work than the sweet and sour ones I recommended months ago. I made a few tweaks to keep the meatballs kosher and to make the actual cooking part a bit easier.
RECIPE FOR MY "SPAGHETTI" AND MEATBALLS
For the noodles:
1. Spiralize some zucchini and some summer squash.
2. Heat a little bit of extra virgin olive oil in a pan.
3. Toss the noodles in the oil and add some sea salt and fresh pepper. This step only takes a few minutes, maybe a little longer if you want your noodles less "al dente." I vote for cooking them for a shorter time than you think you need. You'll have leftovers and once you reheat the noodles, they get even softer.
For the meatballs (Adapted from Joshua Weissman's Sweet Rosemary Meatball recipe in The Slim Palate)
INGREDIENTS

First of all, I double every meatball recipe that I use because it's the same amount of work for twice the meatballs. Plus, meatballs freeze well. I've doubled the ingredients for you already.
-2 pounds ground beef
-2 shallots, minced
-6 cloves garlic, minced
-2 large carrots, chopped at first (then I throw them in the Mini Prep.)
-4 tablespoons minced fresh rosemary
-2 eggs
-salt and pepper to taste
DIRECTIONS

1. I used the Mini Prep to mince the shallots, garlic cloves, rosemary, and chopped carrots all at once. This made a fragrant, herby mush of sorts.
2. In a small bowl, whisk the eggs.
3. Combine the very well minced combo above with the beef in a large bowl. Then pour the whisked eggs on top. Mix it all together and form into 2-inch balls. (I use gloves for all of that. Because, gross.)
3. This is where my version deviates from Weissman's. He suggests cooking these meatballs on the stove in lard or ghee. Instead, I browned them in olive oil (for Kosher reasons) on the stove then baked them the rest of the time in the oven in a tomato sauce I love from Whole Foods. There are several sauces there with simple ingredients and less than 1g of sugar per 1/2 cup serving. (Yes, I could grab a ton of tomatoes and make my own, but it's worth cutting corners sometimes.) The browning keeps the meatballs moist, but as I moved them around on the stove intending to cook them all the way, the shape started to get a little wonky. Everything stayed together nicely in the oven. Remember, there are no breadcrumbs or cheese in these meatballs holding things together. The eggs have a big job!
4. I baked them for about 30 minutes at 350 with 3/4 of a jar of sauce tossed on top. I recommend checking them at about the 20 minute point depending on how long you browned them before. Cut into one and see where they're at. If not cooked through, give it about 10 more minutes.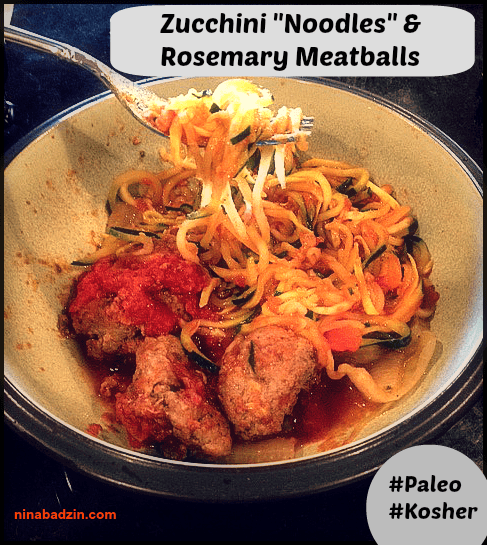 Maybe I should finally learn how to take good pictures of food? Sorry this one is so dark and grainy.
*And no, this is not a sponsored post, nor or any of my links affiliate ones (Minnesota doesn't allow those.)
---
The following two tabs change content below.
Nina Badzin is a freelance writer, a lead writing instructor at ModernWell in Minneapolis as well as ModernWell's book club director. She reviews 50 books a year on her blog, writes reviews for other sites, and has a friendship advice column at The HerStories Project. She lives in Minneapolis with her husband and four children.
Latest posts by Nina Badzin (see all)