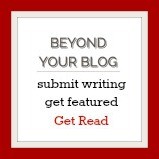 Do you guys know about the site Beyond Your Blog? If you're a blogger or a writer who wants to see her (or his) work out in the world, then you need to be checking out this site. Writer Susan Maccarelli graciously spends time compiling submission opportunities and offering tips to get your work accepted. She does interviews with bloggers who have had success getting work "beyond their blogs," and there is always something to learn when you click over there. I just signed up for her newsletter so I wouldn't miss out on new places to submit.
I'm honored that Susan chose to interview me about how I got work on other sites. I couldn't help but go on one of my anti-Huffington Post rants so you'll have to tolerate that, too. (If you follow me on Twitter, you know how I feel.)
I give some good tips in this interview (I think!). And at the end of the day when it posted (Monday), I got an email from Mamalode that a piece of mine had been accepted. It all felt very apropos.
See you at Beyond Your Blog!
Do you receive my occasional newsletter?
The following two tabs change content below.
Nina Badzin is a freelance writer, a lead writing instructor at ModernWell in Minneapolis as well as ModernWell's book club director. She reviews 50 books a year on her blog, writes reviews for other sites, and has a friendship advice column at The HerStories Project. She lives in Minneapolis with her husband and four children.
Latest posts by Nina Badzin (see all)