NEWS
Starting in January I'll be doing the HerTake friendship column twice a month so keep those anonymous questions coming! November's question and answer is here if you missed it. Next radio spot on the Jordana Green show will be on December 10th!
GOOD READS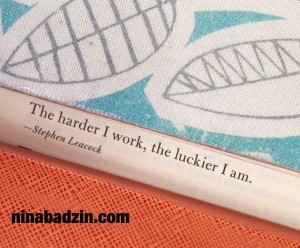 The first good read is the great quote in the photo. Those are my two journals on either side of the words. The blue one is a small notebook I keep with me at all times to jot down ideas as I go about my days. The brown/orange one stays in the house. Every so often I transcribe my notes (blue one) and more journal-ish entries (brown one) into my computer and rip out the pages from the notebooks. This is because I'm what you might called a little bit paranoid.
This Scandal/90210 comparison chart was funny and in some cases spot on. If you watch Scandal and are well versed in the universe of 90210, you will find this post at Vulture very amusing.
Loved the post (the rant, really) on Slate calling out the inappropriate use of apostrophes in holiday cards. Favorite quote: "If your goal is to make your last name possessive, then, by all means, use an apostrophe. If your goal is simply pluralization, however, forgo the apostrophe. In the spirit of the season, I beg you."
I'm in the middle of reading the novel Station Eleven by Emily St. John Mandel and it is so good. Our lead reviewer at Great New Books, Jennifer Lyn King, recommended it last month.
GOOD LISTENS
I'm obsessed with NPR'S podcast Serial. I've heard them all and have my theories. Catch up and let's discuss.
Really enjoying the audio version of The Rosie Project, a novel by Graeme Simsion.
POTENTIAL GIFTS FOR UPCOMING HOLIDAY SEASON
A few weeks ago I mentioned my husband's tendency to stock up on random items he loves for fear the company will stop making whatever he's attached to at the moment. The latest example, aside from these coffee tumblers, is his favorite pillow. A few people asked for a link. Here it is: Therapeutica Pillow. In Bryan's lifelong search for the right pillow, that one apparently passed his stringent test. We now have six in our storage room. I would sell them to you directly if I could get away with that. I'm against storing things.
You know I love the Inspiralized blog run by Ali Maffucci. Her first print cookbook, Inspiralized: Turn Vegetables into Healthy, Creative, Satisfying Meals, is coming out in March. Apparently the magic forces of book sales depend on pre-orders. So if you've used Ali's site and think you'll want the book, it would help her if you pre-order the book. I know that Amazon gives you the better price if it goes down before the book ships.
I guess a March release is not exactly the best gift, except that you can make a little certificate to say the book is coming and buy your loved one a spiralizer for now?! Actually, that's a good idea! The spiralizer is about $35 and the book is about $15.
For coffee lovers, this is what I drink when I wake up at 5AM five days a week and am too tired to deal with brewing coffee. It's really good! 
The Fitbit Zip is a fantastic gift for anyone and it's under $50. I use it every day and it's been the best addition to my exercise routine in years.
That's all I have for today! Hope you had a great Thanksgiving!
The following two tabs change content below.
Nina Badzin is a freelance writer, a lead writing instructor at ModernWell in Minneapolis as well as ModernWell's book club director. She reviews 50 books a year on her blog, writes reviews for other sites, and has a friendship advice column at The HerStories Project. She lives in Minneapolis with her husband and four children.
Latest posts by Nina Badzin (see all)