Thanks to my friend Rivki Silver for helping me brainstorm a new name for my "Friday Finds" since I never posted them on Fridays.
COOK
Make it Ahead: A Barefoot Contessa Cookbook: I love Ina Garten's books! I won her latest at my book club's holiday party. I haven't tried anything yet, but I definitely will. Some of her books get repetitive, but this one seems to have a fresh angle.

DO
Don't forget that starting in January I'll be doing my friendship advice column for The HerStories Project twice a month. You can ask an anonymous question using this form.
The literary magazine Ploughshares posted an excellent list of writing prompts
LISTEN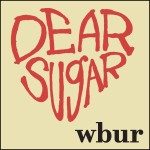 Dear Sugar podcast Did you know about the advice column on The Rumpus started by Steve Almond and continued by Cheryl Strayed? The same year that Strayed's memoir WILD came out, it was also revealed that she was the voice behind Dear Sugar. She also came out with a compilation of her best pieces advice in Tiny Beautiful Things, an excellent read. I love both authors (I've read just about everything of Steve Almond's, too) and now they've teamed up to give advice on a podcast.
READ
10 Types of Odd Friendships You're Probably a Part Of  Thank you Ruchi Koval for sending me the link! She endorses the smart points, if not the occasional foul language.
McSweeney's had this hysterical piece "Snopes Investigates the Anderson Family's Holiday Letter."
The Great New Books Team's Best of 2014 List
The nine of us who make up the GNB team — Jennifer Lyn King (our leader!), Lindsey Mead, Jess Vealitzek, Hallie Sawyer, Stacey Loscalzo, Cathleen Holst, Katie Noah Gibson, and Julia Munroe Martin each picked our favorite book from 2014. Between the nine of us, we've read over 450 books this year. I had a hard time picking one favorite. For sure one of my absolute top reads was Station Eleven by Emily St. John Mandel, but Stacey picked it so I went with another.

And Our List of Favorite Classics

The following two tabs change content below.
Nina Badzin is a freelance writer, an advice columnist at The HerStories Project, and a co-founder of The Twin Cities Writing Studio. She lives in Minneapolis with her husband and four children.
Latest posts by Nina Badzin (see all)