DO
– I made a good coconut chicken curry this week as well as a good thai curry soup. Both were really healthy recipes.
– Speaking of healthy recipes, I want to make this granola from Goop, which means I had to order this puffed millet cereal from Amazon. (Could not find it in a store here.) It's on the way, so I'll try the recipe next week, and I'll let you know if it was worth all the trouble.
– I'm applying to go on a trip to Israel this fall with the Jewish Women's Renassiance Project. It's a free trip for moms who have at least one kid under 18 at home. Participants only need to cover the airfare. I've had several friends here in Minneapolis and around the country who've gone on past trips and everyone says it's in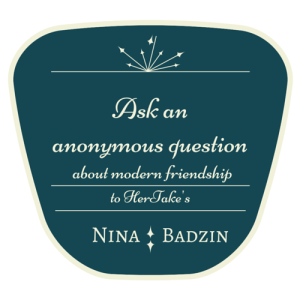 credible even if you've been to Israel before. I'm dreaming of meeting some of my blogging friends there. See if your city has a trip going in October. The FAQs and application are here.
– Look at this fancy new button that my editors at The HerStories Project made for the friendship advice column! (The "do" here is to ASK me an anonymous question!)
– I'm dropping out of Lifetime Fitness soon and most likely trying ClassPass. (Anyone have experiences with ClassPass they want to share?) I actually like Lifetime a lot, but I'm really missing the small studio feel I enjoyed when I was addicted to Pure Barre and when I did that entire month of CorePower Yoga. I have less and less time to work out (okay, I don't want to use so much time) so a quicker in and out seems necessary.
LISTEN
– I've read When You Are Engulfed in Flames
 by David Sedaris, but it's been a long time so when I saw it was $6.95 on Audible last week (might be more now) I decided to make it my newest listening choice. I'm loving every minute so much that I bought the book, too. There are certain essays that I want to examine in print. Sedaris is just so spot on with details and timing, and I love everything about his writing.
READ
– I'm really enjoying Everybody Writes: Your Go-To Guide to Creating Ridiculously Good Content
 by Ann Handley. It's supposed to be a writing book for non-writers, but I think all writers would get plenty out of it, too.
– This week was unusually busy on the blog. I had my first post ever at The Review Review, which is an amazing site if you're looking for literary magazines where your work might be a good fit. My post is full of tips about submitting to a short story contest such as why your cover letter does not matter one iota. I wrote this piece after my recent stint as a judge for a flash fiction contest for Mash Stories. I also had my first post ever in The Good Men Project.
– My cousin Andrea sent me a link that led me to this really cool periodic table of Jewish values. I've never seen anything like it. Would be great to share with kids.
– This hysterical post "All my Issues With the Goodnight Moon Bedroom" was shared from my Facebook Page 227 times. And this one, "Mean Girls in the Retirement Home" had the most views. They're both great articles and the comments on my page are fun, too.
HAVE A GREAT WEEKEND EVERYONE! Watch football, I guess. I just remembered it's the Super Bowl and whatnot.
The following two tabs change content below.
Nina Badzin is a freelance writer, a lead writing instructor at ModernWell in Minneapolis as well as ModernWell's book club director. She reviews 50 books a year on her blog, writes reviews for other sites, and has a friendship advice column at The HerStories Project. She lives in Minneapolis with her husband and four children.
Latest posts by Nina Badzin (see all)