I look forward to writing these Do Listen Read posts so much! It's been a while, and I've been collecting so enjoy.
DO
– Smitten Kitchen has been on a roll lately. I made her crispy broccoli with lemon and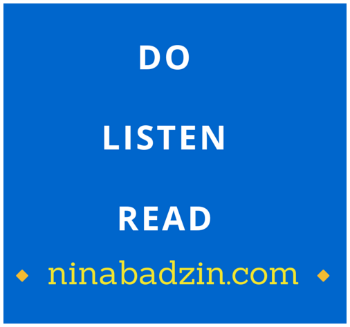 garlic.
– I also made her newest chocolate chip cookie recipe. (Her old one has been a staple around here.) The new one is called "Salted Chocolate Chunk Cookies." I used regular chocolate chips because I really wanted to make them and I didn't feel like going out to buy special chocolate. They were the best cookies I have ever made. EVER. I'm not exaggerating. Every person in my house agreed.
– Check out Judy Clement Wall's "Visual Guide For Handling Toxic People." 
LISTEN/WATCH
– As a budding advice columnist, I love Steve Almond and Cheryl Strayed's Dear Sugar Radio podcast. I've listened to them all, but the latest one has been my favorite so far because it covers a topic I've covered often and love to dissect.  "When Friendships End."
– My sister-in-law, Jaci, shared this very sweet video with me for Mother's Day. I cried!
– Here is the page where I keep track of my live advice segments on local CBS radio with host Jordana Green. The page is filling up because I've been on weekly.
READ
– This post about a woman who made cards for cancer patients like she would have loved from family and friends was by far the most shared thing on my Facebook page. Like by the thousands.
– Have you used ClassPass? I thought this NYT critique had some fair questions, not about the customer experience, but about the implications for small business owners.
– My May column for Tcjewfolk was about mahjongg and I think it's had the most action of any post I've written there. People love mahj!
It's a short one today, but I share more finds every week in my newsletter and often on Facebook. 
Have a great weekend and Happy Mother's Day!
The following two tabs change content below.
Nina Badzin is a freelance writer, a lead writing instructor at ModernWell in Minneapolis as well as ModernWell's book club director. She reviews 50 books a year on her blog, writes reviews for other sites, and has a friendship advice column at The HerStories Project. She lives in Minneapolis with her husband and four children.
Latest posts by Nina Badzin (see all)