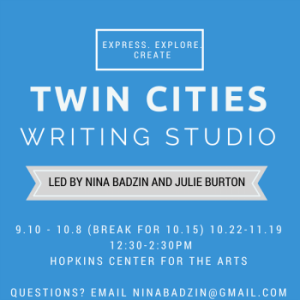 So many of us make time to exercise our bodies, but what about our minds? We'll invest in classes at a yoga studio or join a gym. But if you're passionate about writing (even if you've never made time in the past) wouldn't it be cool to join a small community dedicated to establishing a writing practice and improving your craft?
Welcome to the Twin Cities Writing Studio.
Along with author and blogger (and my good friend), Julie Burton, I am excited to announce the inaugural session of the Twin Cities Writing Studio. Come play with us on the page, face-to-face. As much as I value my online communities from classes I've taken online and the many private Facebook pages I'm a member of where we discuss the writing world, there is something priceless about spending time with other writers in person.
I'd love to write with you! Details are below.
TWIN CITIES WRITING STUDIO—express, explore, create
Whether you're an established writer looking to connect with other Twin Cities writers, or you feel inspired to put pen to paper for the first time, we welcome you!
WHAT WE ARE: TCWS is a safe, confidential, and supportive community led by Julie Burton and Nina Badzin, experienced writers, bloggers, and teachers. Group members will have the opportunity to freewrite, share writing, receive constructive feedback from group members and group facilitators.
WHAT YOU GET:
Establish, maintain, or improve your writing practice.
Find inspiration and motivation from others.
Finish writing pieces that you have been working on for years, begin something new, generate ideas that will keep you writing long after the fall session ends. Workshop any piece of writing from speeches to essays to persuasive emails.
Learn about blogging, magazine article writing, book writing, and publishing.
WHEN: 10-week session runs on Thursdays 12:30-2:30, September 10 – Oct 8. BREAK OCT 15, resumes Oct 22 – November 19  (CHECK BACK FOR FUTURE SESSIONS AND WORKSHOPS)
WHERE: Hopkins Center for the Arts, Room 204, 1111 Mainstreet in downtown Hopkins, (ample free parking)
COST: $300, registration details are below. (Payment options available)
WHAT TO BRING: Notebook and writing utensil and/or laptop.
HOW TO REGISTER:  Send an email to Nina at ninabadzin@gmail.com. She will write back to secure your spot in the group (limited to 10 participants), and give you details on payment.
Questions? Email ninabadzin@gmail.com
The following two tabs change content below.
Nina Badzin is a freelance writer, a lead writing instructor at ModernWell in Minneapolis as well as ModernWell's book club director. She reviews 50 books a year on her blog, writes reviews for other sites, and has a friendship advice column at The HerStories Project. She lives in Minneapolis with her husband and four children.
Latest posts by Nina Badzin (see all)