DO
DO Take control of your photos! Maybe I will write an entire post about this once I get my online pictures fully organized, but take my advice and don't wait 10 years to start making decisions about online photo storage. The issue of what to do about all our family photos came up at this particular point because I got a new laptop. Yay! However, I'm determined to treat this laptop better than the old one, which mostly means not using it as a giant digital storage unit. (Because photos make the computer slooooooow.) I also want to remove all the photos from my old laptop so that my kids can share it as a family computer.
I have all of my pictures on an external drive, but I still like to have files handy, meaning, I don't want to rely solely on the external drive.
Why not just use iCloud?
I find iCloud to be very limited and clunky, though I think it makes sense for the most current pictures. I ended up deciding to use Shutterfly for the bulk of my photos (thank you for the idea, Debbie Wolfe) as well as their sister site This Life (thank you for that suggestion, Rabbi Phyllis Sommer). The iPhone app for both is great. This morning I set up all future pictures to upload automatically to both sites, but that was only after spending 3-4 LONG days figuring out what pictures I already had on Shutterfly so that I was doubling, what needed to get moved off iCloud (so that I could use that more as a current year space), and what could now get deleted from my old laptop. There were many old episodes of Dawson's Creek playing the background to keep me motivated. I'm not even done yet, but I need a break from this project. I'm also years behind in making any photo books from Shutterfly and a year behind in putting printed photos into any kind of album. (I don't scrapbook; I'm talking about the slide-the-picture-in kind of album)
Why am I using both Shutterfly and ThisLife? I'm not sure. At some point after playing with each one I will probably pick one over the other, and if anyone is interested, I will report back. I know that I'm not alone in feeling overwhelmed by the photos.
DO make your website (if have one) is mobile friendly. Did you notice that I made a few improvements to the look of my site? It's now more functional on a phone, which means I had to let go of the site looking different on a computer vs. the phone. For years I wanted them to both look the same, but that means the font would be tiny on the phone. And well, my eyes are not getting any younger, and I assume that's true for my readers' eyes, too. If you're on a computer or iPad now, you should be able to see my full menu bar on top and all the cute little sidebar items with popular posts, etc. If you're on a phone, you have to futz around to find all that, but if you find the right thing to touch, it opens up all the options like published essays, friendship advice, and book reviews.
DO try this fantastic easy-to-make Greek salad. My friend Nancy F made Ina Garten's Greek salad recipe recently and it was so good–especially the dressing. Isn't it always about the dressing?
---
LISTEN
LISTEN to The RadioLab podcast! My friend, Libby F, got me into this podcast, and I'm really liking what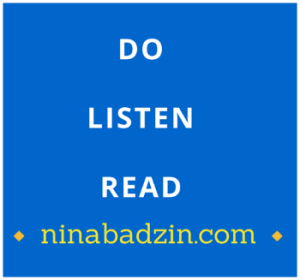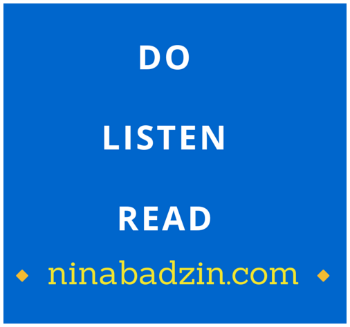 I've heard so far. If you're new to podcasts and have an iPhone, here's what you do: Find the podcast app on your phone and go to the search function. Type in the name of the podcast you're interested in, and hit subscribe. You can easily unsubscribe. I'm a podcast junky and subscribe to many. Then whenever I'm in the podcast mood (which is often), I can scroll through the list of new episodes and listen to whatever appeals to me at the moment. There are other ways to listen to podcasts, but I only listen from my phone so I can't help you there.
Has anyone listened to the new season of Serial yet? If you have, please report back! I really liked season one, but for some reason, I'm not feeling that excited about season two. I can be persuaded though.
---
READ
Read about encouraging the tooth fairy myth vs telling kids the truth from the get go. I had a good debate at Brain, Child Magazine about the tooth fairy. In our house we are unabashed tooth fairy pushers, and that includes my oldest who keeps up appearances for the younger three. My friend, Brain Child's debate editor, Lauren Apfel, took the other side. Where do you fall?
Read the Best of 2015 post from Great New Books!
Here's my updated reading log for 2015. It feels weird knowing that I will soon have a blank page to fill up for 2016.
My FAVORITE post of the week by far: Instagram Husband. It's hilarious and a little scary. I'm not a fashion or a lifestyle blogger, so I'm not even close to being as guilty of this icky behavior as the wife in the video, but I have definitely barked to my husband "higher!" when he's taking a picture.
---
STILL TIME TO SIGN UP FOR THE BALANCED WRITER ONLINE COURSE
My editors at The HerStories Project consistently put together great online classes throughout the year. Their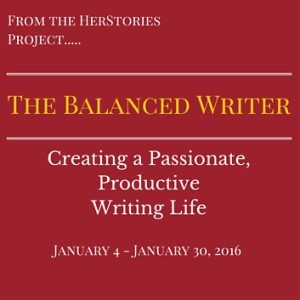 next one, called The Balanced Writer, takes place (online) from January 4th-30th. I'll be a guest instructor during the last week when I'll be sharing tips on how writers can use social media (not abuse it!) to enhance their readership and publishing opportunities. The 4-week course will have other guest instructors such as Jordan Rosenfeld, Julie Silverman Burton, and Sarah Rudell Beach covering topics like building a writing practice, focusing your passion, establishing a platform, and finding balance. Sign up here.
---
HAVE A GREAT WEEKEND EVERYONE! 🙂
The following two tabs change content below.
Nina Badzin is a freelance writer, a lead writing instructor at ModernWell in Minneapolis as well as ModernWell's book club director. She reviews 50 books a year on her blog, writes reviews for other sites, and has a friendship advice column at The HerStories Project. She lives in Minneapolis with her husband and four children.
Latest posts by Nina Badzin (see all)