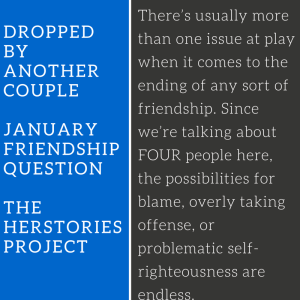 I'm back with more friendship questions for 2016! For the January question, I chose one by a woman and her
partner who are feeling hurt and confused over being dumped (for lack of a less angsty term) by another couple. I've written about issues of making couple friends, issues of only liking one-half of a couple, and plenty about one-to-one friendship breakups. This was the first letter I ever received about a breakup between one couple and another couple.
In related news, I'm looking for more friendship questions, so please send your anonymous dilemma through this form, which doesn't even require an email address. It's truly anonymous and you'll get advice not only from me, but from the amazing people who read and comment at The HerStories Project. The page with the form makes it sound like we're only looking for "blogger friendship issues" but that has so not been the case AT ALL for the past year, so just ignore that description! I've covered many topics and you can get a sense by glancing at this list. Thanks for trusting me with your dilemma!
---
MAJOR NEWSLETTER CHANGES!
The other update to share is that I'm moving my newsletter operations to Tinyletter.com, which is much more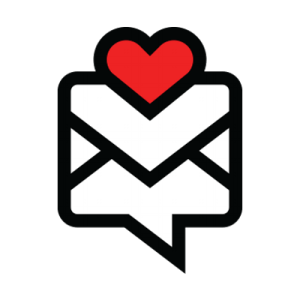 basic than Mailchimp. It has almost no bells or whistles and looks a bit more like actual email than a fancy newsletter. Mailchimp has been good and I might even regret switching, but I have this deep desire to make my newsletter something more special than what it's been. By special I mean, more personal and not just a repetition of my blog and my Facebook page. And the simpler format will truly allow me to focus more on content than the look of the thing. (Well, at least I hope so.)
I will only be sending one to two emails a month, and the emails will be more like actual letters, which will include information I don't share anywhere else—not here on the blog, not on Facebook, not on Twitter. Subscribers should get special treatment!
SIGN UP HERE. (If you were getting my Mailchimp emails, you were hopefully transferred over, but you can enter your email here to check and the Tinyletter.com form will let you know. The internet is like magic!)
HAVE A GREAT WEEK! Nina 
The following two tabs change content below.
Nina Badzin is a freelance writer, a lead writing instructor at ModernWell in Minneapolis as well as ModernWell's book club director. She reviews 50 books a year on her blog, writes reviews for other sites, and has a friendship advice column at The HerStories Project. She lives in Minneapolis with her husband and four children.
Latest posts by Nina Badzin (see all)