Have you ever attempted to get back in touch with an ex-friend after hearing bad new about her family or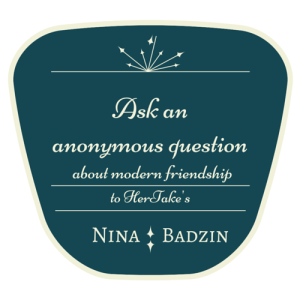 even good news? Do you think it's a wise idea to dip back into the past this way, or is it better to leave well enough alone?
This month's friendship question at The HerStories Project asks for our advice on getting back in touch with an old friend after the friend's dad died. Please come on over and add your two cents to the conversation. (Oh! And I quoted my sage mother again.)
SEE YOU THERE!
The following two tabs change content below.
Nina Badzin is a freelance writer, a lead writing instructor at ModernWell in Minneapolis as well as ModernWell's book club director. She reviews 50 books a year on her blog, writes reviews for other sites, and has a friendship advice column at The HerStories Project. She lives in Minneapolis with her husband and four children.
Latest posts by Nina Badzin (see all)