Reading is the best way to learn to write. Well, that's not true. Writing is likely the best way to learn to write. Is it fair to say that a combination of reading more and writing more will produce a higher quality of work? I say YES, which is why I made a new writing plan for the summer and treated myself to a new notebook and a new pen for the occasion. (I'll do anything for a new notebook.)
I read a book a week, but I've noticed that a majority of my choices in the past two years have been nonfiction. I have no regrets since I enjoyed reading nonfiction and it helped me with my essays. However, as I find myself drawn to writing fiction again, I realize that I ought to be learning from other novelists like I did when I wrote my first two (G-d awful) novels in the 2007-2009 era. Let's hope I've learned a thing or two since then and will do a better job learning from what I'm reading.
With my new plan to read more and take notes about what structure and whatever else strikes me, I've gone back to a system I used many years ago. I write notes about the books I'm reading on the front end of the notebook, and when something arises for my own fiction ideas (which ALWAYS happens when I'm reading fiction), I put those ideas in the back end of the notebook, flipping the notebook upside down so I can work my way to the inside when I need more pages. At some point the two sections will meet in the middle and it will be time for a new notebook.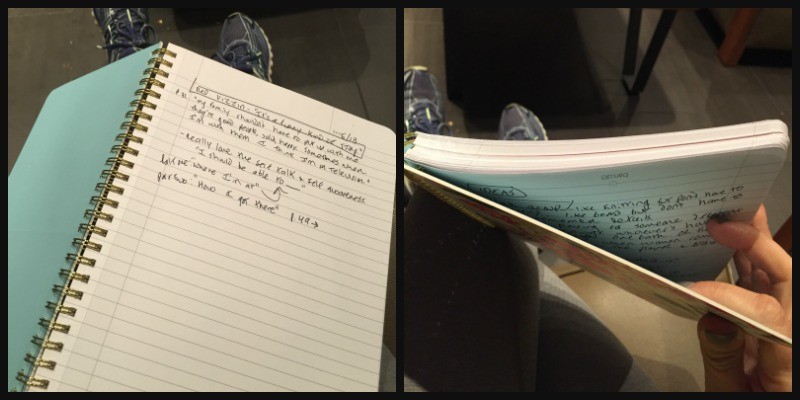 I'm having so much fun using these creative muscles again. I'm leaving my laptop at home nowadays, and I plan to leave it closed (okay, in another room is the only way) when I wake up in the morning to work unless I have a friendship advice column due, a book review for Great New Books, or some burning idea for Kveller or elsewhere. We will see what the summer brings, however, I'm expecting it to bring more reading than formal writing except for the scribbles in my new notebook. Isn't she a beauty? (See below!)
Do you have a summer plan that's shaking up your regular routine? I'd love to hear about it.
Side note: I liked Monica M. Clark's recent post on The Write Practice, "How to Learn to Write by Reading."
---
The following two tabs change content below.
Nina Badzin is a freelance writer, a lead writing instructor at ModernWell in Minneapolis as well as ModernWell's book club director. She reviews 50 books a year on her blog, writes reviews for other sites, and has a friendship advice column at The HerStories Project. She lives in Minneapolis with her husband and four children.
Latest posts by Nina Badzin (see all)