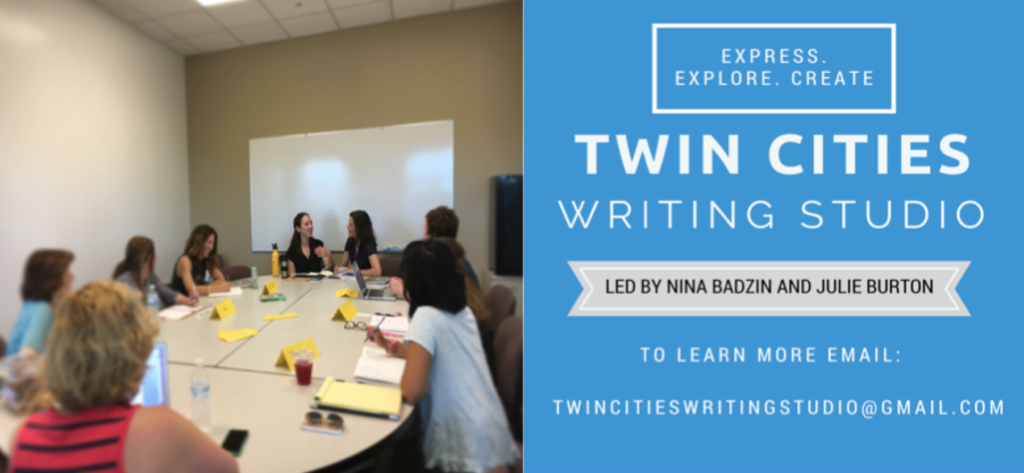 One year ago I started a writing "studio" in Hopkins, Minnesota, with fellow writer, Julie Burton.
"Let's start a writing group for teens or tweens and one for adults," Julie suggested. I heard "teens" and thought, nope, but I loved Julie's idea to bring a group of adults together on a weekly basis for writing support and encouragement. And I loved that this group would exist in person, not online.
Julie agreed and right away we planned our dream group, the kind of we would have loved joining a decade or more ago when we were started our careers. However, since we also wanted the group to work for veteran writers, too, we had to figure out a way to organize the two hours each week in a way that fit different writers' needs. Furthermore, we didn't want reading homework for anyone involved, and the location had to be convenient (for us, obviously) and for others who would not likely make the time to deal with fussy parking.
Within days, the Twin Cities Writing Studio was born and with a bit of vulnerability about promoting a group we didn't know anyone would sign up for, we announced our vision to friends, family, and the internet. I'm proud to say that Julie and I have enjoyed full sessions almost every 10 weeks. We even created a private Facebook group open only to past and current session attendees, blending the best of what we love online with the essential (and increasingly unique) piece of time together in person.
The TCWS has turned into the highlight of my week. It's wonderful to see writers with a variety of interests and goals come together for the common purpose of support, growth, and a consistent time to write.
Our Thursday afternoon session is almost full, but if you're interested in joining our new Tuesday morning session starting in January (as well as the Facebook group), you can find information about registration and pricing on Julie's site. We'd love to meet more Twin Cities writers. Do you enjoy writing? No matter your level, this group is for you.
Any questions? You can email us at twinciteswritingstudio@gmail.com
The following two tabs change content below.
Nina Badzin is a freelance writer, a lead writing instructor at ModernWell in Minneapolis as well as ModernWell's book club director. She reviews 50 books a year on her blog, writes reviews for other sites, and has a friendship advice column at The HerStories Project. She lives in Minneapolis with her husband and four children.
Latest posts by Nina Badzin (see all)