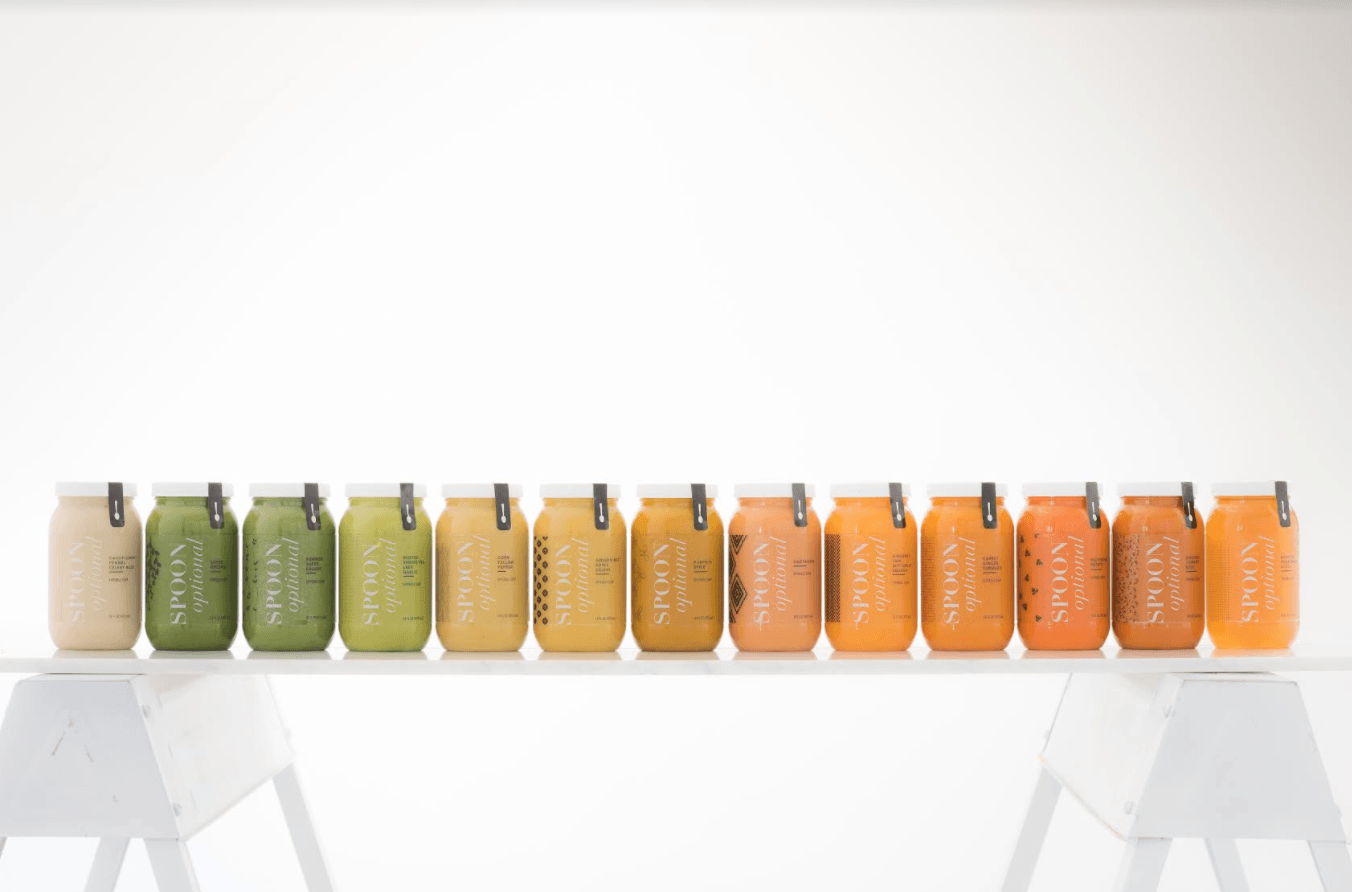 Today I have a story about making new friends, starting a new career, and supporting your friends' dreams rather than being a naysayer. It's like several of my friendship advice columns mashed together.
A FRIENDSHIP BEGINS
I met Nancy Fink, founder of Spoon Optional, a new company in the Twin Cities selling vegetarian, organic soups, in 2003 when we were both still new(ish) to Minneapolis. We were set up on a "date" by a friend of our husbands' families who figured that two young couples with husbands from the Twin Cities and wives from other Midwest cities would get along well.
The four of us hit it off quickly, but on our third date Bryan and I broke the news that we were expecting our first child. I say "but" because that change in status had the potential to thrust us in different directions. I stopped teaching when Sam was born, filling my days with playdates, baby classes, and endless errands (some of which I invented to get out, I'm sure). Nancy worked full-time in HR. Thankfully, our friendship continued to grow steadily anyway.
RAISING KIDS TOGETHER 
The Finks had their first child six months after we had our second. Now in addition to spending time together as families on occassional Friday nights, Sunday brunches, or Saturday nights without the kids, Nancy and I were on the same stay-at-home schedule. We had a weekly playdate with our friend Jorie, and the three of us supported each other with advice ranging from the practical (sleeping, feeding, potty training) to the too-many-to-name deeper issues.
DREAMING OF A WRITING CAREER
Nancy and Jorie, still enjoying the newness of life with their first babies, were unconditionally encouraging when I talked about starting a writing career. Neither one reminded me of my utter lack of experience, nor did they act like it was "cute" that I wanted to try something potentially far-fetched. They read drafts of my novel and rode the roller coaster with me as I waited to hear from agents. They commiserated with my letdowns and celebrated my successes as I slowly carved out space for myself in the freelance writing world. Not big on using social media, they shared articles for me anyway when I landed pieces on bigger sites.
SPOON OPTIONAL IS BORN!

In the past few years Nancy and I spent a lot of time on long walks brainstorming about which direction she might go as she felt ready to work outside the home again, though not in HR. We talked often about her passion for cooking and nutrition, but she wasn't sure how that would translate into the next step.
Then one day last winter Nancy started experimenting with healthy, portable soups. She'd make enormous batches, and since our kids go to the same school, I was often a lucky recipient of extra containers of roasted tomato basil, butternut squash, and numerous other flavors she was making for her family and just for fun. "You should sell this," she heard from me and from everyone else who ran into Nancy with the extra containers of soup that took up too much room in her freezer. If you saw Nancy last winter, she was always sipping soup on the go.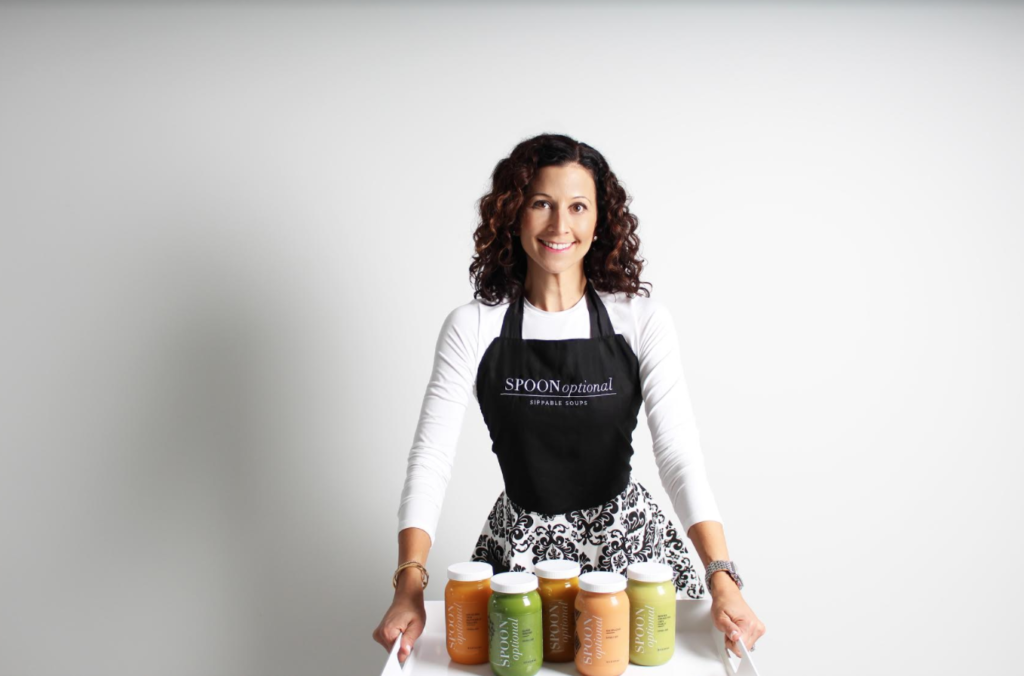 A KEY TO NANCY'S SUCCESS: FRIENDSHIP
What has made Spoon Optional so special other than Nancy's drive and talent is how she has included her personal community in her business journey. Several of Nancy's friends got to taste the soups at different points and chime in on name ideas and the look of the labels. As Nancy was putting each piece of Spoon Optional in place, those of us in Nancy's life felt increasingly attached to the project. I don't feel like Spoon Optional is MY baby, but I do see it as something akin to my favorite niece. And I buy about four jars a week because I love the healthy, convenient option of sippable soup, I love Nancy, and I owe her big time after SO MUCH FREE SOUP!
HOW TO BUY SPOON OPTIONAL! 
Nancy wrote about her motivation to start a soup business on her own site as well as how she learned to love cooking. On the Spoon Optional site you will also find out about the benefits of sippable soup and of course where you can buy it in the Twin Cities. (It's only available locally for now, but trust me, that won't always be the case.) Follow Spoon Optional on Facebook and Instagram to stay up to date about new buying options.
All readers can use the code NINA at checkout on the Spoon Optional site for 15% off your entire order. There are pick up spots in St. Louis Park and Woodbury. Code is good from 12/4 – 12/11
---
LOCAL READERS! There's still room in the newest session of the writing group I co-run at The Hopkins Center For The Arts. Click below to learn more and to register for the Tuesday morning slot starting in January. (We are full on Thursdays.)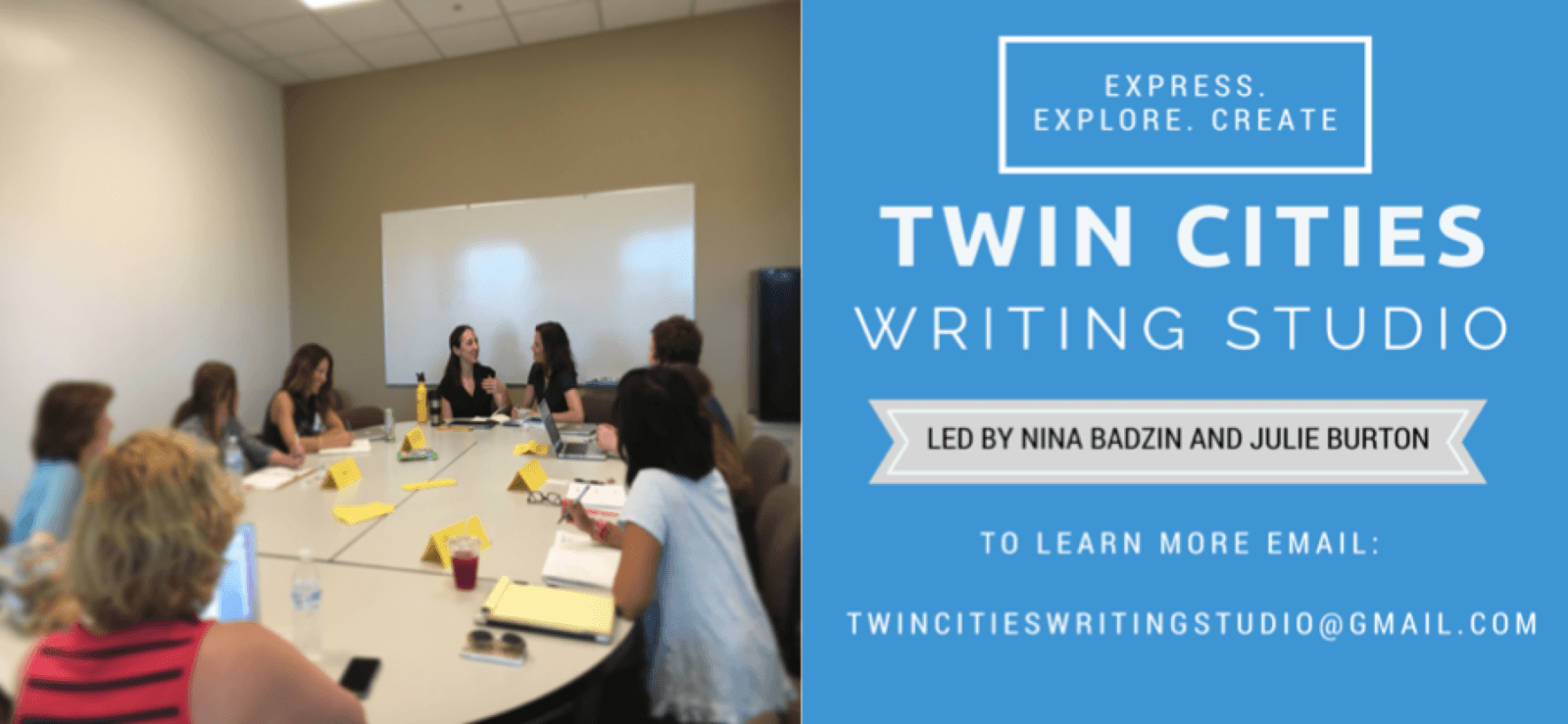 The following two tabs change content below.
Nina Badzin is a freelance writer, a lead writing instructor at ModernWell in Minneapolis as well as ModernWell's book club director. She reviews 50 books a year on her blog, writes reviews for other sites, and has a friendship advice column at The HerStories Project. She lives in Minneapolis with her husband and four children.
Latest posts by Nina Badzin (see all)