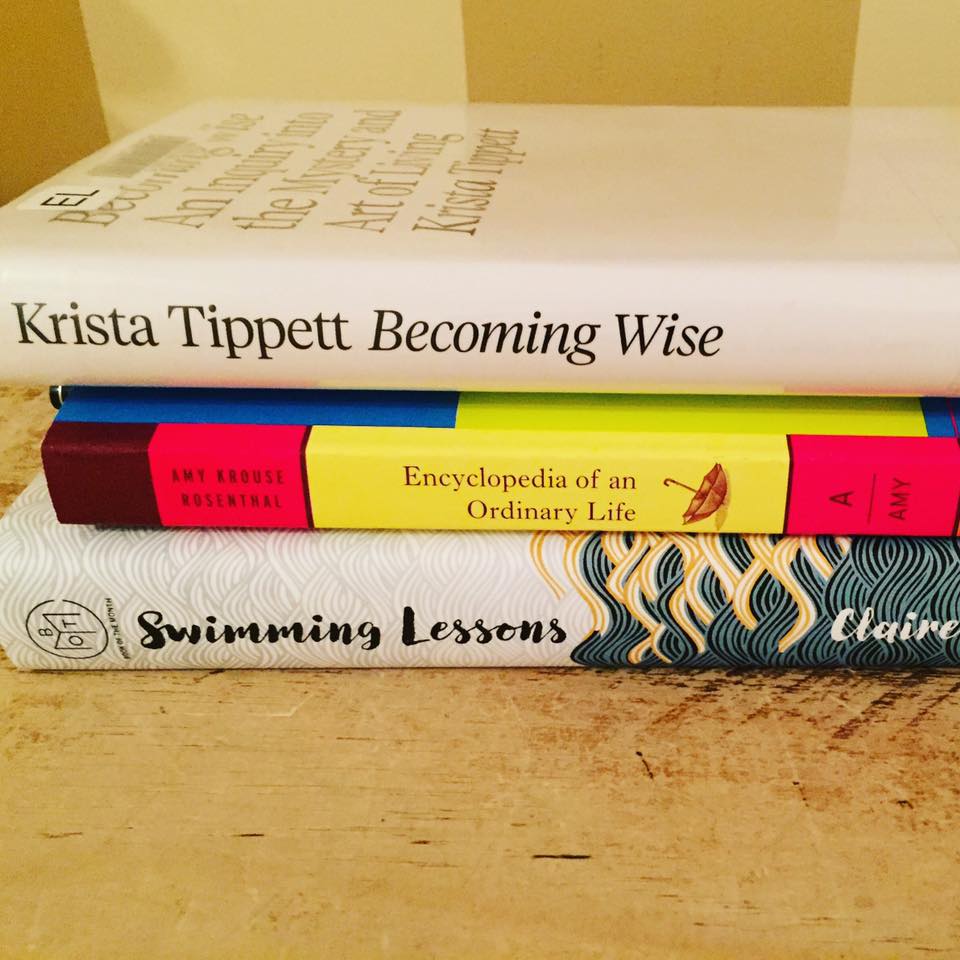 It's funny– I don't call myself a book blogger. (And I rarely accept books for review. I'm serious–rarely. Definitely don't ask me if we've never interacted before in person or on social media. Really, please don't.) Yet, I post about books often. I cannot help myself! I love to read, and I love to discuss what I'm reading.
Here's a QUICK first post of 2017 with the books I'm reading over the next few weeks. What about you? What are reading?
#1. Encyclopedia of an Ordinary Life by Amy Krouse Rosenthal
I'm currently savoring this book, which I admit I started a few weeks ago. I could have finished it in one sitting, but I enjoy Rosenthal's voice so much that I don't want it to end. This is an usual book concept. Read the description in the link to understand what Rosenthal created here. It was given to me as a gift from a dear member of the writing group I co-lead in Minneapolis on Thursdays. Thank you again, Carolyn!
#2. Becoming Wise: An Inquiry into the Mystery and Art of Living by Krista Tippett
Recommended by many people, but I especially remember Katie Noah Gibson's recommendation at Great New Books.
#3. Swimming Lessons by Claire Fuller
This was my December pick from The Book Of The Month Club. I read a chunk of it today. It includes many letters from one character to another, which I happen to love in a book. We'll see how it all plays out.
#4. Scratch: Writers, Money, and the Art of Making a Living by Manjula Martin
I got this one as an advance copy from netgalley.com. I'm reading it on my Kindle so there's no photo to share. I requested it from netgalley because I enjoyed Martin's magazine (also named Scratch) before it folded last year.
HAPPY NEW YEAR EVERYONE! 
There are Amazon affiliate links in this post and one Book of The Month link.
---
The following two tabs change content below.
Nina Badzin is a freelance writer, a writing workshop leader at ModernWell in Minneapolis, ModernWell's book club host, and the friendship columnist at The HerStories Project. She reviews 50 books a year on her blog and writes essays, short stories, and articles for other sites and print magazines. She lives in Minneapolis with her husband and four children.
Latest posts by Nina Badzin (see all)