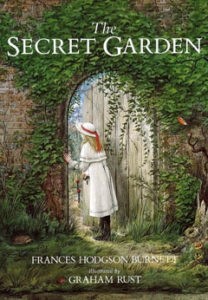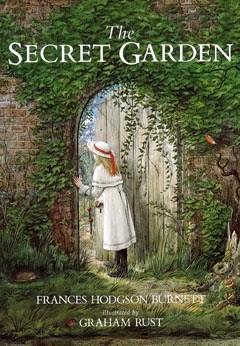 I love being part of the book recommendation team at greatnewbooks.org. We are a group of ten strong readers with strong opinions, and we don't always feel the same way about the same books. That is why we take turns recommending a book week by week. If you're new to greatnewbooks.org, we recommend a new book every Wednesday and we've been running the site since 2013 under the leadership of the fabulous Jennifer Lyn King. I love hearing from people who use our recommendations to make their next reading choices easier.
A few times a year we put up team posts based on a theme such as each picking a favorite book of the year, a favorite line from a novel from the past year, and the book we finally got around to reading. This week rather than a typical recommendation we have a team post and it's all about our favorite books from childhood. Who couldn't use a little childhood literary magic these days?
I picked The Secret Garden, and I try explain why in the post, but it's almost a mystery to me. What are some of your favorite childhood novels? Come visit us at Great New Books and let us know.
Below is a clip from the musical adaptation of The Secret Garden. My mom took me to see the show in 1991 when it ran on Broadway as a special trip for just the two of us when I graduated from middle school. I listen to the CD often and never fail to cry during the finale. And I'm not someone who cries easily. Something gets to me about this story and the music as well.
I love the 1991 cast album with the incredible Mandy Patinkin as Uncle Archie and Daisy Eagan as Mary. I wanted to share one of my favorite numbers in which Mary's uncle and Colin's uncle both remember Lily, the woman they each loved. (Lily was Mary's aunt who kept up the garden when she was alive, the same secret garden Mary eventually finds.) In the song the uncles talk about why it's hard to have the orphan Mary around and why they're considering sending her away to boarding school even though she's just come to their house in England from India and is truly alone.
Then they let Mary stay and eventually she learns from Dickon how to take care of the garden. I love this song where Mary is first learning how to take care of the soil and plants. Of course it's the people in the house–the adults and the children–who need the tender loving care more than the plants do. The entire story of healing and a family coming together speaks to me on a deep level. Enjoy!
The following two tabs change content below.
Nina Badzin is a freelance writer, a writing workshop leader at ModernWell in Minneapolis, ModernWell's book club host, and the friendship columnist at The HerStories Project. She reviews 50 books a year on her blog and writes essays, short stories, and articles for other sites and print magazines. She lives in Minneapolis with her husband and four children.
Latest posts by Nina Badzin (see all)