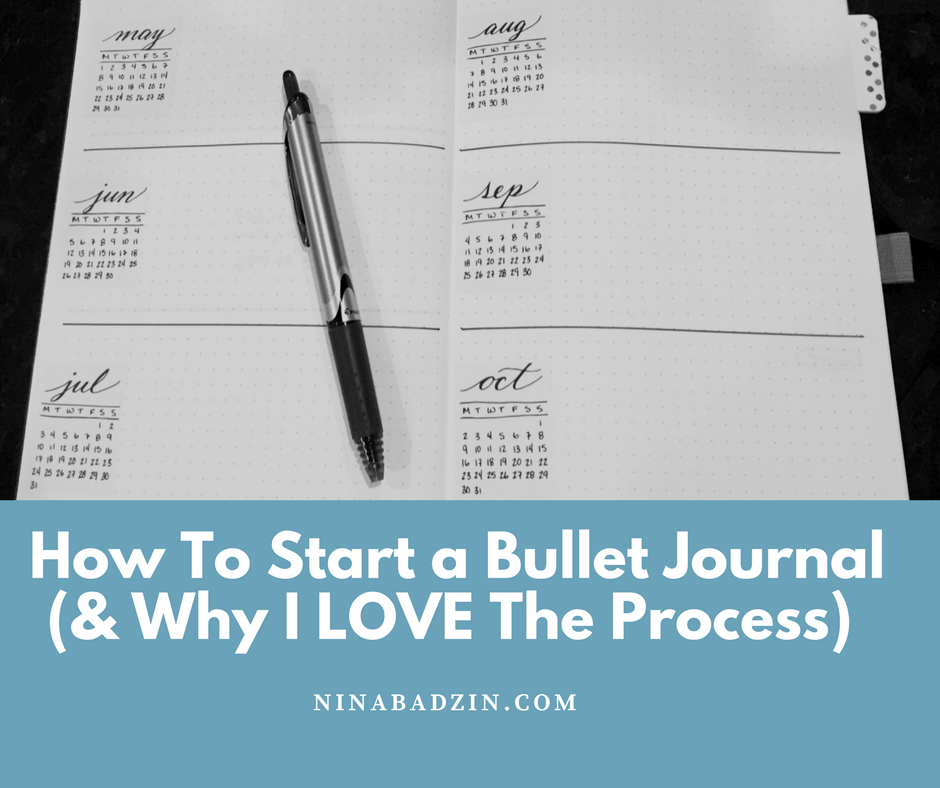 This post is full of information about how I started my Bullet Journal and why a digitally-oriented person like me is such a Bullet Journal fanatic now. I have lots to say about how using a Bullet Journal has helped me stay focused, organized, and reflective, but let's back up. What is a Bullet Journal?
A Bullet Journal is an empty notebook (doesn't have to be a certain brand or size) used to organize events, to-do lists, ongoing lists like books you want to read this year, and daily, weekly, or monthly habits you'd like to track.
The original concept using a certain method to migrate tasks from day to day and keep track of yearly, monthly, and daily tasks was created by Ryder Carroll, a digital product designer. (Ironic, yep.) You can see his system here, but please understand that Ryder's creation begot tons of versions, which he generously encourages. There are endless sites and Instagram accounts dedicated to Bullet Journals, and if you like notebooks, pens, and pleasant pictures of lists, then get ready to lose hours of your time. I do think it's worth glancing at these pictures for ideas, but the point is to create something that works for you. DO NOT be scared away by gorgeous handwriting and other fancy things. I am practically in love with My Bullet Journal and my handwriting and art skills are awful. The little calendars you see above in my "future log" (that's Bullet Journal lingo) are stickers I bought on Kara Benz's Etsy store.
This all sounds nice, but with all the incredible apps and even the pre-made notebooks to keep track of everything mentioned above, why in the name of All That's Practical would people create their own systems on blank pages? Doesn't that take extra time? And you bought stickers? Are you seven years old? 
You're asking good questions, dear readers. But guess what? Those of us who love to use Bullet Journals know about all those apps and cool planners and we love to use the Bullet Journal system anyway. We (yes, it's like I'm in a cult) prefer the freedom to mold that daily notebook/calendar/habit tracker/list-keeper into something that works for us in ways not available in anything pre-made or digital.
NOTE: There is no "right way" to use a Bullet Journal.
And that's the beauty of it! You guys, I can't even draw a straight line and all of my t's look like x's. None of that matters. For example, in many videos, Bullet Journal users make monthly spreads, but I found I wouldn't ever use one so I stick to the weekly ones. I tend to use the calendar on my laptop for a monthly view. I also don't use any of Ryder Carroll's symbols (he calls them "signifiers") for moving tasks. I do, however, use his system of collections, which are essentially pages dedicated to lists you want to keep track of like restaurants to try, books to read, meals the kids actually liked, and so on.
ALSO NOTE: Using a Bullet Journal doesn't mean giving up all things digital. Not at all! There are NO rules. I still use my iPhone for appointments, contacts, and certain kinds of notes. I already mentioned I use my laptop to see my month at a glance. I use the Evernote app for articles I want to reference in my own work or in the two writing groups I co-run. I use Pinterest for keeping track of recipes I intend to try later.
HOW I STARTED MY BULLET JOURNAL AND WHAT I WOULD DO DIFFERENTLY
In November and December of 2016 I found myself thinking about Bullet Journals nonstop (because something is obviously wrong with me), but I kept insisting I couldn't stand to look at my handwriting or deal with blank pages. It seemed like just another thing to do and nobody needs more things on the to-do list, including making more to-do lists.
Finally, when I couldn't let go of the desire to try, I took notes for ways to start as I watched YouTube videos. I printed out pages of weekly spreads from around the Bullet Journal community. I figured out what might work for me, then experimented for two weeks in an old notebook. I would recommend those steps to anyone.
Once I knew I would really get into this Bullet Journal thing, I ordered some of the supplies I'd been noting on other sites. I do recommend a small ruler and a few special pens, but you really only need a notebook and any pen. [I have a list of supplies I'm into and sites to check out at the end of this post.]
What I would do differently: I obsessed about silly things like what color notebook to buy. (I got navy and later wished I'd chosen yellow.) I worried about having the right pens. (There are no "right" pens.) I probably watched too many videos then entered into analysis paralysis about how to start. FINALLY three months after I first learned about Bullet Journaling I decided to begin already. (Which is also how I started a writing career in 2007. I recommend the JUST START method!) The perfect is indeed the enemy of the good.
BUT WHY DO I LOVE THIS METHOD SO MUCH? AND IS IT WORTH THE TIME?
I love the very thing I thought I would struggle with—the blankness of the pages ahead. I actually love that not all the weekly spreads and habit-tracking pages are created yet. I love that I can change my mind, do it differently week to week, and assess what works and what doesn't before diving into the next week. I can change the format of the page, and I can change the things I'm tracking or the topics I'm taking time to jot down.
People have asked if the set-up time takes away from the functionality, if it's just one more thing to do. I say yes and no. Yes, it takes more time than the digital and pre-made notebooks, but the process is enjoyable for me. Thinking about the shape I want my year, months, and weeks to take and allowing myself the space and time to change my mind taps into something creative in me and brings me an odd amount of joy. Also, I love having a paper record of my thoughts. I am so laptop and iPhone attached that I forgot how much I adore paper and pens. I put my supplies in a small basket and feel extremely possessive about it all, as you can see in the photo below.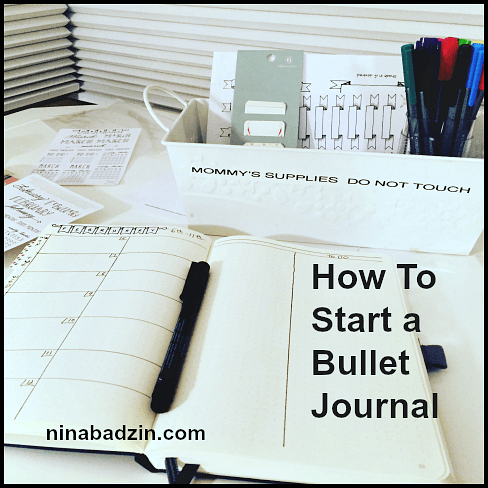 HELPFUL RESOURCES FOR BULLET JOURNAL INSPIRATION
The official Bullet Journal site has a great blog with methods and pictures from Bullet Journal users worldwide. Yes, there's an international Bullet Journal community. Don't believe me? Spend a few minutes on Instagram and Pinterest.
Boho Berry is a visual sensation. I ordered some of her stickers for month headings and a few other stickers on her Etsy store because I love her handwriting and some of her layout ideas. I stalked my mailbox for a week until the stickers arrived.
If you're on Instagram, search the hashhtags #Bulletjournal, #Bujo, or my favorite, #minimalistbujo, which is slightly more doable inspiration for the non-artsy types like me. You can search those same hashtags in Pinterest. I call my Bullet Journal Pinterest board, "Bullet Journal Aspiration" as I don't even intend for my journal to look like those masterpieces. I'm after function first and foremost.
STUFF I BOUGHT (contains Amazon links)
The Bullet Journal world is bananas for the Leuchtturm A5 Medium Dotted Notebook. I do love mine. It's a good weight and size, comes with two page holders, a folder in the back, and an elastic to keep it closed. I got the navy, but as I said above I wish I went with yellow. That said, seeing again how bright it is I understand why I hesitated in the first place. Maybe next year. Of course any notebook will do.
These Accu-Gel Bible Highlighters are a nice way to add a little color. They're somewhat crayon-like. Hard to explain. They're meant to use in a Bible so they don't bleed through the pages.
I'm loving these pens for my daily notes. The fine tip and easy glide are good for the handwriting challenged.
I also bought these fine-tipped colored pens. [Edited 3 months later to say I also bought these. It's not necessary to have both, but I love pens!]
A small ruler is helpful.
I don't understand what some of the artsy Bullet Journal people on Instagram and Pinterest are doing with the fancy tape. So no, I don't use that.
I HOPE THIS HELPS ANYONE WHO HAS BEEN CURIOUS ABOUT BULLET JOURNALS! FEEL FREE TO ASK QUESTIONS. [Edited to say on 4/25/17 that I wrote a post about how I'm using and still loving my Bullet Journal three months later.]
The following two tabs change content below.
Nina Badzin is a freelance writer, a writing workshop leader at ModernWell in Minneapolis, ModernWell's book club host, and the friendship columnist at The HerStories Project. She reviews 50 books a year on her blog and writes essays, short stories, and articles for other sites and print magazines. She lives in Minneapolis with her husband and four children.
Latest posts by Nina Badzin (see all)