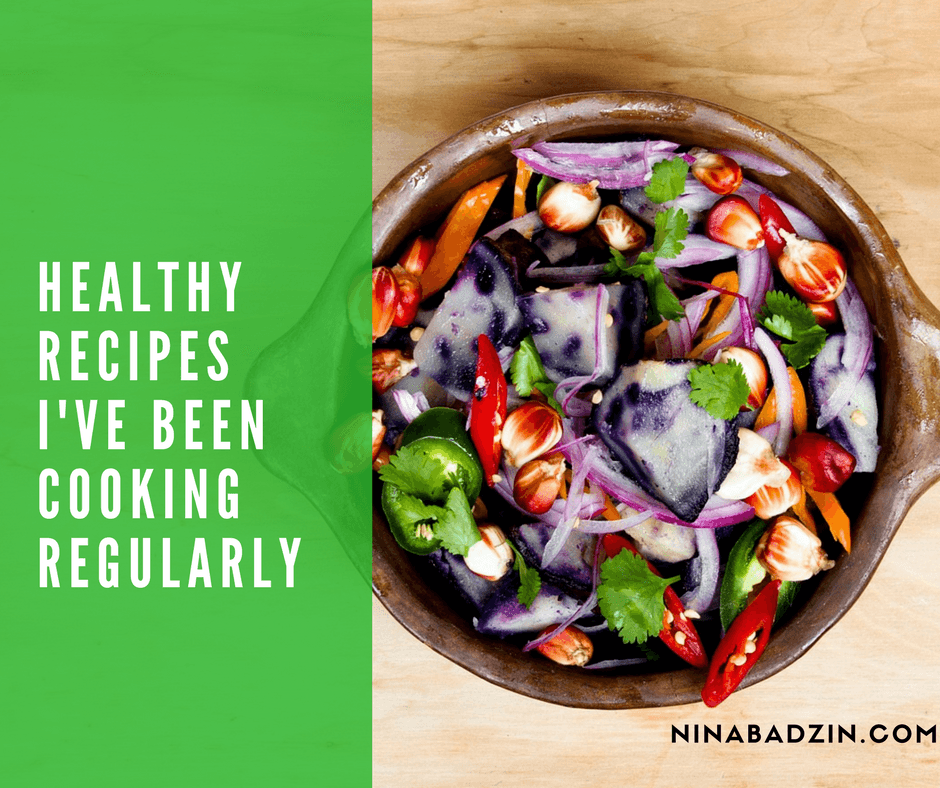 About once a month I write a "Do Listen Read" post with a list of what I've been listening to, watching, and reading lately. In the "do" section, I often include recipes, but I haven't shared any in months. I'm not sure why since I've actually been cooking healthy recipes regularly, often using ideas I find online. Today I'm sharing the ones that have been a hit in my house.
Breakfast
These baked oatmeal cups have been good occassional snacks or breakfast options for me, Bryan, and the kids. They freeze well and I've made them with the flax seeds and also the version with the egg. I used 2% milk rather than almond milk because my youngest is allergic to nuts.
My friend Serena suggested this quiche recipe to use in a muffin tin instead for an easy breakfast. I make it with more eggs, without the croutons, and with no meat. (I think she does, too.)
Any version of a sunny side up egg on toast with avocado is good in my opinion. Here's one way to do it. I love the levain bread at Rustica, a local bakery in Minneapolis. I freeze a small loaf and use throughout the week.
Dinner
This Greek sheet pan chicken with lemon and potatoes recipe from Pamela Salzman is fabulous. I love most sheet pan recipes. They're all easy, adaptable, and fast to clean. Skinnytaste.com has some good ones as well. Replace salmon with any of the chicken in these recipes and cook for less time.
My kids really like these crispy baked chicken breasts. I leave off the lemon zest, lemons, and parsley.
I still like these rosemary meatballs and zucchini "noodles" from a post I wrote three years ago.
Planning to make soon:
The list below is not random. I organize my recipes often and get rid of anything that is more complicated than I had first thought or too aspirational.
My friend Amy promises that the no-knead bread recipe from the New York Times is the real deal.
The Tuscan chicken skillet from Kitchn.com looks fabulous.
The Punjabi-style black lentils from Smitten Kitchen is high my list. My kids promise they'll try them, at least.
I'm thinking about getting an Instant Pot because so many of the food sites I follow swear by them. I will report back if I do! This Instant Pot beef stew from Pinch of Yum would be one of the first things I'd try.
---
THERE ARE ALWAYS A FEW RECIPES IN MY MONTHLY NEWSLETTER. 
The following two tabs change content below.
Nina Badzin is a freelance writer, a writing workshop leader at ModernWell in Minneapolis, ModernWell's book club host, and the friendship columnist at The HerStories Project. She reviews 50 books a year on her blog and writes essays, short stories, and articles for other sites and print magazines. She lives in Minneapolis with her husband and four children.
Latest posts by Nina Badzin (see all)