In an amazing feat of procrastination, I made the ultimate love song playlist to satisfy anyone's 80s and 90s nostalgia needs. Music is a portal to memory, a magic trick that brings us back to a moment, a person, a feeling we had during a certain period of our lives. In the past few months, every time I've turned on my computer to work on any number of the half-written essays and the few short stories I've been fiddling with for almost a year, I've been pulled to my constantly growing playlist on Amazon Prime.
This is not unusual behavior for me. It's my adolescent mixtape-making tendencies in the form of newer technology. I used to make a mixtape to commemorate every possible milestone. Spring Break Mix '91! Camp Mix '92! Breakup Mix '93! Graduation Mix '95! You get the idea.
This playlist I'm obsessing over now seems to represent a taste of my old mixtapes, all of which are long gone. I'm sure I tossed them before we moved into this house thirteen years ago. I'm not a saver, which mostly serves me well in that I'm not bogged down by stuff, not physical things anyway. I do wish I'd shown some restraint before tossing the tapes though. Perhaps I'd be able to pry myself away from Amazon's streaming toy if I could bring my old tapes to someone who could convert them to MP3s.
When my kids hear my music in the background, they want to know why my favorite songs are sad. I don't think these songs are sad, though I admit that when Eva Cassidy or Sarah Mclachlan are playing there's a melancholy quality to their sounds. I like songs that tell a story, and yes, sometimes those are sad stories, but not always.
I seem to be trying to capture memories, moments, and feelings with this old music. No matter the event, a good portion of my tapes fell back on the usual tropes of 80s love songs, which is why I've aptly called my newest Amazon playlist "Love Song Nostalgia Overload." Most of what's on there represents a certain period of my life from middle school through high school with the occasional college tune tossed in. Remember "Windmills" by Toad the Wet Sprocket mid-late 90s college people? What an odd name for a band.
I'd love to share my nostalgic list with you and hear what you'd put on yours. Maybe you can make one and share it with me! The link to mine is here, but I'm not sure you can listen to it unless you're an Amazon Prime member. I'm going to include screen shots below so the list is visible either way. Note that not all songs ever made are available on Prime, which is why the song "And When She Danced" is missing. That song was on every single mixtape I made from 1989 all the way through when I burned songs onto CDs. Is that what we called it? Burning? I think we did. The lyrics to "And When She Danced" would have encapsulated this post perfectly. Anyway, here's my long song playlist without it! Enjoy!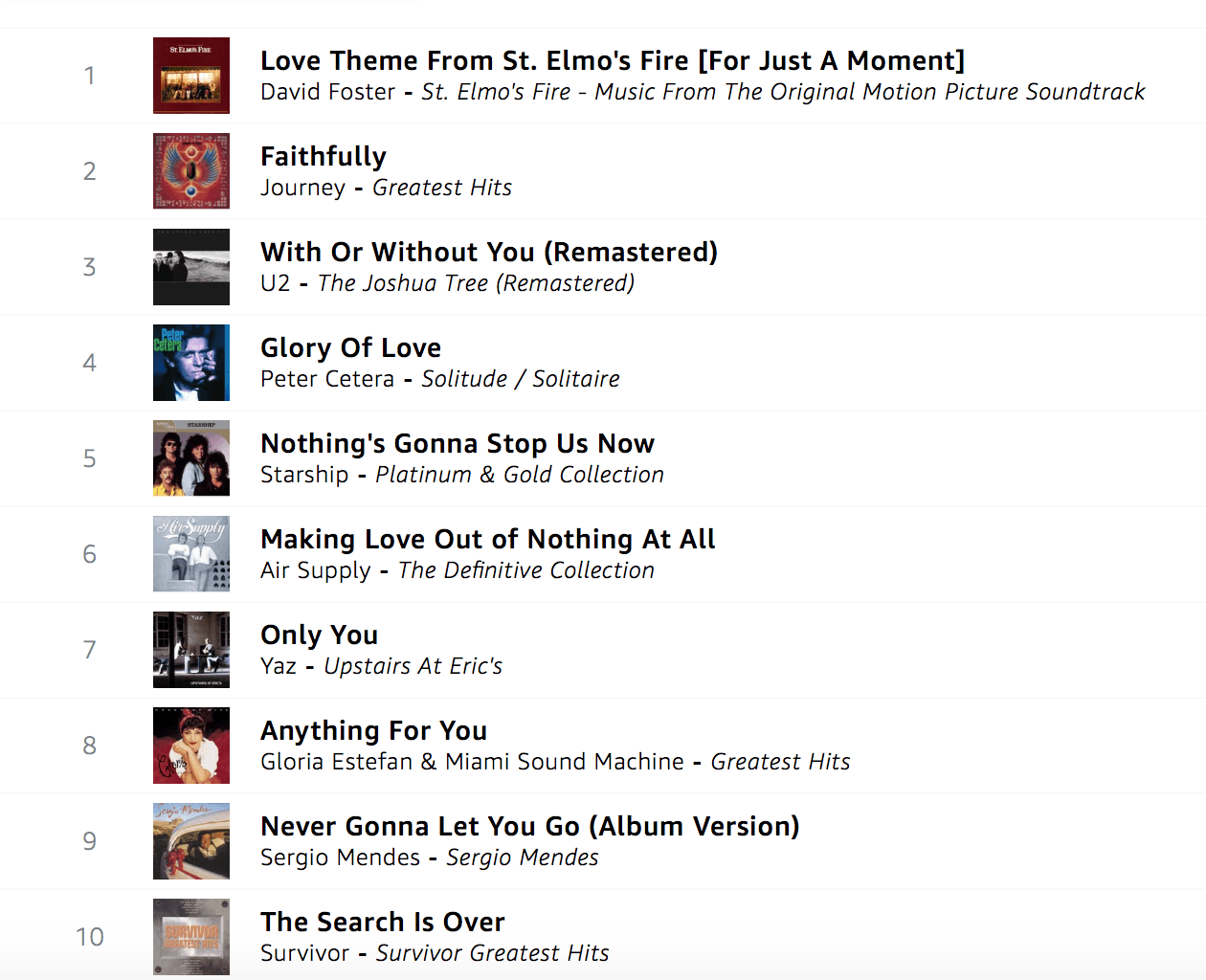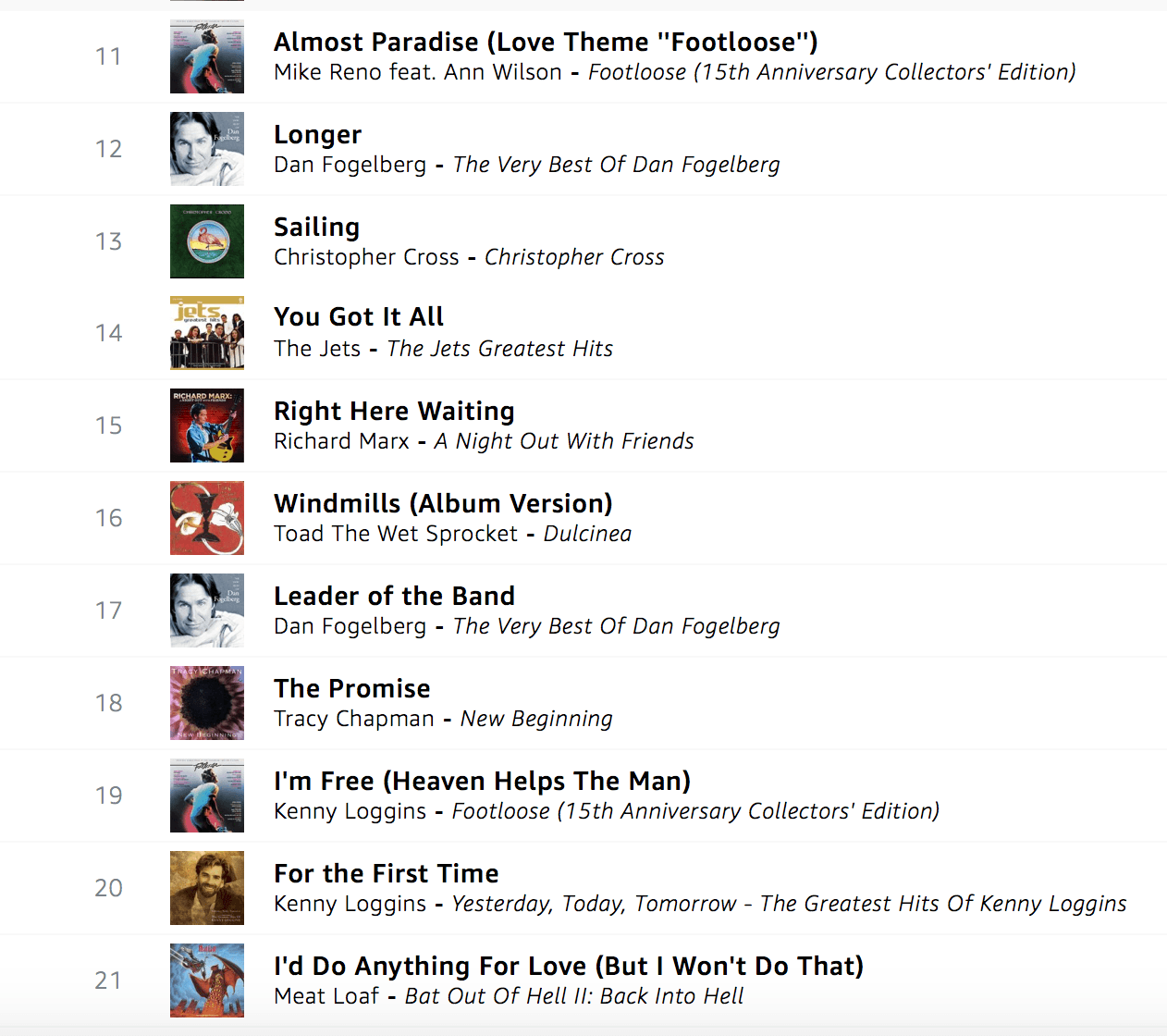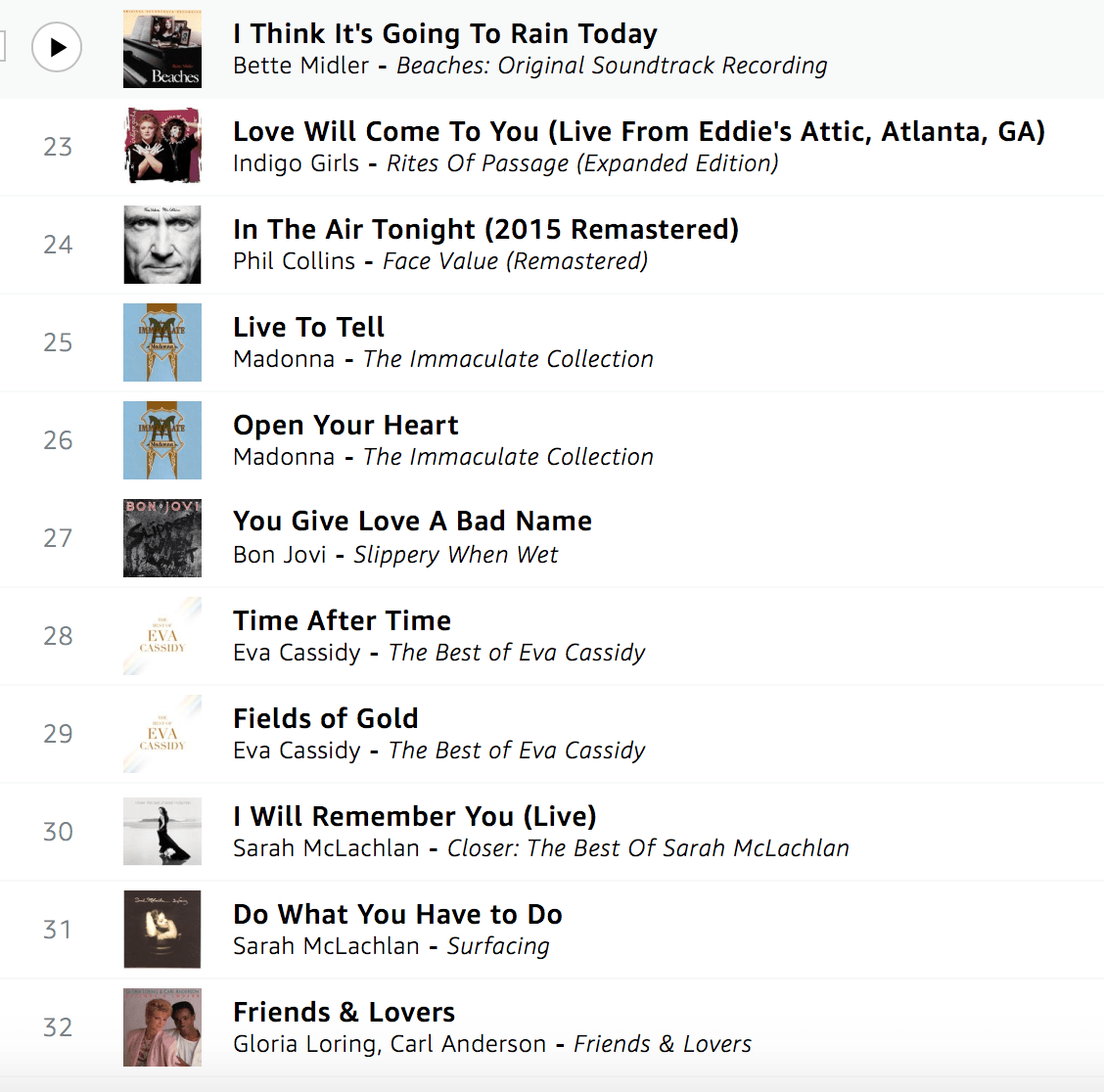 The following two tabs change content below.
Nina Badzin is a freelance writer, a lead writing instructor at ModernWell in Minneapolis as well as ModernWell's book club director. She reviews 50 books a year on her blog, writes reviews for other sites, and has a friendship advice column at The HerStories Project. She lives in Minneapolis with her husband and four children.
Latest posts by Nina Badzin (see all)