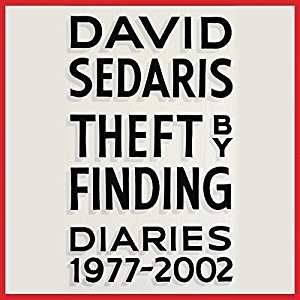 Okay, perhaps my David Sedaris party is a party for one, but I'm having a GREAT time. David Sedaris is the rare author who can get me to buy the audio of his newest book and also have the print copy (hardcover, no less!) on my nightstand.
When do I have time for all this audio, you ask? (I'm a mindreader.) I drove by myself to see my family in Chicago and of course I will have the ride back to Minneapolis, too. I also listened to some podcasts and my cheesy music, but my favorite companion will always be David. If you're a Sedaris fan, his audio is a must. Trust me!
By the way, Book of the Club members get a crazy deal on the hardcover of Theft By Finding. It's only $9.99! I had pre-ordered the book before I knew that bit of info, but at least somebody else out there can benefit.
I'm going back to my party now. Enjoy your weekend! 
Links are affiliate links. 
---
The following two tabs change content below.
Nina Badzin is a freelance writer, a lead writing instructor at ModernWell in Minneapolis as well as ModernWell's book club director. She reviews 50 books a year on her blog, writes reviews for other sites, and has a friendship advice column at The HerStories Project. She lives in Minneapolis with her husband and four children.
Latest posts by Nina Badzin (see all)