The June friendship column at The HerStories Project is a response to a letter about a botched weekend away with friends. How can the letter writer successfully plan on traveling with friends in the future? Do you like to go away with a group of friends? Do you ever travel with other couples? Please see if you can add your advice!
I'll tease you with the first part of the letter. I think you can imagine that things go South from here. 
Dear Nina,

I am about to turn 30 so I wanted to use my birthday as an excuse to go away for a long weekend with my boyfriend and some friends. I had originally planned on inviting two of my closest friends and their boyfriends, but that weekend had some important life events for both of my friends and they could not come. I decided that it would be nice to invite my boyfriend's closest couple friends, "Brad" and "Jill," to come along since I knew that they like the location and we all are friends and get along great. . .  

READ THE REST HERE.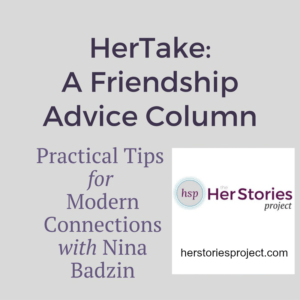 The following two tabs change content below.
Nina Badzin is a freelance writer, a lead writing instructor at ModernWell in Minneapolis as well as ModernWell's book club director. She reviews 50 books a year on her blog, writes reviews for other sites, and has a friendship advice column at The HerStories Project. She lives in Minneapolis with her husband and four children.
Latest posts by Nina Badzin (see all)