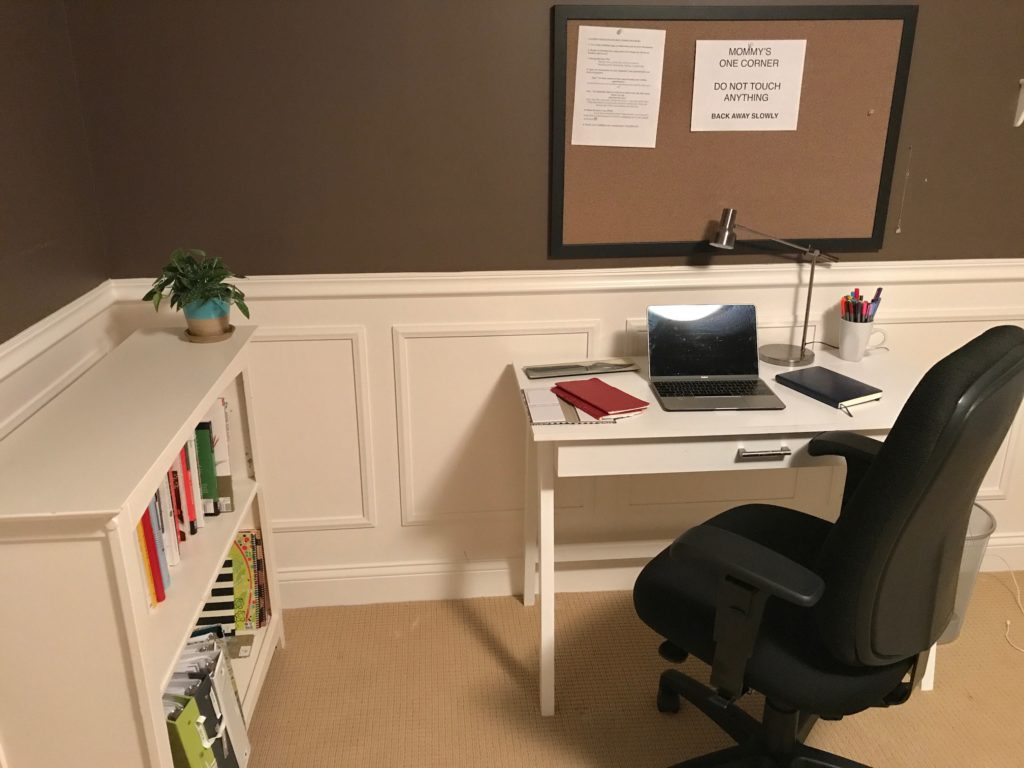 It's not a whole room, but it's a spacious corner that is ALL MINE, a corner of one's own if you will.  Technically it's an actual room with a door that closes, but since I share the space with the kids, I'm more comfortable calling it my corner. The truth is, I will still do most of my laptop time in coffeeshops between kid pickups. But I've been craving a desk where I can do some work at home then leave my notes, pens, etc., in a spot where they will remain untouched. I wanted a bulletin board and a bookshelf for my craft books, favorite essay collections, and the binders, anthologies, magazines, and newspapers containing my own work. Now I have a corner with all of the above, and I am so excited!
And guess what? The whole operation took three hours tops. The lesson here? I tend to make things more complicated in my mind than they are in reality. This part of the room has been here for the taking for three years, ever since Nathan, our fourth child, moved out of the nursery and into a "big boy room" on the lower level next to his three older siblings. (We have a two-story rambler with a walkout lower level, which is common in our neighborhood.)
I'm not sure why it took me three years to claim a part of this former nursery on the main floor next to our bedroom. Maybe it's because some of Rebecca's and Elissa's things spilled into the extra space once we moved them into one bedroom. Maybe it's because when Rebecca took up sewing we put the sewing machine on the only remaining desk in the house and dragged the desk along with all her supplies into the former nursery. The kids' various gadgets charge there with twisted cords sprawled on top of the former changing table. The old nursing gliding chair was in there, too, which I kept because it's still a great reading and writing chair. (It's where I've been writing first thing in the morning since Nate moved downstairs.) So yes, I've been using that chair as my "office" for years, but I had nowhere to keep my stuff and at this point in my career, it felt undignified.
A few days ago I decided enough was enough. In three hours flat, I went to a store specilizing in ergonomic chairs, got Nathan on time from camp, then shlepped him to an office store to grab a big bulletin board. When we got home, I gave away half of the girls' toys in that room and put the rest in another corner. Then I freed up the desk by packing up the sewing machine Rebecca hasn't touched in a year.
I moved the bookshelf that once held board books next to the desk and moved my craft books and binders from various places in the house to this one spot. I collected all my fancy pens from next to my bed, my purse, the kitchen junk drawer, and other black holes in the house and put them in a mug. I found two old wicker baskets in a closet that once held diapers and wipes and made the kids' iGadget thingies look nicer on the old changing table. For the final touch, I begged Bryan, who would normally put off such a task, to hang the bulletin board that very evening. And because he could see the crazy in my eyes, he got out the tools and became my favorite husband ever.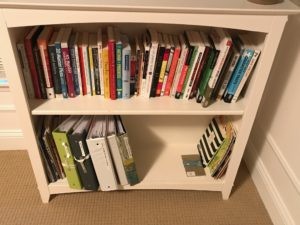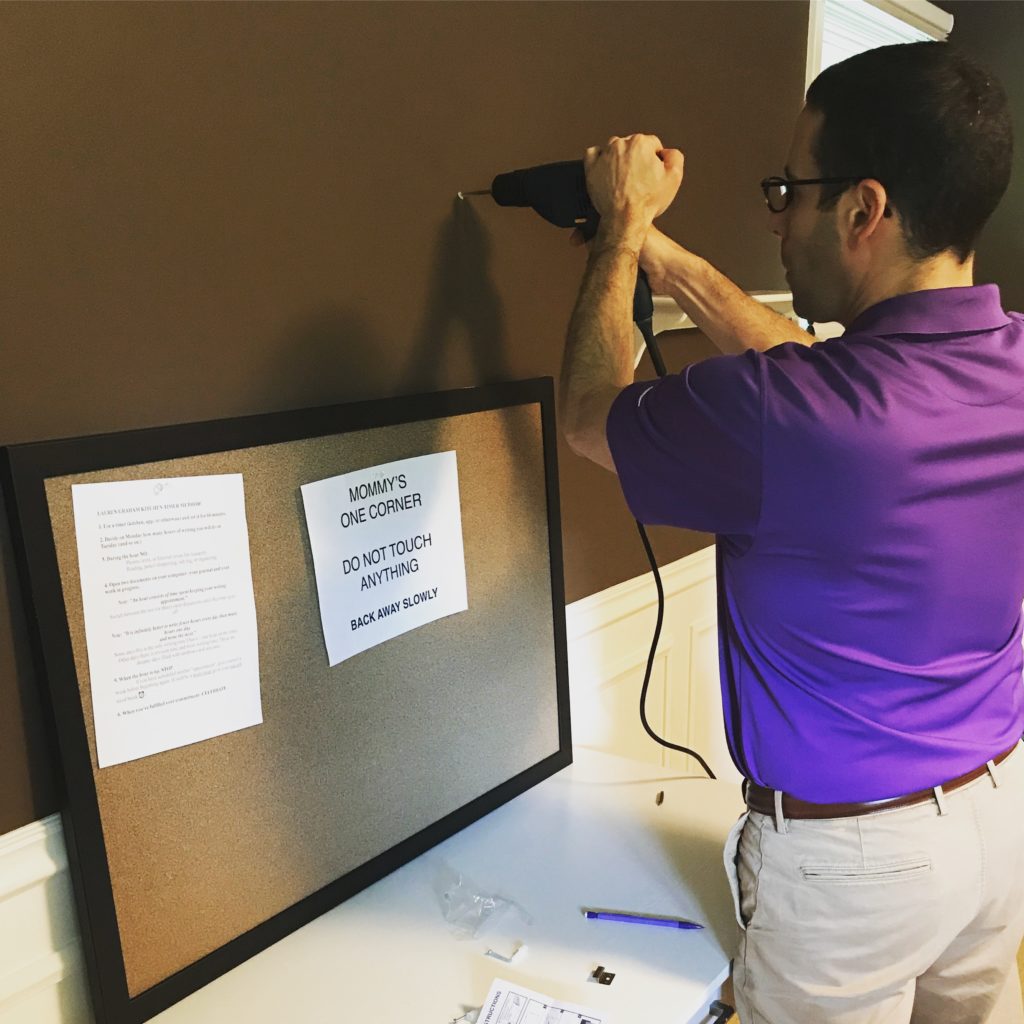 This room has had various nursery versions over the past thirteen years. You might enjoy the transformations below.
Do you have a dedicated space at home? I'd love to hear about it.
The following two tabs change content below.
Nina Badzin is a freelance writer, a writing workshop leader at ModernWell in Minneapolis, ModernWell's book club host, and the friendship columnist at The HerStories Project. She reviews 50 books a year on her blog and writes essays, short stories, and articles for other sites and print magazines. She lives in Minneapolis with her husband and four children.
Latest posts by Nina Badzin (see all)