DO
WATCH! I cannot tell you how much I loved THE MARVELOUS MRS. MAISEL from the Gilmore Girls team. There are only eight episodes so pace yourself if you can. (I couldn't.)
GIVE! I'm into two particular gifts this year. Both for myself and for others.
#1. GLOSSIER: My BFF, Taryn, who is also a makeup artist in Chicago, introduced me to Glossier. (My sister-in-law, Jaci, likes it too.) The products are well priced, fun, and the cute box and packaging is delightful to receive. 10% off your first order. Enjoy! The stuff I got is below, which came in two boxes because I've already ordered twice.
I especially like the eyebrow gel and the invisible shield sunscreen.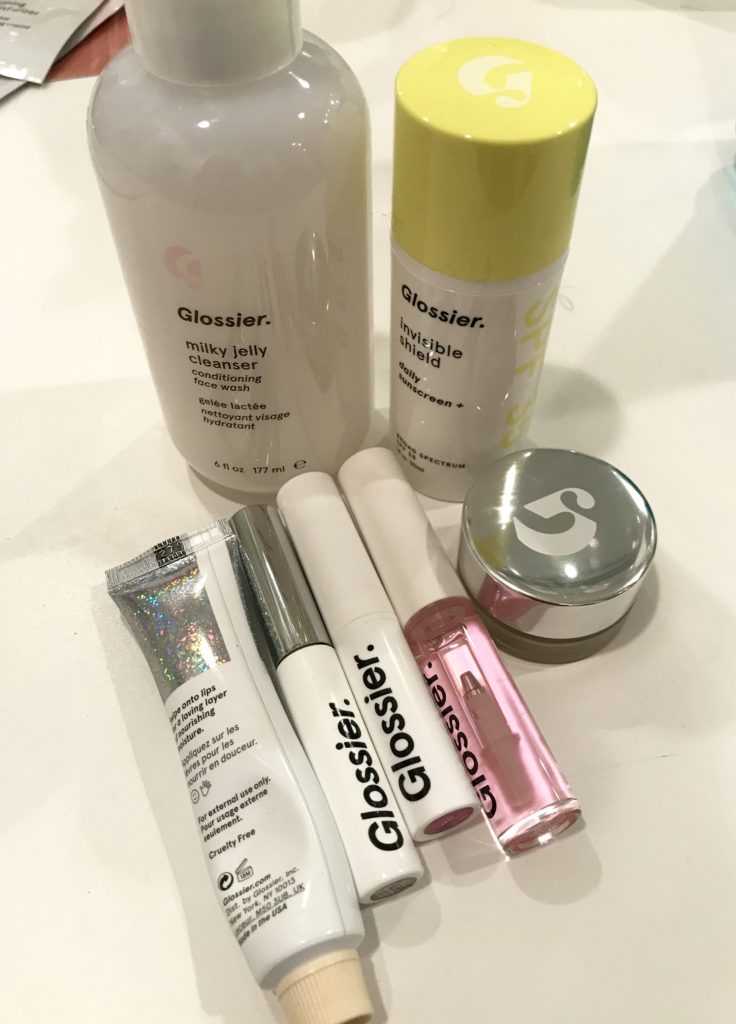 #2. BOOK OF THE MONTH: If I was responsible for getting gifts for several adults at once (we're mostly kid focused for Hanukkah), I would be getting people Book of the Month club memberships. I have one and love it! If I don't like the offerings that month or I'm too behind on my reading, I skip that month and then my membership lasts a little longer. I only have one month left so I will be extending mine soon, unless someone wants to get me an early Hanukkah/birthday gift. 🙂  There are options for three, six, or twelve months. (Affiliate link)
LISTEN
My friendship column has been on hiatus until the site where it's hosted revamps. BUT, I put my best and most recent piece of advice on my Facebook page and it's worth a listen (well, a look). It's HERE.
I'm late to the podcast HOW I BUILT THIS with NPR's Guy Raz. It's great!
This is watch/listen combo: I appreciated Mayim Bialik's quick and simple explanation of Hanukkah for people who may be confused about why it's REALLY NOT THE JEWISH CHRISTMAS.
READ
Salma Hayek's piece in the NYT about Harvey Weinstein is incredibly powerful. "Harvey Weinstein Is My Monster Too"
I had a short story in a new literary site called Typishly. I like the story, obviously, but I also love how it looks on the site and the picture the editor chose. You can read it here: "The Pleasure of Your Company."
I love Lisa Romeo's idea to make an "I did it" list for 2017. Her post refers to writers, but her main point works for many aspects of life. As it pertains to writers though, she urges us not to just jot down the places we were published in 2017, but all the other small steps we may have taken such as reading more than usual, starting a project, experimenting with different forms of writing, or joining a writing group (YAY MODERNWELL WRITING STUDIO).
I'm almost done with book #46 for my 2017 reading goal of 50 books. I WILL MAKE IT!
---
HAPPY HANUKKAH TO THOSE WHO CELEBRATE! May your week be filled with light in every literal and metaphorical way. 
The following two tabs change content below.
Nina Badzin is a freelance writer, a writing workshop leader at ModernWell in Minneapolis, ModernWell's book club host, and the friendship columnist at The HerStories Project. She reviews 50 books a year on her blog and writes essays, short stories, and articles for other sites and print magazines. She lives in Minneapolis with her husband and four children.
Latest posts by Nina Badzin (see all)