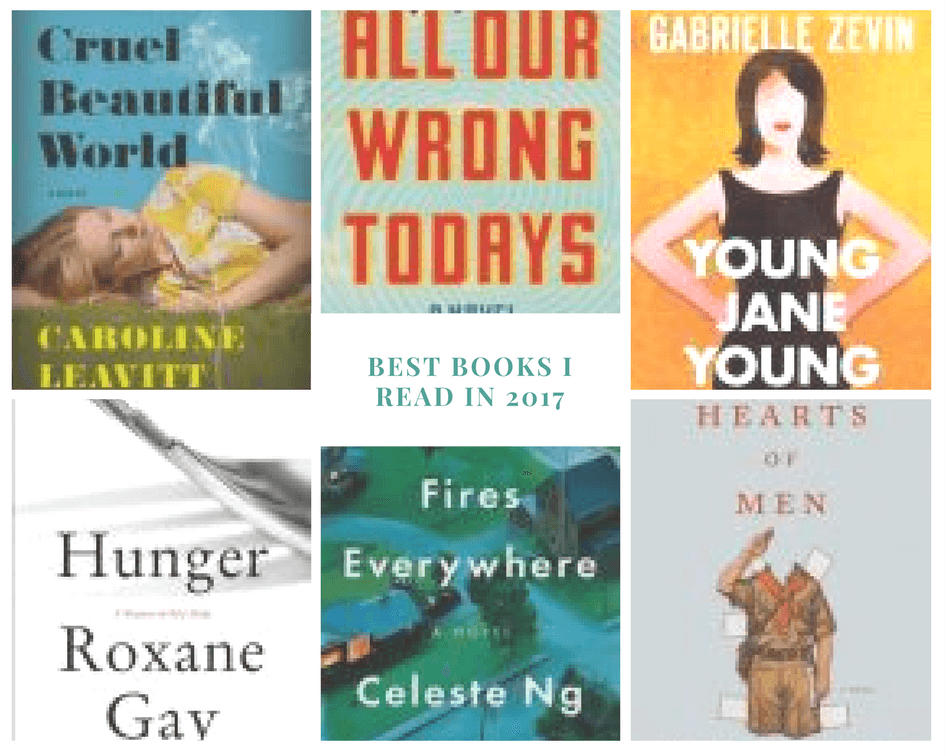 I sort of hate picking my "best books of 2017." But I do love tradition and it's tradition to choose my top reads so here we go in no particular order. To see all 50 books I read in 2017 and what I thought of them, click here. I liked and even loved WAY MORE than six. All other years' lists of 50 (or more) are on this page.
Note: links on the books below are to Indiebound.org, which allows you to buy books at independent bookstores online or in person. Why do I link there? I explain that here.
THE BEST 6 BOOKS I READ IN 2017
Hunger: A Memoir of (My) Body
 by Roxane Gay

I did the audio because when possible I like to take in memoirs that way. (But only if the author is the one reading it.) Roxane Gay is direct and honest in this work about sexual abuse, weight, society's messages, and so much more.
All Our Wrong Todays: A Novel
 by Elan Mastai

SO GOOD! A bit slow to start, but then I got SO into it! I'm a huge fan of time travel stories in books or film. This one does not disappoint. It's too strange and original to even attempt to summarize, and I hate summarizing books anyway so I will let the link speak for itself.
Young Jane Young: A Novel
 by Gabrielle Zevin

I loved this novel about the struggle to reinvent yourself in the age of social media after a Monica Lewinsky-esque scandal. I've always enjoyed Zevin's work and this one was no exception. I read it twice this year. The second time was to understand how Zevin pulled off different points of view–some in present tense and some in past–one whole section in one-sided emails, and another section in second person. It was impressive!
Little Fires Everywhere
 by Celeste Ng

A complex novel with some suspense and mystery at the core, but it's ultimately about trust, friendship, the roles we play in our families, identity, and so much more. Everyone's talking about this book and for good reason.
 Cruel Beautiful World by Caroline Leavitt 

I ripped through this book in three nights and really liked the fast-paced, character-driven story. Highly recommend!
The Hearts of Men: A Novel
 by Nickolas Butler

I highly recommend this novel. The story and setting feel so original and Butler's writing is gorgeous. Did you read Shotgun Love Songs by Butler? I liked that one too, but I liked this one even more.
FUN NEWS! I'm directing the book club for members of a new co-working space for women in Minneapolis called ModernWell. I haven't picked the books yet, but I will be choosing four throughout the year. Why only four? I assume many of the women are in other books clubs. Also, I've been to enough book club sessions in my life when only half of the people have read the book. Perhaps choosing fewer books will help! I'm thinking: one current novel, one classic novel, one memoir, and I haven't decided on the fourth category. I'm open to ideas!
AND, if you live in Minneapolis and are interested in the writing/creativity group I've been yammering about for over two years, Julie Burton and I have space in our newer Tuesday group. Details are here. (You don't need to be a member of ModernWell to sign up.)
---
The following two tabs change content below.
Nina Badzin is a freelance writer, a writing workshop leader at ModernWell in Minneapolis, ModernWell's book club host, and the friendship columnist at The HerStories Project. She reviews 50 books a year on her blog and writes essays, short stories, and articles for other sites and print magazines. She lives in Minneapolis with her husband and four children.
Latest posts by Nina Badzin (see all)