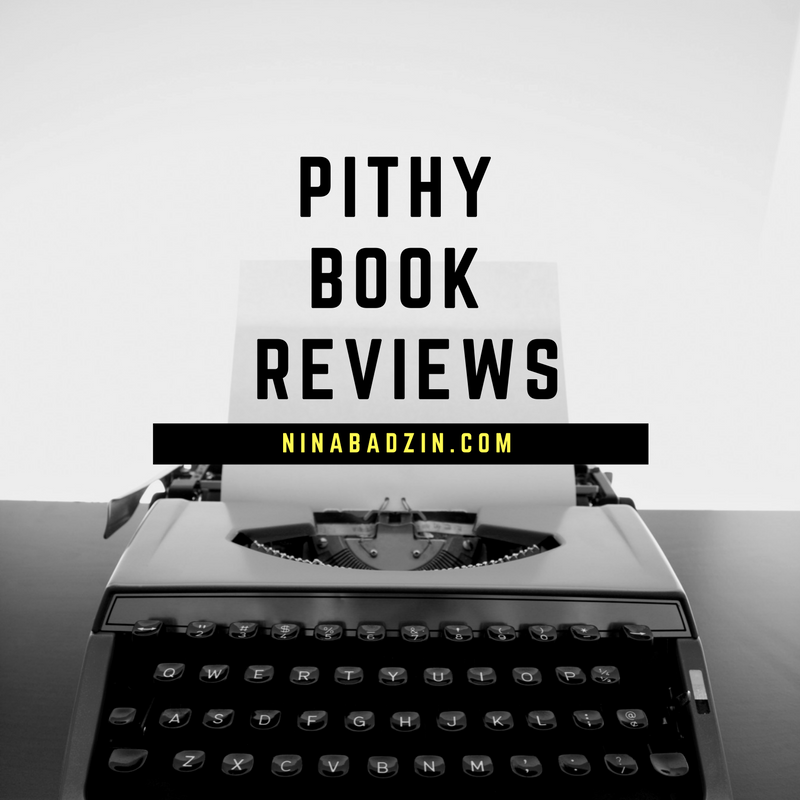 #1. I Feel Bad About My Neck: And Other Thoughts on Being a Woman
 by Nora Ephron
This book of essays is perfection. Funny, smart, and honest. After each essay I'd say, "This one was my favorite," which was true until I read the next one. I loved them all. Reading Ephron at this point, knowing that she died, makes the experience bittersweet. It's hard to think that she only lived a few more years after this book and I Remember Nothing were released.
#2. I Remember Nothing: And Other Reflections
 by Nora Ephron
I read I Feel Bad About my Neck and I Remember Nothing back-to-back in 2011 as well. Both times I preferred I Feel Bad About my Neck, which feels fresher and more original. Still, Ephron's writing style is one that inspires me. She's funny without being over-the-top, gross, or cheap. It's smart humor.
 #3. Messenger
 by Lois Lowry
I read The Giver quartet slightly out of order (ending with Messenger instead of Son). No, matter. The series is brilliant and if I had time I would start from the beginning and read all four books again. Highly recommend. The series starts with The Giver. Then it's Gathering Blue. Messenger. Then Son. Each stands on its own, but I wish I had read them in succession.
#4. The History of Us: A Novel
 by Leah Stewart
A family drama about three children raised by their aunt and their relationships as adults. Was okay. A little disappointing because I loved her previous one so much.
#5. Get a Freelance Life: mediabistro.com's Insider Guide to Freelance Writing
 by Margit Feury Ragland
A VERY helpful guide to the lingo and goings-on of the magazine and newspaper world. I do wish it had been updated since 2007 though since so much has changed in the world of online opportunities.
#6. Motherhood: The Second Oldest Profession by Bombeck, Erma (1983) Hardcover
 by Erma Bombeck
It's hard to believe these were the first Erma Bombeck essays I've ever read. She was so obviously the early pre-mom blog writer. She covered topics it seems other mothers weren't talking about as openly at the time (like motherhood being impossible at times). She and my favorite essayist, Nora Ephron have a similarity in voice and tone. I really enjoyed this collection. I was provided with an egalley of the new release by NetGalley.com.
#7. Friendfluence: The Surprising Ways Friends Make Us Who We Are
 by Carlin Flora
The subject of friends–how we make them, keep them, etc.–has always interested me. I absolutely loved last year's MWF Seeking BFF by Rachel Bertsche, which covers much of the same ground as Friendfluence without the sweet personality that Bertsche brought to her memoir. Friendfluence is more research heavy, but I found the topics covered ground I'd read numerous times before. I did appreciate some of the newer findings in how social media sites (like Facebook) influence our friendships. I also liked Flora's point that those who know how to let others shine as well as take a turn in the spotlight themselves seem to be the people who are most successful socially. If you haven't read other books on this topic, then I would recommend this one. If you have, however, I can't say that reading Friendfluence will cover enough new ground to make it worth the read.
I was provided with an egalley of Friendfluence by NetGalley.com.
#8. Dark Places
 by Gillian Flynn
Like many readers, I was swept away by the pace and twists of Gillian Flynn's Gone Girl last year. She wrote Dark Places before Gone Girl, but after enjoying Gone Girl so much I was ready for more. Dark Places was a compelling read about the two surviving members of a horrific family massacre, but it was honestly SO dark that I now need a Gillian Flynn break. I need something uplifting and not full of murder. Do I recommend it? I think so. But it's certainly not a feel-good book. Just know that going in!
#9. Where'd You Go, Bernadette: A Novel
 by Maria Semple
The whole time I was reading this book I kept thinking "This is such a strange book." But I definitely enjoyed reading it because of its strangeness. I really liked that the story is told in letters, emails, and other documents from a variety of characters. That Semple pulled the entire plot together in this way was really impressive. The character of Bernadette with her disregard for what most people think combined with her worry over that attitude made her more realistic than the typical quirky character in novels.
#10. Salt Sugar Fat: How the Food Giants Hooked Us
 by Michael Moss
When I started Salt Sugar Fat, I thought, "Oh, big shocker. Salt, sugar, and fat are bad for you." But as I kept reading, I found the history of our society's transformation from home cooked food to convenience food really interesting. Even the term "convenience" food was a marketing decision by one of the big food companies and boy did it stick. It's scary to think about how much we choose to eat is decided by marketing gurus. Also scary how much salt, sugar, and fat processed foods need in order to taste good in our mouths. It's just not natural. Because it's NOT natural!
I was provided with an egalley of Salt Sugar Fat by NetGalley.com.
#11. Sad Desk Salad: A Novel
 by Jessica Grose
I liked, but didn't love this "modern chick lit" (keep reading that term lately) story about 20-something  Alex who works at a hot website called Chick Habit, a site that is modeled after Jezebel and Slate's Double X Magazine. (Grose was an editor at both Jezebel and Slate.) We get to watch as Alex deals with her decision to further her career in a less than ethical manner. I personally found the behind-the-scenes atmosphere of the site a fun backdrop for a novel. Not sure my non-internet-obsessed friends would agree. If you're a blogger, however, I think you'd like this one for sure.
#12. Something New by Janis Thomas
Similar to Sad Desk Salad, which I read right before this one, Something New features a blog. In this case it's an anonymous blog written by the main character, Ellen, who is bored with her life at home and is having trouble in her marriage. She begins a flirtation with a new man in town who has a son on her child's soccer team. I didn't love it.
#13. Pinterest Savvy: How I Got 1 Million Followers  . . . by Melissa Taylor
Great tips to manage Pinterest. Easy to follow book with helpful examples. However, the minute I finished this ebook I said to myself, "I am not going to get any new followers on Pinterest. And that's okay." Twitter is my home away from home. Mama don't have time for another house to keep.
#14. Beautiful Ruins: A Novel
 by Jess Walter
One of my favorites of 2013 for sure (at least so far). Beautiful Ruins is a gorgeous epic novel that goes back in forth between 1962 Italy and modern day America. I loved the way Walters weaved seemingly random characters and story lines into a cohesive and moving story. I hate ruining the plots of a book so I won't say more. Just trust me that Beautiful Ruins is a brilliantly told story with exceptional writing.
#15. Travels with Epicurus: A Journey to a Greek Island in Search of a Fulfilled Life
 by David Klein
In Travels with Epicurus, Klein, in his early 70s, seeks not the answer to a fulfilling life ingeneral but specifically to living a fulfilling life in old age. He discusses at the beginning of this slim book how a recent visit to the dentist left him with two options for his problematic teeth: dentures with their "old man look" or the expensive and time-consuming process of implants. Klein's initial impulse was to get the implants since the knee-jerk reaction for many of us, he points out, is to do whatever it takes to appear young to ourselves and the outside world. See the rest of my review at greatnewbooks.org
#16. Motherhood Comes Naturally and Other Vicious Lies by Jill Smokler
Loved it! Love of all Jill's work and how honestly she discusses certain aspects of motherhood. This is one you can sit down with and read through to the end. It's the kind of book that would make a fabulous gift for Mother's Day, a baby shower, a friend's bday, etc.
#17. The Time Keeper by Mitch Albom
I was compelled to finish it, but I did not love this book. Felt overly hokey.
#18. The Silver Star by Jeanette Walls
I remember staying up an entire night to finish The Glass Castle, the unforgettable memoir by Jeanette Walls. I read her new novel, The Silver Star, in two nights. I was drawn in by the voice of the narrator, Bean, and by Walls' continued theme of irresponsible adults who create children who are wise beyond their years. About 2/3 into the story, I was less enthralled with the plot than I had been up to that point. I don't want to give details because it would ruin the story, which I still think is worth a read. I especially enjoyed the tone and both the overt and indirect nods to To Kill a Mockingbird throughout the book.
I was provided with an egalley of The Silver Star by NetGalley.com.
#19. The Comfort of Lies by Randy Susan Meyers
The Comfort of Lies takes the issues of motherhood, adoption, and marriage and spins them on their head. This is not your typical adoption story and I appreciated the originality. I liked the way Meyers let us glimpse into the depths of a marriage and forces readers to consider the power of forgiveness. I recommend the book!
 I was provided with an egalley of The Comfort of Lies by NetGalley.com.
#20. It Starts With Food by Melissa Hartwig
I read this book about the Paleo diet cover to cover. I know myself and being too strict makes me crazy and sends me on an "on day" "off day" ride to nowhere good. It did help me understand the Paleo diet inside and out though. There are some interesting elements, but yikes–it is very strict.
#21. Friendkeeping by Julie Klam
I love most books about friendships. This memoir was great and gave me some great material for a guest post I wrote for Her Stories Tales when I wanted to write about the concept of a friendship break. Not a break UP but a break.
#22. Crazy Salad and Scribble Scribble by Nora Ephron
I'm devastated that this is the last work of Nora Ephron's I had not read before. I enjoyed it and found it especially interesting that although she wrote most of these essays in the 70s they feel current, especially the ones in the "Crazy Salad" side which are mostly about women. This collection is not as light and "fun" as I Remember Nothing and I Feel Bad About my Neck. Just know that going in.
#23. The Glass Wives by Amy Sue Nathan
A really solid debut novel with an interesting premise about the aftermath of divorce, what happens when the ex-husband dies and you're left with the second wife and their child. A good story about  what it really means to be a family.
#24. Still Writing: The Perils and Pleasures of a Creative Life
 by Dani Shapiro
I have read every one of Shapiro's books so when I saw Still Writing on netgalley.com I requested it to review immediately. This book did not disappoint. I loved Shapiro's insight on all aspects of writing. My full review is at GreatNewBooks.org.
I was provided with an egalley of Still Writing by NetGalley.com.
#25. The Paleo Solution by Robb Wolf
Still intrigued by the Paleo diet . . . got some good recipes and good info. This book is for sure science/research heavy. Good for people who want to know all those details.
#26. Happier at Home: Kiss More, Jump More, Abandon a Project, Read Samuel Johnson, and My Other Experiments in the Practice of Everyday Life by Gretchin Rubin
I love Rubin's work on her site, in magazine articles, and in her book. The first book was my favorite, but this one is good too!
#27. 29 Gifts in 29 Days by Cami Walker
Another project book, which I tend to like. I liked this one for sure, but about half-way through I felt I had enough of the idea.
#28. Carry On, Warrior: The Power of Embracing Your Messy, Beautiful Life
 by Glennon Doyle Melton
I really enjoyed with this book and seem to be the only blogger who didn't know about Glennon before reading it. I appreciated her writing style and her honesty. I didn't even mind all the church talk.
#29. I Can't Complain by Elinor Lipman
I enjoy Elinor Lipman's voice very much, but this collection felt a little thin. Still, as a Lipman fan I would still recommend it to others who have followed her career. I particularly loved her two cents about being on conference panels.
#30. The Interestings: A Novel
 by Meg Wolitzer
Really loved it. My full review is at Greatnewbooks.org.
#31. Sisterland by Curtis Sittenfeld
Liked it a lot. Loved Sittenfeld's Prep and American Wife so I had high hopes for this one. I especially loved the St. Louis backdrop since it's where I went to college. Story was on the slow side. Characters and situations were interesting though.
#32. Let's Explore Diabetes With Owls by David Sedaris
This is Sedaris's newest collection of essays. I loved this particular collection (though I've enjoyed them all). It's amazing how he can make something out of nothing (in terms of subject matter). I was particularly interested in his essay "Day In, Day Out" in which he described his meticulous process of writing in a journal every morning about the little details of his observations from the previous day or in general.
#33. Good Prose: The Art of Nonfiction by Tracy Kidder and Richard Todd
Very good. Heavy so couldn't read it all at once. I'd read a chapter then put it away for a while. I loved the chapter on essays and how they're meant to provoke more than persuade. That's exactly how I feel.
#34. Why We Get Fat: And What to Do About It by Gary Taubes
Painful read. As for what to do about it? Cut out anything that raises your insulin too much (aka white flour, sugar, potatoes). That about sums up the book minus all the science background. You're welcome.
#35. Clean Gut by Alejandro Junger
I'm much too lazy and addicted to coffee to do this cleanse, which probably means I should. But it's not going to happen. Also, this book could have been 50% shorter.
#36. The First Affair by Emma McLaughlin and Nicola Kraus
I raced though this book (by the authors of The Nanny Diaries) in two nights. It was definitely not the kind of book I've been reading the past few years. But you know what, I loved it! I was due for a fun, racy read. The story is loosely based on the Monica Lewinsky scandal. Not gonna lie to you, the racy parts were for sure my favorites. And I might have read those sections twice. Also want to acknowledge that I made all of my friends read this and nobody liked it as much as I did. Not sure what that says about me. Or about them.
I was provided with an egalley of The First Affair by NetGalley.
#37. The Yonahlossee Riding Camp For Girls by Anton DiSclafani
I really liked the premise of a book about a posh school for girls in the South in the 30s. The first 50% totally delivered. I was disappointed in the story during the second half. I felt there was a lack of reasonable motivation for the main character's life choices.
#38. The Returned by Jason Mott
I appreciated both Mott's premise (dead loved ones start returning home all over the world causing an international crisis) and his writing style. I would recommend this book, but it was not the exciting page turner I expected. Still, it was a good read with solid writing.
 I was provided with an egalley of  The Returned by NetGalley.com.
#39. A Book I'm Too Embarrassed to Name (That's not the actual title.)
It was very dirty.
#40. The Sequel to #40.
It was even dirtier. Filthy, really.
#41. A Hundred Summers by Beatriz Williams
Loved it. I've been enjoying historical fiction more this year. Plot picks up more and more and this lovely historical novel becomes quite a page turner. I'm not saying more about the storyline because so much depends on not knowing certain elements until they become clear in the book. I can say that this book has romance, friendship gone wrong, jealousy, and much family drama. It's a good one! I highly recommend it.
#42. Naked by David Sedaris
LOVED it and cannot believe I had not read it before.
#43. The Light Between The Oceans by M.L. Stedman
I can totally appreciate why other people loved this book. It was a little slow for me. Liked it, but did not love it.
#44. Me Before You
 by JoJo Moyes
This one seems like a light book at first when Moyes gives us a heroine with the typical plight. Louisa "Lou" is a woman down on her luck. She has no money; she lives with her parents who also need money; and she's been stuck in a going-nowhere relationship as well. Once she loses the food service job she should have left years earlier, she accepts a position as an aid to an extremely wealthy man who is a quadriplegic. Will and Lou instantly dislike each other, but over time their working relationship gets more complicated. The character development is incredibly well crafted and the plot, which you might think will be predictable even based on this short summary, is actually quite surprising. It kept me up through the night.
#45. One Last Thing Before I Go by Jonathan Tropper
Very standard Tropper. Love the dialogue and the voice of his prose. The story wasn't particularly compelling, but I liked the characters and generally enjoyed the book. My favorite of his is still This is Where I Leave You.
#46. The Husband's Secret by Liane Moriarty
This book has had tons of coverage–at least on Twitter and among book bloggers. At first I was feeling doubtful that it deserved so much hype. But at the end, I was really impressed with how it all came together. My full review is at Great New Books.
#47. The Theory of Opposites by Allison Winn Scotch
A fun, thought-provoking quick read about fate vs. free will. I wrote a post about it here.
#48. The War of Art by Steven Pressfield
Loved the first half. Second half not as much, but what I got from the first half was life changing. I wrote an entire post about it. I'm not exaggerating when I say "life changing."
#49. Playing to Win: Raising Children in a Competitive Culture by Hilary Levey Friedman 
Excellent analysis of the culture of extra-curruclars and their place in our society, how they effect kids (and parents), and how they may or may not play into later success. (Though I still intend to be as low key with our activities as I've always been!)
#50. Orange is the New Black by Piper Kerman
The books is completely different from the series. I liked both the book and the series, but it was sort of confusing to have similar situations and characters but SO MANY DIFFERENCES.
#51. The HerStories Project edited by Jessica Smock and Stephanie Sprenger
If you're obsessed with the ins and outs of friendship like I am, then you will really love this anthology. (Disclosure: I also have an essay in here!)
#52. My Education by Susan Choi
I went back and forth on this book the entire time I was reading it. Did I like it? Well, I kept reading it, and I don't finish books I don't like. I found it challenging to stay with the narrator. What I mean is, I got tired of sticking with her every thought, and it truly seems that we get every single one. The book was endorsed by Michael Cunningham and Jennifer Egan, and it's clear the whole way through that it's meant to be Very Serious Literature. And I know that "serious authors" hate when readers look for someone to root for in the story, but really–there was not one person in this one that I could get behind. All that said, I read until the very last page.
#53. Tampa by Alissa Nutting
Tampa is written in the spirit of Lolita, but with a female pedophile as the main character rather than a male. Celeste, the protagonist and narrator, is a total sociopath with no remorse or regard for any other person. Yet, this book is very good and actually a page turner as we, the readers, hope she will either start to develop a sense of guilt or at least get caught. I won't tell you what happens! I will tell you, however, the story is graphic and disturbing.
______________________________________________
Please note that I do not wish to be solicited for book reviews.