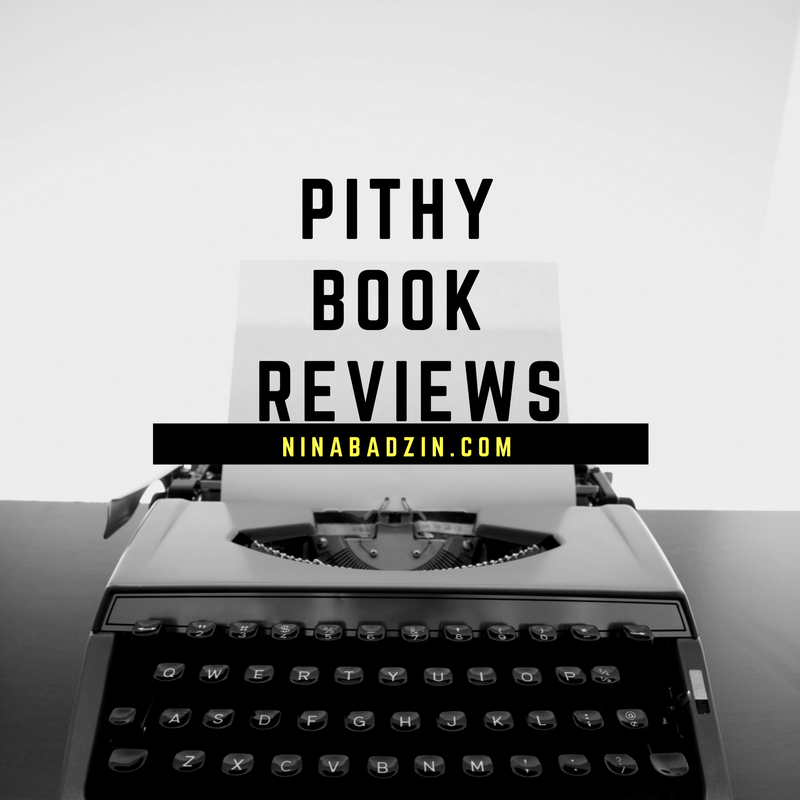 #1. Encyclopedia of an Ordinary Life
 by Amy Krouse Rosenthal 
I could have finished it in one sitting, but I enjoy Rosenthal's voice so much that I don't want it to end. This is an usual book concept. Read the description in the link to understand it! It was given to me as a gift from a dear member of the writing group I co-lead in Minneapolis on Thursdays. Thank you again, Carolyn!
#2. Swimming Lessons by Claire Fuller 
This was my December pick from The Book Of The Month Club. Liked but did not obsess over it. Definitely a good read though.
#3. On Living
 by Kerry Egan
This book of reflections from a hospice chaplain came into my life at the perfect time. It's a beautifully written account from someone who has been there in the last days for many others' last days. Incredible wisdom.
#4. Scratch: Writers, Money, and the Art of Making a Living
 by Manjula Martin
I enjoyed this nonfiction collection of essays about making money (or not) as a writer. It was as an advance copy from netgalley.com. I chose it because I really liked Martin's magazine, also called Scratch, which shut down last year. Some of the essays were more relatable to me than others. I especially liked the interviews with Cheryl Strayed, Roxane Gay, and Susan Orlean.
#5. Today Will Be Different
 by Maria Semple
The narrative pace was a little hard for me to follow, but I did like the voice. I liked, but by no means loved it. Quick read, which I did like!
#6. The View from the Cheap Seats: Selected Nonfiction
 by Neil Gaiman
Thick book of essays, but actually a quicker read. I liked it a lot, but I definitely skimmed more than read many of the essays.
#7. You Can't Touch My Hair: And Other Things I Still Have to Explain
 by Phoebe Robinson
This memoir is a comedian's take on race and feminism. It's a light touch (tons of pop culture references) to a heavy topic. I did the audio because whenever a standup comic or any type of comedian writes a memoir, I like to hear the voice.
#8. The Best of Adam Sharp: A Novel
 by Graeme Simsion 
I really liked this novel from the author of The Rosie Project. I found Adam charming and relatable as a narrator, and I found the situation of wondering about a long lost love relatable as well. (Even if the chapters taking place in France were not exactly, um, relatable.) Thank you to netgalley.com for the early review copy.
#9. Bee Season by Myla Goldberg
Rereading this one, a favorite from around 2000.
#10. The Private Life of Mrs Sharma
 by Ratika Kapur
I liked the premise of this book, but the narration was too dark and stark for my taste and the ending was abrupt and felt unfinished.
#11. Textbook by Amy Krouse Rosenthal
A strange and wonderful memoir by a unique, wonderful writer who sadly died on March 13th, 2017 at the age of 51. This is one you can read in 40 minutes. You have to appreciate Rosenthal's different approach to writing, which I 100% do. My full review is at Great New Books.
#12. Perfect Little World by Kevin Wilson
This was my February Book of The Month Club selection. Was only okay. Loved the concept, but it fell flat for me.
#13. Thrill Me: Essays on Fiction
 by Benjamin Percy 
I loved Benjamin Percy's writing advice and the voice with which he told it. I mean the voice on the page, but his voice in person is also incredible. I saw him during a Literary Death Match in Minneapolis a few years ago. Google him and look for an audio. Incredible!
#14. Talking as Fast as I Can: From Gilmore Girls to Gilmore Girls (and Everything in Between)
 by Lauren Graham
Did the audio and it was great! A must for Gilmore or Parenthood fans.
#15. My Jewish Year: 18 Holidays, One Wondering Jew
 by Abigail Pogrebin
Enjoyed a lot of new ideas for the holidays. I wrote a review/personal-essay about the book at The Wisdom Daily.
#16. The Widow of Wall Street: A Novel
 by Randy Susan Meyers
I read this one quickly and really loved the storytelling. Now I feel compelled to go back and poke around the Madoff story again (which this novel is based on).
#17. Hourglass: Time, Memory, Marriage
 by Dani Shapiro
I always look forward to Dani Shapiro's books. This is not my favorite of her memoirs, but I still enjoyed it.
#18. The Hearts of Men: A Novel
 by Nicholas Butler
I highly recommend this novel. The story and setting feel so original and Butler's writing is gorgeous. Did you read Shotgun Lovesongs by Butler? I liked that one too, but I liked this one even more.
#19. Letters to a Young Writer: Some Practical and Philosophical Advice
 by Colum McCann
I'm not young, but I enjoyed this quick, no nonsense book anyway.
#20. Elsewhere
 by Gabrielle Zevin
I read this book in 2007, but I love afterlife storylines so much that I listened to this one on audio recently. Really enjoyed it again.
#21.  This Is How It Always Is: A Novel
 by Laurie Frankel
Really good, fast, and well-done novel about a family with five boys  . . . except the youngest struggles with gender identity. The story is told with heart and a sense of humor, too, about parenting, siblings, career, and family life.
#22. The Light We Lost
 by Jill Santopolo
I enjoyed the plot and narrative device of this love story. Wasn't crazy about the end.
#23. Theft by Finding: Diaries (1977-2002)
 by David Sedaris
I did this one on audio because HELLO it's Sedaris reading his own work, which is how Sedaris is best appreciated. It's a bit slow at first, but I quickly grew to love it as much as his regular essays. It's very cool to observe his voice forming over the years into what we super-fans know so well now. I do think you have to already be a Sedaris fan to want to hear his diary entries.
#24. White Fur by Jardine Libaire 
Did not love this one.
#25. The Handmaid's Tale
 by Margaret Atwood
I reread this one, which I first read while battling food poisoning in a gross hotel in Bolivia in 1998, because I'm obsessed with the Hulu version and after the ten episodes I wanted to reread the original. Praise be, it was just as good as I remember. (If you're a Handmaid's Tale, you get that wording!) I might have even liked the show version better, which is rarely the case.
#26. Hunger: A Memoir of (My) Body
 by Roxane Gay
I'm doing the audio because when possible I like take in memoirs that way. (But only if the author is the one reading it.) Roxane Gay is direct and honest in this work about sexual abuse, weight, society's messages, and so much more.
#27. The Sea of Tranquility: A Novel
 by Katja Millay
I really enjoyed this young adult novel. Great example of two points of view where I cared about both characters.
#28. The Middlesteins: A Novel
 by Jami Attenberg
This was a reread for me to study close third person point of view and multiple points of view.
#29. What To Do About The Solomons
 by Bethany Ball
This book reads more like a series of short stories yet it still manages a fast pace. That's no easy feat. I did feel the need to skim some in my search for the larger plot. I'm not sure I ever found it.
#30.  I'm the One Who Got Away: A Memoir
 by Andrea Jarrell
A well-told memoir in a steady voice by an essayist I've always admired. Jarrell tells her story of an unusual upbringing and choices she might have made differently with a balanced tone. I read this one in two days.
#31. All Our Wrong Todays: A Novel
 by Elan Mastai
SO GOOD! A bit slow to start, but then I started loving it! I'm a huge fan of time travel stories in books or film. This one does not disappoint.
#32. Crossing to Safety (Modern Library Classics)
 by Wallace Stegner
Currently listening. Had to get through the first slow chapter, but now I'm appreciating this classic story of friendship and marriage. If you have followed my pithy reviews for years, you know I love a Midwest setting.
#33. Young Jane Young: A Novel
 by Gabrielle Zevin
I really enjoyed this novel about the struggle to reinvent yourself in the age of social media (after a Monica Lewinsky-esque scandal and everyone knows your name). I've always enjoyed Zevin's work and this is no exception.
#34. Little Fires Everywhere
 by Celeste Ng
A complex yet very readable novel with some suspense and mystery at the core, but it's ultimately about family, trust, the roles we play in our families, identity, and so much more.
#35. Turtles All The Way Down by John Green
Loved it. This is a story about a teenage girl with little control over her own thoughts. There's some mystery, a lot of friendship, some love, and just a general sweetness and care to the whole story.
#36.  Hello Sunshine by Laura Dave
I really liked the honesty of the main character, Sunshine. From the get-go Sunshine admits her mistake and watching her trying to cover her tracks makes for good suspense in this quick, well-written novel.
#37. Cruel Beautiful World by Caroline Leavitt 
I ripped through this book in three nights and really liked the fast-paced, character-driven story. Highly recommend!
#38. Who is Rich? By Matthew Klam
I liked the first few chapters and the voice of the narrator, but had a hard time staying interested even though I did finish it. I read this one on my iPhone for many months via netgalley.com. I'm a little surprised at all the glowing reviews in professional venues.
#39. Love in the Time of Cholera by Gabriel Garcia Marquez 
Reread for the first time since 1998. It is everything I remember and more.
#40. Story Genius by Lisa Cron
VERY helpful book if you're working on a novel.

---
*Links lead to Indiebound or Book of the Month Club, which pays me a tiny bit as an affiliate at no cost to you, and (barely) helps cover some costs of running the blog. 
FIND PREVIOUS BOOK LISTS HERE
---