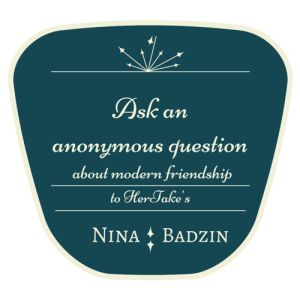 Have you ever worried that you consider someone a good friend, but the feeling isn't mutual, at least not equally mutual?
This week's friendship question comes from someone who fears she's a C-list friend to one of her oldest friends. I gave her my two cents on what to do next, but I'm sure she'd love to hear from readers, too. Thanks for chiming in!
I'd love to hear your questions about friendship, difficult social situations, as well as online connections that could use some guidance. Ask me an anonymous question using this form.
____________________________________________
My editors at The HerStories Project (Jessica Smock and Stephanie Sprenger) are starting another one of their popular 6-week online writing courses. Sign up today! The course starts March 30th.