So a photographer from the Minneapolis Star Tribune came over last night and this happened today in the Metro section.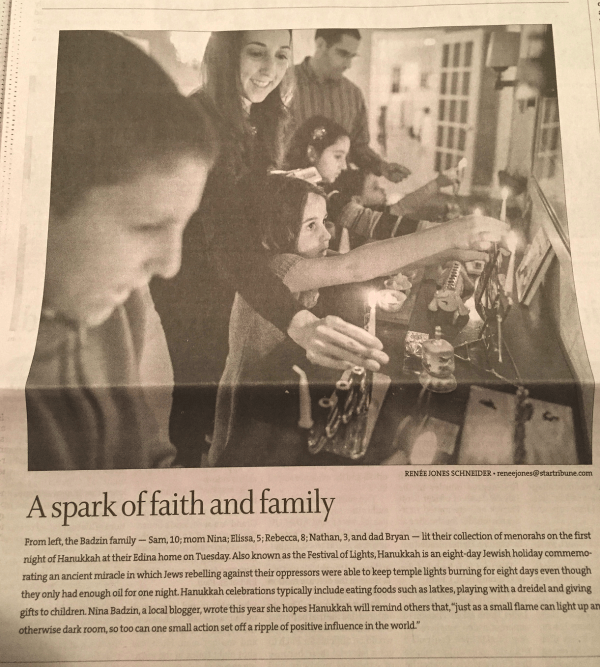 Why my family?
The reason they chose our family is not because I write about Judaism and parenting. Well, I suppose indirectly that was the reason. My very well connected fellow former cast member of Listen to Your Mother (2013 cast), Elisa Bernick, knows the person who was looking for a family and she suggested us. Elisa knows I write about those topics and that we would have a nice number of kids to photograph. For the Star Tribune, however, that was only a nice coincidence. Obviously I told Renee, the very nice photographer, about my blog. I'm not sure if she wrote the copy under the photo, but I love it, and I'm grateful.
Ten points for social media and a final thought about Hanukkah for this year.
Say what you want about the disconnectedness that can happen with social media, but there IS immeasurable connection, too. I was incredibly moved last night as I scrolled through Facebook and saw so many menorahs and so many families passing on our tradition to the next generation. I rarely say anything heartfelt on Facebook, but I wrote this:
If I've learned anything tonight on Facebook it's that I have a lot of Jewish Facebook friends. Those Hanukkah lights are shining bright. Feeling proud and part of something special. What lights me up? This! Our community, near and far.
I really meant that! I think I've succeeded in my goal to stop being a Hanukkah downer. Happy Hanukkah to those who celebrate and either way may you think about what lights up your life, who lights it up, and how we can create more positive sparks in the world.
Nina