by Nina Badzin | Nov 30, 2015 | Jewish "stuff", Parenthood
Last year, I promised to stop spending the holiday season defending Hanukkah from the influence of Christmas. I
said then, "When I see stores selling Hanukkah stockings, Hanukkah tree toppers, and Hanukkah tinsel or wreaths, I'll take a deep breath and not let it send me into a tailspin of worry about the future of pluralistic Judaism. It means I will remember that it's not Bed, Bath and Beyond's responsibility, nor Amazon's, to preserve the logical thematic separation between Hanukkah and Christmas." Since then, I've made progress, though I still did get a twitch in my eye every time I saw someone on Facebook claim, even jokingly, that Starbucks ought to make a Hanukkah cup.
Please read the rest of this year's Hanukkah post at Kveller.com where I REALLY AND TRULY promise to lose the Hanukkah attitude and make this Hanukkah more than a going-through-the-motions holiday for my family and certainly more than "it's NOT Christmas" in its theme and essence.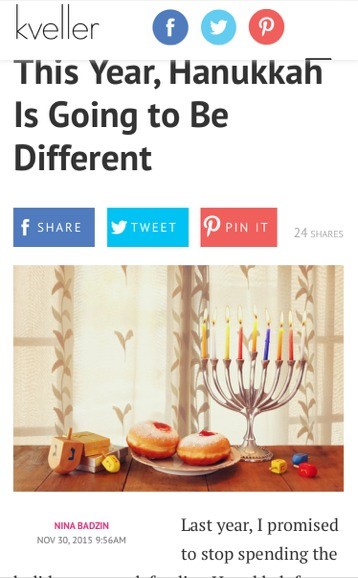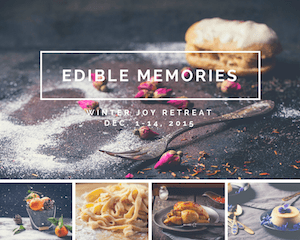 by Nina Badzin | Nov 20, 2015 | Blogging, Writing | 91 Comments

In the summer and early fall of 2010 I was saying things I really believed such as: I'll never start a blog. Blogging is not for me. Mostly, I was scared to try something new and to leave myself open to criticism. Then in the matter of a month, I had two short... read more
About Nina Badzin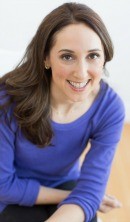 Welcome! I'm a freelance writer, an advice columnist at The HerStories Project, and a contributing writer for Kveller.com, and Great New Books. My essays have appeared regularly at Brain, Child Magazine, The Huffington Post, The Jewish Daily Forward, and have been syndicated in Jewish newspapers across the country. I am a co-founder of The Twin Cities Writing Studio, and I live in Minneapolis with my husband and 4 children. I'm so glad you found your way here.
Contact: TWITTER @NinaBadzin EMAIL: ninabadzinblog@gmail.com
Photo credit: http://www.salinajphotography.com/
SIGNUP FOR MY NEWSLETTER!
TWIN CITIES WRITING STUDIO!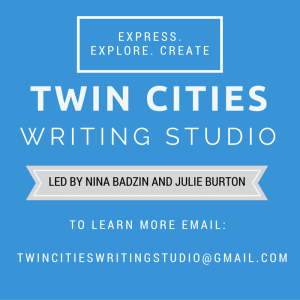 JOIN ME IN THIS AFFORDABLE ONLINE WRITING RETREAT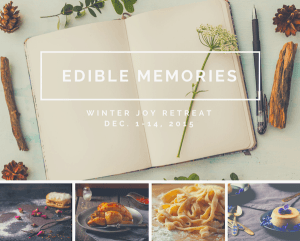 FRIENDSHIP ADVICE!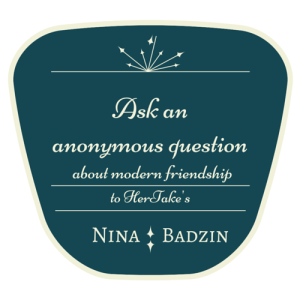 I'd love to hear your questions about friendship, difficult social situations, as well as online connections that could use some guidance. Ask me an anonymous question at The HerStories Project.
POPULAR POSTS ABOUT WRITING
POPULAR POSTS ABOUT FRIENDSHIP
POPULAR POSTS ABOUT JUDAISM
POPULAR POSTS ABOUT PARENTING
Topics I Like to Cover