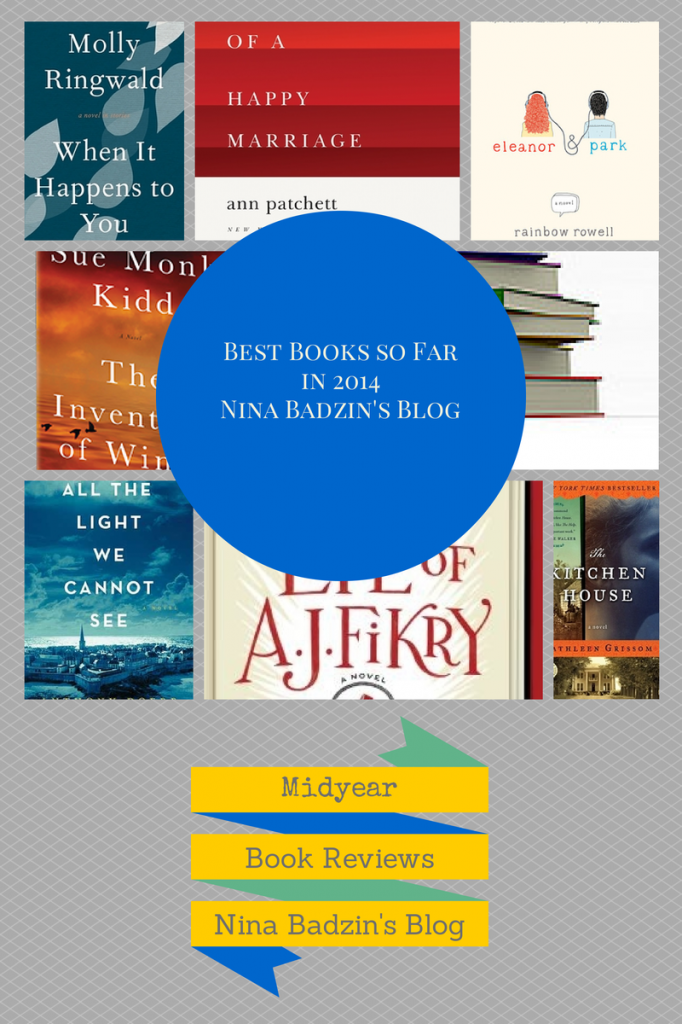 I've read or listened to almost 30 books already this year. I'm about five books ahead of my normal reading pace, which I attribute to the fact that I finally added audio books to the mix.
My only complaint about audio books is that on the occasion I want to "highlight" a few lines, I have to stop the audio and try to say the lines into the Siri function on my iPhone since I tend to listen to audio books when I'm either driving or exercising. Usually it's not worth the hassle to capture the line, which means it's gone forever. For a book nerd like me, that's a shame. But missing the chance to highlight is worth the upside of sailing through books this way AND of making some of my drives back and forth to school or camp less tedious.
But let's get on with the point of this post. All 30 books I've read so far this year are listed and briefly described on my booklist page. What you see below is my selection of the best books of 2014 so far in no particular order except that Eleanor & Park really is my #1 pick. I limited myself to nine more.
Eleanor & Park

by Rainbow Rowell
My full and detailed review is at Greatnewbooks.org this week. I hope you'll read why this book about young love set in 1986 has taken the reading world by storm. Often I feel that popular books are overhyped. This one deserves the good attention. And no surprise, a movie is in the works.
This is the Story of a Happy Marriage

by Ann Patchett
Patchett is beloved for her novels Bel Canto and State of Wonder, but her essays are what draw me in the most. This is the Story of a Happy Marriage is a selection of her best pieces of nonfiction of the past few decades. I've read several of these essays twice by now, which is saying something. My favorite is "The Paris Match."
When it Happens to You

by Molly Ringwald
Yes, I'm referring to Molly Ringwald the actress from those movies we loved in the 80s. This book of linked short stories is so well done. The writing is crisp and the plot moves along. Her observations about people are compelling and insightful, and the characters have stayed with me month after month.
The Kitchen House

by Kathleen Grissom (audio version)
Excellent work of historical fiction that takes place in the South in the mid 1800s. This book is a few years old, but for some reason I just got to it this year. I loved everything about it. The narrators were excellent.
The Invention of Wings

by Sue Monk Kidd (audio version)
Loosely based on the real life of two Southern abolitionist sisters in the early 1800s, this historical novel does not disappoint.
The Storied Life of A.J. Fikry

by Gabrielle Zevin (audio version)
Loved the very original story and all the book references due to the main character's job as the owner of a bookshop. I didn't love the narrator's voice. In hindsight, wish I had read this one instead of listened. I still recommend the book highly as I don't think I've ever read anything quite like it.
All the Light We Cannot See

by Anthony Doerr (audio version)
This one is a bit heavy for a "summer read" but it was so well done that I'm calling it a favorite so far. It's a World War II story (not from a Jewish perspective) with such an original cast of characters and locations and storytelling that I had to keep going even though I found the story hard to follow at times. The language was absolutely gorgeous, which is not something I say often since I'm more about story than language. I do wish I had read this one instead of listened.
An Untamed State

by Roxane Gay
Despite the gruesome backdrop of a kidnapping of a grown woman in Haiti, this novel kept me up for three nights. I read almost everything Roxane Gay writes whether its fiction or nonfiction and will continue to do so. I'm a super fan. Her cultural commentary in Salon and elsewhere is top notch.
The Here and Now

by Ann Brashares
I really loved this young adult novel about time travel and doing what you think is right even against all odds. I found myself sneaking away to grab my Kindle and read a few more pages whenever I could. The premise was very clever, and I'm not surprised the movie rights sold, too. I'd see that movie in a heartbeat. I love time travel stories of almost every variety, including those last few weird episodes in the final season of Felicity.
Lots of Candles, Plenty of Cake

by Anna Quindlen 
I'm reading this collection of essays now, and I can already say that it's a top favorite of 2014. No question.
NOW . . . speaking of writers and writing, I'm a finalist in a fun short story contest. The rules were a bit offbeat. The story had to be 500 words and include the words "monkey, "cathedral," and "relativity." I need your vote! Please click on the story (only 500 words, you guys!). Then if you enjoy it, click the tiny, impossible to notice + sign right above the title. Thank you in advance! 
What are some of the best books of 2014 in your experience?