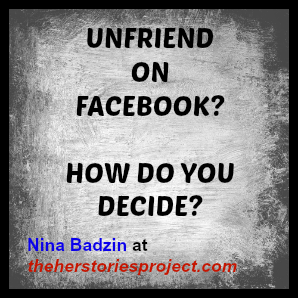 The question for October's friendship column is all about establishing boundaries in friendship, including on Facebook.
Do you stay Facebook friends with people who are no longer a part of your life? Do you stay Facebook friends with people IN your life who write posts that bother you in some way? Where do you draw the line? Do you know how to unfollow or restrict instead of unfriend? These are good tools to have at your disposal, but you have to know how to use them. (My column explains them all.)
Come to The HerStories Project and give this month's letter writer your advice about making the decision to unfriend on Facebook and other friendship boundaries!
___________________________________________________________________
Oh! And the winner of last week's book giveaway in honor of one year of friendship advice columns will be announced on Friday. You still have two days to enter! You get to choose any book on my reading lists, and that's a lot of choices.