Thank you to my friend, Lindsey Mead, for reminding me that in other years I've written a mid-year favorite books post. It's hard to believe July is here, which means there's no denying that the year is half over. Time for my favorites! HOWEVER, I'm not just focusing on favorite books for this post.
I've read 32 books so far this year. The few I'm highlighting today are the books I would recommend with no hesitation. I've liked others on my 2015 list, even liked them a lot, but these are the few I would put in your hand and say, "If you can only read a couple of books this year, then this one is worth your very very very precious reading time." 
Please let me know which books have stood out for you so far this year. You know what's missing on my 2015 reading list? More fiction! I really do not need to read any more essay collections or memoirs this year. I'm ready to dive back into the world of the untrue. You'll see that my 2015 list is VERY nonfiction heavy and I'm craving fiction again. (But do not send me your published novel to review. I'm way behind on that already and will say, "Thank you for asking, but I can't. I'm sorry.")
In the meantime, here is some nonfiction I've loved. I'm also recommending some great TV and movies.
BOOKS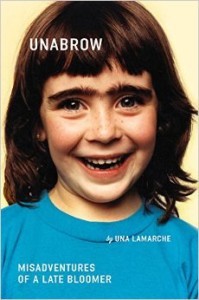 Unabrow: Misadventures of a Late Bloomer by Una LaMarche
I absolutely loved this essay collection. I had to read it with a tissue in my hand because in many parts I would tear up from trying to hold in my laughter. (I read in bed and the laughing wakes a totally unamused Bryan.) I wrote an entire review of Unabrow for Great New Books so check that out!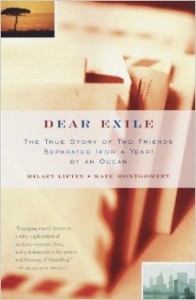 Dear Exile : The True Story of Two Friends Separated (for a Year) by an Ocean by Hilary Liftin and Kate Montgomery
I'm a huge fan of epistolary novels, and this was the first nonfiction epistolary work I've read that sort of came off like a novel. It was cool to have this personal glimpse into the lives of these two friends keeping in touch while one was in Kenya in the Peace Corps and one was making her way in a new apartment and new job in NYC. I also enjoyed that the letters were written around (I think) 1996, which made me nostalgic for that pre-Facebook, pre-'e' everything time.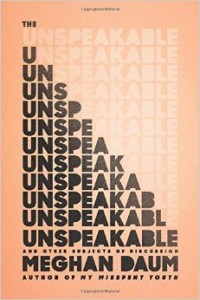 The Unspeakable: And Other Subjects of Discussion by Meghan Daum
Excellent collection of essays. Daum has a way of writing somewhat formally but also with a familiar, friendly tone. It's hard to explain, but what I mean is that she is a professional writer with a serious, solid voice, but she is also humorous and witty without slipping into the ridiculous.
TV
I did not watch or adore much TV during the school year other than Scandal and Parenthood. (I love both even though the plot on this season's Scandal was a tad too ridiculous and not as sexy as seasons past.)  This summer, however, has been TV gold.
YOUNGER: The new show Younger is based on Pam Redmond Satran's novel and it can be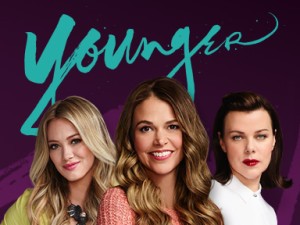 seen, surprisingly, on TVland. I saw "surprisingly" because I didn't know that channel existed.  I watched the entire 12-episode first season via On Demand. Here's the premise, which I'm lifting from the show's site.
TV Land's Newest original "Younger," stars Tony(R) Award winner Sutton Foster ("Bunheads") Hilary Duff ("Lizzie McGuire"), Debi Mazar ("Entourage") and Miriam Shor ("GCB"). The single-camera project, which is written, executive produced and directed by Darren Star ("Sex and the City"), is based on the novel "Younger" by Pamela Redmond Satran. Patricia Field, who worked with Star on "Sex and the City," will be a costume consultant on the production.

"Younger" follows 40-year-old Liza (Foster), a suddenly single mother who tries to get back into the working world, only to find out it's nearly impossible to start at the bottom at her age. When a chance encounter with a 20-something guy at a bar convinces her she looks younger than she is, Liza tries to pass herself off as 26 — with the help of a makeover, courtesy of her best friend Maggie (Mazar). Armed with new confidence, she lands a job as an assistant to the temperamental Diana (Shor) and teams up with her new co-worker and fellow 20-something Kelsey (Duff) to make it in the career of her dreams.
ODD MOM OUT: Although I'm very very very tired of NYC as the setting in books, TV shows,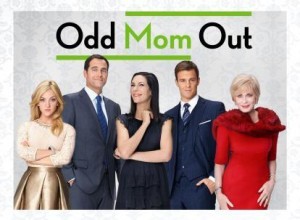 and movie, I do find the writing and everything else on Odd Mom Out, about a woman who feels out of place on the Upper East Side, refreshing, fun, and clever. This one is on Bravo and I caught up via On Demand. It's scripted comedy, not reality TV. (I don't do reality TV!) I especially loved the scene in this week's episode when Jill, who does not always feel at home on the Upper East Side, realizes that Brooklyn would not be quite right either.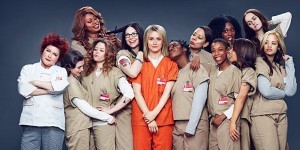 ORANGE IS THE NEW BLACK (Season 3): Yes, I'm already done. Yes, it's wonderfully written and acted. Yes, I loved the Jewish plot line. Some people in reviewland haven't liked this season. I thought it was nice to see Piper become more of a central side character rather than the protagonist.
MOVIE
INSIDE OUT: I never get to the movies anymore, but I did see Inside Out. It's so good and worth every rave it has received. I also saw Cinderella, but I'm not sure it was in 2015, and I'm too lazy to Google it.
WHAT ARE YOU ENJOYING THESE DAYS IN THE WORLD OF ENTERTAINMENT?