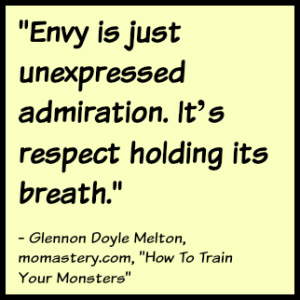 The September friendship question at The HerStories Project is all about envy. As in the past the situation may seem to apply to writers, but I know that writers are not the only creatures who feel envy towards their friends and colleagues.
The essence of the letter writer's question is this: Should friends in the same industry help each other get ahead even if it means one friend may far "outshine" the other? And what do you do when you're jealous of your closest friend?
Can you swing by The HerStories Project and help this month's letter writer?
I wrote the answer to that question weeks ago, and in the mean time I came across a few additional good points about envy. I figured I would share them here. One is from Glennon Doyle Melton in her fantastic advice "How to Train Your Monsters." And the other is from Annie Dillard. I chose green for ENVY in the little "poster" below. This is the extent of my graphic design skills. Yes, designers, I envy you.
Don't forget to read the question at The HerStories Project! I look forward to hearing what you have to say.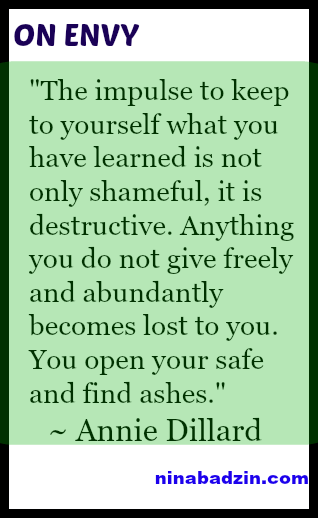 ---
The following two tabs change content below.
Nina Badzin is a freelance writer, a writing workshop leader at ModernWell in Minneapolis, ModernWell's book club host, and the friendship columnist at The HerStories Project. She reviews 50 books a year on her blog and writes essays, short stories, and articles for other sites and print magazines. She lives in Minneapolis with her husband and four children.
Latest posts by Nina Badzin (see all)