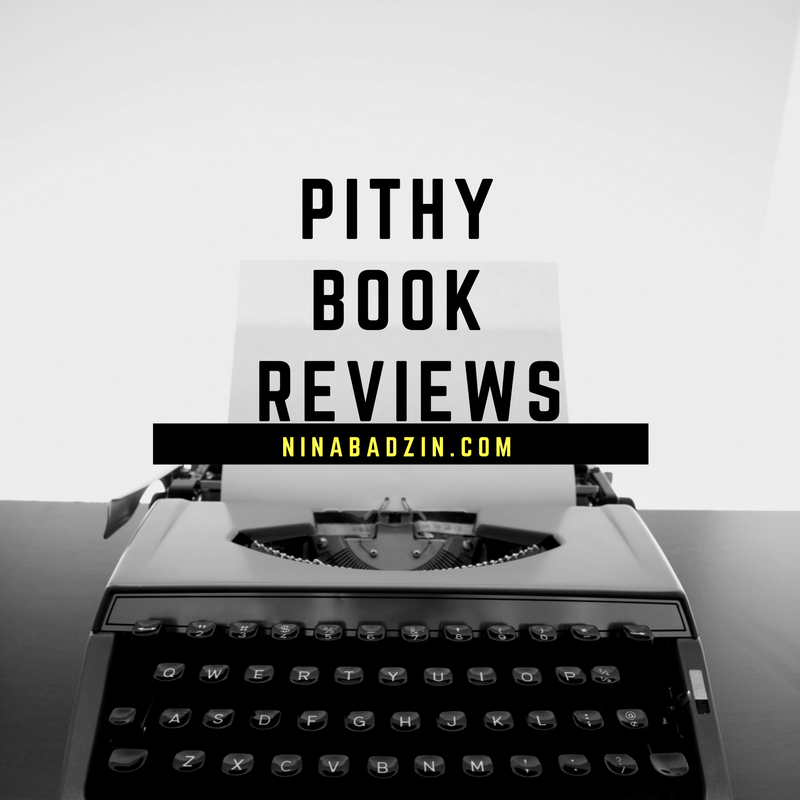 #1.  The Good Luck of Right Now: A Novel
 by Matthew Quick
A clever novel told in letters from the main character to Richard Gere. Liked it. Did not love it.
#2.  The Hired Girl
 by Laura Amy Schlitz
I really enjoyed the setting of 1911 Baltimore. There were things about the main character that made me want to scream, but she is supposed to be young and naive, so I suppose my irritation made her character all the more "real." I adored the story and details of a Jewish family in that moment in history and of a Catholic teenager making her way in a city for the first time. Full review is at Great New Books.
#3. Nine Essential Things I've Learned About Life
 by Rabbi Harold Kushner
I liked it, but the nine essentials were not as varied as I'd hoped.
#4. The Self-Care Solution: A Modern Mother's Essential Guide to Health and Well-Being
 by Julie Burton
Julie is my very close friend and my business partner in the Twin Cities Writing Studio. To say I loved reading her book is an understatement. I think it should be the gift every new mom gets and then the assignment for every mom to reread a few years down the line or a few kids down the line. When you read this book full of grounded, practical advice with a guiding, loving tone, you will wish Julie was your friend. I get to say that she is!
#5. When Breath Becomes Air
 by Paul Kalanithi 
Deserving of every bit of praise. An incredible book about life, grief, and so much more. Beautifully written–every bit of it.
#6. Between Gods: A Memoir
 by Alison Pick
I really really really liked this one and I could 100% relate to a certain yearning for a Jewish education beyond the parents' interest level. Solid writing here.
#7. Conversations With G-d – Prayers for Jewish Women
 by Ruchi Koval
This is a prayer book, but I read every word and I plan to reread some of them throughout the year so I say it counts as a book. It is without a question the most profound book about Jewish prayer that I have ever read.
#8. The Only Pirate at the Party
 by Lindsey Stirling and Brooke Passey
Interesting to read about the way one extremely creative musician created a niche of her own and an entire career for herself while staying true to her music and her vision.
#9. Traveling Mercies: Some Thoughts on Faith
 by Anne Lamott
It's Anne Lamott so obviously I loved it. I cannot believe I had not read this one until this year.
#10. Letters for Scarlet: A Novel
 by Julie C. Gardner 
I have loved Julie Gardner's blog for a long time, and it is VERY cool to have the chance to read her novel, which is all about friendship, my favorite topic. It reminds me a lot of Leah Stewart's The Myth of You and Me, which is one of my favorite novels on friendship. I can't tell you too much without ruining the plot! Made it into my post "10 Great Books About Friendship."
#11. Eligible: A modern retelling of Pride and Prejudice
 by Curtis Sittenfeld
The first 65% was fantastic and then it got a little unexpectedly weird for me. Still liked it a lot though. Fun to see Elizabeth and Darcy in a modern relationship.
#12. The Girl on the Train
 by Paula Hawkins

I feel so late on this one. We read it for our March book club meeting. I really liked it. I see what all the fuss was about. A real page turner.
#13. Climbing Jacob's Ladder: One Man's Journey to Rediscover a Jewish Spiritual Tradition
 by Alan Morinis
Good intro to Mussar, a system of character development in Judaism.
#14. Grace (Eventually): Thoughts on Faith
 by Anne Lamott (audio)
I love listening to Lamott on audio. These essays were excellent!
#15. Dear Mr. You
 by Mary-Louise Parker
A book of essays in the form of letters to various men. I'm not doing the book justice with that description. It was astute and all around excellent. I skimmed some of the letters, but the ones I savored made this whole book worthwhile.
#16. In Twenty Years: A Novel
 by Allison Winn Scotch
I got an advanced copy on Netgalley.com, and I really enjoyed it! The novel is about a group of once-very-close friends who go back to Penn for their 20-year reunion. It was especially fun to read since the characters are close to my age.
#17. Love Letters to the Dead: A Novel
 by Ava Dellaira
I was excited about the concept for the book, but the story fell flat for me about half way. I did finish it though and liked it, but did not stay as excited by the end as I did in the beginning.
#18. The Beautiful Possible: A Novel
 by Amy Gottlieb
Exhausted from staying up too late reading this fantastic novel. It also happens to be kind of racy, in a literary way. I will never think of turmeric the same way. Interesting theory (by one of the characters) that it takes three to make a marriage work. "A man and a woman and a living spark that keeps all the desire in motion." There were shades of Gabriel Garcia Marquez's Love in the Time of Cholera as well (in my opinion).
#19. Available to Chat
 by Jacy Sutton
I was intrigued by the premise of Sutton's book about two people who take their virtual relationship way further than a friendship. I was in suspense to know how things would turn out. Can't ask for much else!
#20. Our Souls at Night: A novel
 by Kent Haruf
I picked this book on the recommendation of several of my teammates at Great New Books. It's a story of two lonely neighbors–a man and a woman–who get together to talk every night even though their family members and friends think they're too old for such a relationship. The story and the writing are both so simple yet rich.
#21. Catastrophic Happiness: Finding Joy in Childhood's Messy Years
 by Catherine Newman
Lovely book of essays about parenting from a writer I have long admired.
#22. Plan B: Further Thoughts on Faith
 by Anne Lamott
I'm a total Lamott groupie. Loved this one, of course.
#23. In Other Words
 by Jhumpa Lahiri
Really loved it! My full review is on Great New Books. I included my favorite quotes on my blog, too.
#24. The Memoir Project: A Thoroughly Non-Standardized Text for Writing & Life
 by Marion Roach Smith 
Short and sweet writing advice. Really well done.
#25. It's Kind of a Funny Story by Ned Vizzini
Recommended by my 15-year-old niece. The narrative voice is good, but the story drags. I'd say it's about 75 pages too long if not more.
#26. Goodbye Stranger (Boston Globe-Horn Book Honors (Awards))
by Rebecca Stead
Good read for middle grade/YA readers.
#27. The Book That Matters Most: A Novel
by Ann Hood
Liked it until the end. Then the end kind of ruined it for me.
#28. Even When You Lie to Me
 by Jessica Alcott
Started strong and then I felt "meh" about it. Finished it though.
#29. A Man Called Ove: A Novel
 by Fredrik Backman
Great read with unexpected turns. Solid writing and a character I grew to love.
#30. It's Okay to Laugh: (Crying Is Cool Too)
by Nora McInerny Purmort
Really loved it. My full review is at Great New Books.
#31.  Ramie Nightingale
 by Kate DiCamillo
Quick and cute read. I would love my nine-year-old to read it!
#32. Tell Me Three Things
 by Julie Buxbaum
I really liked this young adult book about a relationship that begins as an anonymous text exchange for months. My Great New Books colleague, Julia, recommended this book back in April and I've been meaning to get to it ever since. Here's her review.
#33. Highly Illogical Behavior
 by John Corey Whaley
Liked it. Fast read about a teenage boy who will not leave the house and the two new friends who try to help him.
#34. The One-in-a-Million Boy
 by Monica Wood
Liked, but didn't love the way the storytelling unfolded. I did, however, once again really appreciate a different setting (not New York!) and a different age for the protagonist (104!).
#35. The Hopefuls: A novel
 by Jennifer Close
Liked it and finished it, but the marriage at the center felt too flawed for the protagonist not to consider leaving. I had a hard time rooting for either spouse.
#36. Leave Me: A Novel
 by Gayle Foreman
Really liked it! Brave plot line about a 40-something mom, wife, and full-time career woman who ups and leaves one day for an indefinite amount of time.
#37. Pretty Things Don't Break: A Memoir by Lauren Jayne
I was so impressed with this memoir about one woman's experience growing up in an extremely difficult family and how she perseveres to make her own way and create a good life for herself. The writing is solid, and I was eager to get back to the book every night.
#38. You'll Grow Out of It
 by Jessi Klein
Listened to this one and loved it! I laughed out loud numerous times. One of my favorites of the year so far.
#39. The Girl with the Lower Back Tattoo By Amy Schumer
I'm having a big memoir year, it seems. I loved this one. Funny and smart and more serious at times than I expected. This was my first Book of The Month Club pick!
#40. Leaving Lucy Pear
 by Anna Solomon
Solid historical fiction from a writer I've enjoyed before. We had a guest post at Great New Books by Christi Craig that convinced me to pick it up.
#41. Love Warrior by Glennon Doyle Melton
Wow. Very quick read. Interesting to know so much more about this blogger I have read for a long time. I admire her openness; though it's not a path I could take.
#42. Commonwealth
 by Ann Patchett
Respected the writing, but wasn't madly in love with the story.
#43. The Readers of Broken Wheel Recommend
 by Katarina Bivald
I loved this charming novel about a Swedish woman who ends up opening a bookstore in a small town in Iowa. My full review is at Great New Books.
#44. The Arrangement: A Novel
 by Sarah Dunn 
I read an early release of this one from netgalley.com. It's the story of a couple who decides to experiment with an open marriage. Throughout the novel we meet a handful of couples, and I liked the subtle commentary on marriage presented by seeing the array of "arrangements" the couples make, some spoken and some not.
#45. The Mothers: A Novel
 by Brit Bennet 
Well-written, solid read, but not one I had trouble putting down. I did really enjoy the "we" voice of the church ladies at the beginning of several chapters.
#46. The Guernsey Literary and Potato Peel Pie Society (Random House Reader's Circle Deluxe Reading Group Edition): A Novel
 by Annie Burrows and Mary Ann Shaffer  
Such a charming story. I can see why it did so well when it came out years ago. I love stories told in letters.
#47. Hungry Heart: Adventures in Life, Love, and Writing
 by Jennifer Weiner
An excellent memoir with insights into the writing process and relationships. There was so much I didn't realize about Jennifer Weiner's past that makes me  appreciate her success even more.
#48. Someone Will Be with You Shortly: Notes from a Perfectly Imperfect Life
 by Lisa Kogan
Quick read. I've always liked Kogan's essays in O Magazine. Kind of crazy how dated some feel (in terms of the technology mentioned) and it's less than ten years old.
#49. The Muralist: A Novel
 by B.A. Shapiro
A different twist on a World War II story. Very well done. Maybe could have used less art talk for my taste, but I get that was part of the point.
#50. Here in the Middle: Stories of Love, Loss, and Connection from the Ones Sandwiched in Between
 edited and curated by Christine Organ and Julie Jo Severson
Quality essays about the difficult point in life when you're taking care of kids and parents. Would make a great gift for anyone you know experiencing this reality right now.
---
*Links lead to Amazon which pays me pennies as an affiliate and (barely) helps cover some costs of running the blog. We're talking a couple of dollars a month, at no extra cost to you.
FIND PREVIOUS BOOK LISTS HERE
---