This week I'm celebrating the sixth-month mark of ninabadzin.com by sharing "what I thought" about blogging at first vs. "what I know now."
#1. WHAT I THOUGHT ABOUT THE BLOG'S NAME: I needed a cute or catchy one.
What I know now: You don't. My first name was "A Mom in the Middle." For writers, I advise using your real name or your pen name. So while the name "Nina Badzin's Blog" does not smack of creativity, it describes the blog. ME. Also, my Twitter name and Facebook page get to be my name as well.
#2. WHAT I THOUGHT ABOUT AUDIENCE: Family and friends would read my blog.
What I know now: They mostly don't, not even my husband who gets a mention in nearly every post. But I'm 100% okay with that. In my first few weeks of blogging, I desperately sent links to my family and friends, begging them to "like" posts on Facebook and all the other nonsense that makes people curse you. I'm extremely grateful to any of my friends and family members who read the blog, but I do not expect it at all. The majority of my traffic come from other bloggers, Twitter friends, writers and even Google. Also, something for newbies to consider: I think I got decent traffic rather quickly because I was on Twitter for about nine months before I started a blog. In fact, my first post ever was about cheating on Twitter with WordPress.
#3. WHAT I THOUGHT ABOUT TIME MANAGEMENT: The blog would suck up every minute of writing time.
What I know now: It doesn't. But only because I'm careful about how often I blog. I post only once a week, which allows me to spend the rest of the week on fiction and keeps the "New Post" tweets and retweets to a minimum. Also, since I'm not asking other bloggers/readers to read several posts a week from me/retweet me, I don't feel as obligated to read every single post other bloggers write. Don't get me wrong, I read as many as I can, but like anyone, I can only take in so much and still pay attention to the rest of my life. I tend to read my favorite bloggers once a week and only their most recent posts.
#4. WHAT I THOUGHT ABOUT RESPONDING TO COMMENTS: Readers will return to my blog to see my response.
What I know now: Most do not. I figured this out when I started reading more blogs and leaving comments. I rarely go back to see the author's response, which would eat up too much time. Furthermore, I don't subscribe to comments on other blogs because you end up getting inundated with emails. So I was left to figure out how to make sure the people who commented on my blog would know I was reading and appreciating their thoughts.
My blogging friend, Jana, taught me to respond via email rather than directly on the blog. As long as you cc the commenter (address is always right there on the email) AND your blog moderator address (hit" reply" in your email program), the response appears simultaneously on your blog and in the commenter's inbox. It's the perfect solution and takes no more time than responding on the actual blog platform.
One more note about comments: As a reader, I've learned that not EVERY comment needs a response. If I read someone's post about a fantastic book and I comment, "I loved that book too," I do NOT expect a return comment to that simple note of agreement. I think there are cases when a response is simply unnecessary, and I'm more irked than anything else when I get an emailed response to the comment that says, "Wasn't it great?" As in tweeting, sometimes you need to leave well enough alone. I try to exercise this subtle etiquette when responding to comments on my blog. I'd say I respond to 90% of comments, but of course I'm not one of those bloggers who has 200 comments per post so I can still do this. Bottom line: every post and every response takes a reader's time. Make sure you're not wasting anyone's time (including yours).
#5. WHAT KIND OF BLOGGER I THOUGHT I'D BE: One who wants tons of badges, does giveaways, seeks ads, is starved for stats, etc.
What I know now: I'm not. As in my non-virtual life, I like to keep my blog simple and straightforward. I don't want badges all over my blog, therefore when someone gives me a blog award, while I appreciate it, I'm not going to display it anywhere or participate in giving them to others. I've never done a link-up and I still don't know what a meme is. I understand the desire to earn some money from blogging, but I'm not willing to write a "filler" post about xyz just because xyz sponsored it. I guess in some ways I'm still very much a beginner in the blogging scene. Hopefully I'll have more tips and better ones in November when I hit the first anniversary.
#6. I WISH I HAD SELF-HOSTED FROM THE GET-GO
Thanks to my wonderful readers old and new who make blogging such a blast! If you have tips and thoughts to share please add them below. Nina 🙂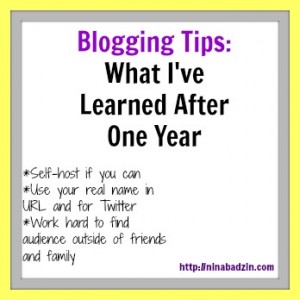 ---
The following two tabs change content below.
Nina Badzin is a freelance writer, an advice columnist at The HerStories Project, and a co-founder of The Twin Cities Writing Studio. She lives in Minneapolis with her husband and four children.
Latest posts by Nina Badzin (see all)