YOU'VE LANDED ON PART IV OF MY TWITTER TIPS.
SEE A LIST OF PREVIOUS TWITTER POSTS.
I love Twitter. And I'm big on proper manners. That said, I am focusing my fourth Twitter tips post on the constant thanking of people on Twitter. In my opinion, our good manners have gone too far, and we all suffer for it.
Not sure what I'm talking about? When I log onto Twitter lately, this is what I see:
Thanks to @____, @_____, @______ for the follows!
Grateful for RTs from @ ______, @______, @_______!
Hugs for blog visits and comments @_____, @_____, @______!
Looks like a whole lot of nothing, doesn't it? Call me a cynic, but seeing those messages as regular tweets rather than @replies where your entire following wouldn't have to see them strikes me as suspiciously self-serving. (If you don't know the difference between a regular tweet and an @reply, I explain it here.) If the goal of your tweet is to thank the people you're listing, then why do ALL of your followers need to see it? Written as I've shown above, I can't help but "hear" the following rather than thanks: Read my blog! RT me! Congratulate me! Me, Me, Me.
Expressing our gratitude as @replies helps our crisis a bit, but we're still spending tremendous amounts of time thanking people and reading about other people getting thanked, which gets at the deeper issue. How much thanking is necessary on Twitter in the first place? Where is the line between appreciation and absolute overkill? Can we come to an agreement on how to demonstrate our gratitude?
LET'S ANALYZE EACH AREA OF CONCERN:
Thanking New Followers: This one is easy. If you follow the person back, that's an inherent "thank you." If you don't follow the person back, I don't think writing "thanks for the follow @_____" does much to compensate. Follow back (if you want to) OR leave well enough alone. Side note: NO MATTER WHAT, do NOT write direct messages thanking people for the follow. A private message saying: "Thanks for the follow. Check out my [novel, blog, tweets]" is an excellent example of disingenuous gratitude. When you truly interact with people on Twitter through their tweets, they WILL likely check out your tweets, blog, etc.
Thanking for ReTweets: I propose this: If you and other tweeters regularly RT each other, then perhaps you can save yourselves some time and NOT thank each other on top of it all. The back and forth RTing, no matter how intermittent, serves as a more useful, "thank you" than a "thank you" tweet. As for thanking in general for RTs, I urge people to wait until the end of the day or the next day, then write one or two tweets (as an @reply) listing those thank yous.
Thanking people for congratulating you, for coming to your event, for helping to promote you in any way: Reread last sentence of the RT category. That advice applies here too.
Thanking people for commenting on your blog? That's silly. Just visit that person's blog. Done.
So group, what do you think? Am I the only one who's tired of their Twitter feed looking like gobbly-gook? Gratitude is good. What I'm seeing on Twitter these days is too much of a good thing. And it's really annoying.
With that, I thank you for reading this lengthy post. And for RTing it.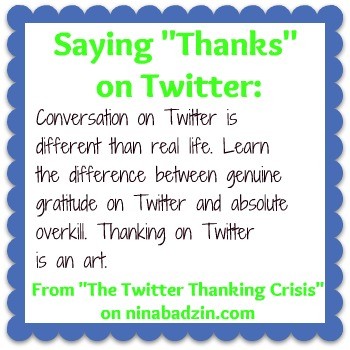 FIND ALL OF MY TWITTER, BLOGGING, AND WRITING TIPS HERE.
MY NEXT TWITTER POST: "WHY I FOLLOW YOU ON TWITTER AND WHY I DON'T"
---
The following two tabs change content below.
Nina Badzin is a freelance writer, a lead writing instructor at ModernWell in Minneapolis as well as ModernWell's book club director. She reviews 50 books a year on her blog, writes reviews for other sites, and has a friendship advice column at The HerStories Project. She lives in Minneapolis with her husband and four children.
Latest posts by Nina Badzin (see all)