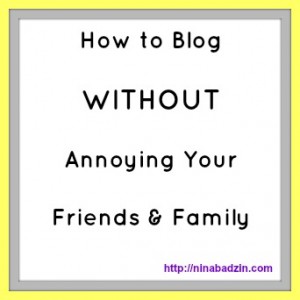 I've said it before, but it merits repeating: Your blog's main audience cannot be your family and friends because it doesn't take long for your friends and family to find any discussion of your blog highly annoying.
Why am I back on this issue? I recently had a significant increase in traffic on a post I wrote in May 2010 called "Blogging Tips: What I Know Now," and most of the new comments focused on that specific tip—"Don't expect your friends and family to read your blog."
The boost in my post's hits occurred (I realized later) because the good folks at wordpress.com included it on their widely read blog THE DAILY POST, a site aimed at supporting new bloggers. Comments ranged from frustrated to deeply insulted at the TRUTH of what I said about friends and family not reading posts. People agreed with me and accepted the need to expand their audiences, but they still felt dismissed by those closest to them.
Listen bloggers, expecting your family and friends to keep up with your blog is asking too much. Your blog is about you. Even if it's about your hobby, your philanthropic endeavors, your children, your travels, or your writing career, it's still about you and your unique view of the world. And just because your family is related to you, it doesn't mean they want to read about you all the time or ever for that matter. Same goes for your friends.  Though your real life connections are a great place to start, if you want your posts to have an audience after those first months of excitement, then you'll have to look beyond your inner circle. Unless of course you like talking to yourself.
I try to keep an attitude of shock and gratitude when people I know well or even peripherally mention they've read a post. Hey—if a friend or family member occasionally spends fifteen minutes catching up on a month's worth of posts (I only about post once a week so that's actually doable), then I consider that person a fantastic supporter. I'm delighted at any level of interest from the people in my life, and most importantly, I don't feel entitled to it.
When you move beyond badgering your family and friends to read your blog, you'll force yourself to find readers with genuine interest in your content rather than readers who follow you out of obligation.
SO WHY DOES MY BLOG HAVE AN AUDIENCE BEYOND MY MOTHER?* HERE IS HOW TO BLOG WITHOUT ANNOYING YOUR FRIENDS AND FAMILY:

I regularly read other blogs and comment on posts. This is non-negotiable. There's karma in the blogging world. You have to engage with other bloggers and do so without leaving your URL everywhere in your comments. That's tacky. Resist the temptation. (I don't mean in the space where you fill out your info; I'm talking about in the actual comment.)
I write about a variety of topics. This goes against some advice to find one niche, but maintaining variety works for me. Glance at the "CATEGORIES" column on the sidebar of this page. My posts about social media and writing often reach a different audience than the ones about friendship, parenting, and marriage. All the topics have one thing in common though—my voice. If you can develop a consistent, trustworthy, and likable voice, you can write about almost anything. For example, over time some of the people who found me via my posts on Twitter tips stayed to find out why I'm let my husband name our fourth baby and vice versa.
I write guest posts for other blogs. I've had guest posts on Scary Mommy, Writer Unboxed, Nameberry, and other sites that are infinitely more popular than my blog. I gave those sites some of my best and in most cases original "stuff," and they gave me their wide audience. I also regularly write for Jewish sites, which allows me to discuss a favorite topic of mine—Judaism—without making it too much of a focus on my personal blog.
Twitter and Facebook: I use Twitter and Facebook to stay connected with my blogging friends and to make new ones. I support others' posts and make it a point to only forward links leading to content I think many people would find useful or amusing. In other words, I do not automatically  share others' posts, even posts by my favorite bloggers. For this reason, I think people trust me and my blog.
Accept that your family and friends may not share your passions. I wrote a friendship advice column on this exact issue. See it here.
SEE MY OTHER WRITING, BLOGGING, AND SOCIAL MEDIA TIPS HERE. 
*Not that I don't value your devotion, Mom!
---
The following two tabs change content below.
Nina Badzin is a freelance writer, a lead writing instructor at ModernWell in Minneapolis as well as ModernWell's book club director. She reviews 50 books a year on her blog, writes reviews for other sites, and has a friendship advice column at The HerStories Project. She lives in Minneapolis with her husband and four children.
Latest posts by Nina Badzin (see all)