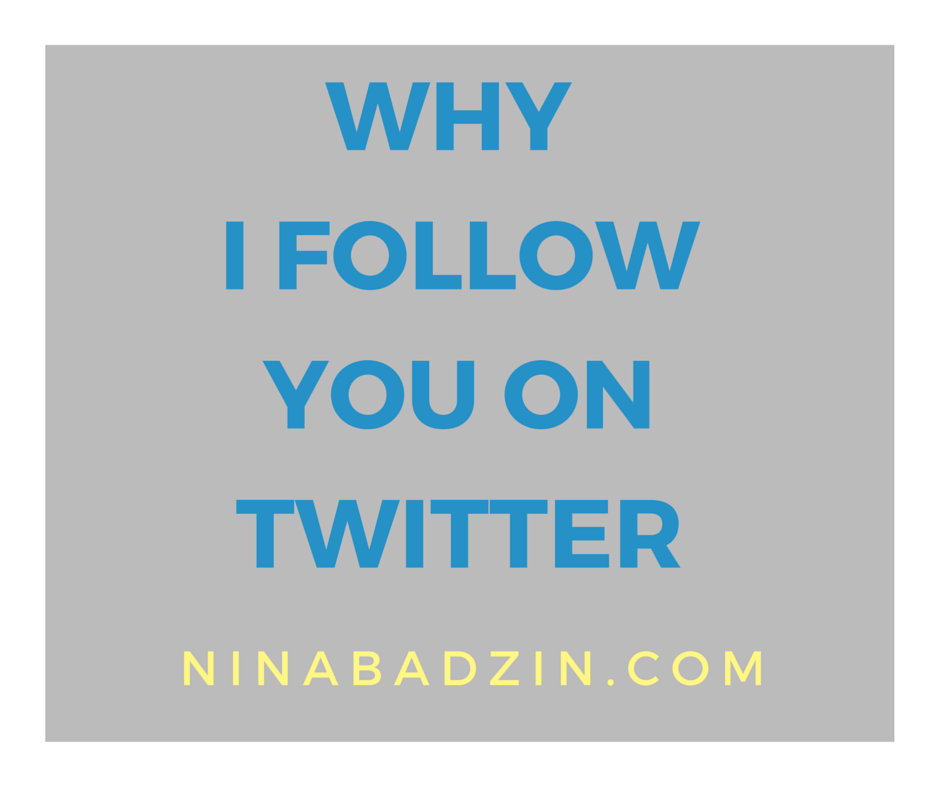 [This is Part Five of my Twitter Tips series. See all previous Twitter posts and other writing and blogs tips, here.]
I don't believe it makes sense to automatically follow everyone back on Twitter. I like to stay in touch with the people I follow. That means if I follow you, then I'm going to see your tweets. In other words, I'm not going to pretend to follow 2000 people, but in reality only read the tweets of 100 virtual friends I've put on a private list.
Here's how I decide whether or not to follow someone on Twitter. (NOTE: I follow plenty of people I respect and admire who do not follow me back. That's just how it is on Twitter. Nothing here or in the land of Twitter should be taken too personally.)
I AUTOMATICALLY FOLLOW YOU IF:
Your tweets are consistently informative or entertaining.
Your tweets consistently include links to content that is informative or entertaining.
We've had a conversation or two back and forth on Twitter, or on my blog, and you don't commit any of the Twitter crimes discussed below.
I WILL NOT FOLLOW BACK OR I'LL EVENTUALLY UNFOLLOW IF:
You tweet AT people. If I see numerous similar tweets in a row about your book or blog post only with different @names thrown on the end or in front, then it's a no-go for me. (By the way, that's annoying on Facebook, too. Don't go around tagging people you think should read your post.) Those kind of tweets look like this: "Visit the Blahblah Blog for my post on characterization @kdkdknei @xyzpru!" or "Hey, @NinaBadzin, I think you'd love this post." That's a VERY spammy way to tweet. Many of us on Twitter blog or write creatively. If we all tweeted our posts and publications AT specific people, it'd be one big commercial out there.
You send me a direct message or tweet AT me with a link to your novel or Facebook fan page while providing no evidence whatsoever that you've seen my blog, my short stories, or know anything about me at all. Guess what? I write too. Have you shown any interest in my work before you ask me to "check you out?"
You tweet tons of articles you clearly haven't read since they're completely random, or when I've clicked on those articles, they're incorrect links. (People using Triberr are the most guilty of this, which is why I won't use Triberr.)
You're write endless and meaningless lists of #FF (Friday Follow), as well as endless tweets thanking others for RTs (PLEASE write those as @mentions, not regular tweets), and tweets thanking people for following you. See my post, "The Twitter Thanking Crisis" for more on what I consider overkill as well as disingenuous gratitude. The 500 people following you do not need to see you thank one person unless it's really specific and unique.
Most of your tweets lead to Instagram, Pinterest, and Facebook.
Every tweet is a link to a post about characterization, point-of-view, writing query letters, etc. Mix it up. There's only so much anyone wants to read about writing.
THE TWITTER BEHAVIOR BELOW GIVES ME PAUSE: (Meaning, it's not an automatic unfollow, but it makes me crabby, and I'll probably unfollow eventually.) 
You tweet non-stop, which takes over the Twitter stream.
Too many inspirational quotes from the Bible, Anne Frank, Shakespeare, or anyone.
Too many CNN links or other RTs from news outlets. If I want to follow CNN, I will.
You never RT anyone else. Each tweet is an 140-character musing on your life, or a link to your blog, or your book.
FELLOW TWITTER USERS: What do you think? Am I an enormous crab apple or do you agree with some of my "rules?" What drives you to follow someone or not?
---
The following two tabs change content below.
Nina Badzin is a freelance writer, a lead writing instructor at ModernWell in Minneapolis as well as ModernWell's book club director. She reviews 50 books a year on her blog, writes reviews for other sites, and has a friendship advice column at The HerStories Project. She lives in Minneapolis with her husband and four children.
Latest posts by Nina Badzin (see all)