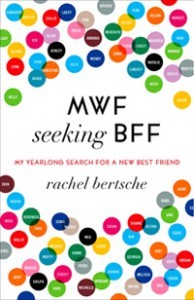 Okay, blog friends, I have a new obsession. Have you heard of the recently released memoir MWF Seeking BFF by Rachel Bertsche? I can't stop thinking about it, talking about it, and emailing Rachel. Yes, as in Rachel, the author. Really, I'm an animal. She'll tell you.
Check out the premise of Rachel's book:
When Rachel Bertsche first moves to Chicago, she's thrilled to finally share a zip code, let alone an apartment, with her boyfriend. But shortly after getting married, Bertsche realizes her new life is missing one thing: friends. Sure, she has plenty of BFFs—in New York and San Francisco and Boston and Washington DC. Yet in her adopted hometown, there's no one to call at the last minute for girl-talk over brunch or a reality TV marathon over a bottle of wine. Taking matters into her own hands, Bertsche develops a plan: she'll go on fifty-two friend-dates, one per week for a year, in hopes of meeting her new Best Friend Forever.
Change the year to 2000 and the city to Minneapolis (and the hair to straight) and that was ME.
When I was 23 and engaged to Bryan, we moved to Minneapolis—Bryan's home town. Since Bryan had been away from the Twin Cities for ten years by then, he wasn't helpful in the friend-making process. Like at all. I completely related to Rachel's experiences of going through the sometimes humiliating and always humbling  process of making new friends.
Rachel chronicles in detail what it takes to make new connections when you don't have the shared experiences of childhood or college to fall back on. Of course going on 52 "friend dates" in one year is probably more than most people could stand, but Rachel's hyper-focused efforts yield plenty of lessons. For example, when you're the one trying to forge friendships, you have to get used to making the first move to get plans on the calendar . . . and probably the second and third moves too. Rachel tries just about everything to meet new people from signing up for classes she never imagined she'd like (such as improv) to giving her email address to a waitress with whom she seems to click.
The word click (no, not clique) is central to Rachel's year-long project. Weaving in research from various experts, Rachel does a fantastic job analyzing why some of her "girl dates" feel effortless and why some fizzle on the spot. You don't have to be a newcomer in a new city to relate to those subtle pieces of social and psychological commentary, but my personal experiences moving to Minneapolis had me nodding from page to page.
In a city like Minneapolis, which is less transient than say, Chicago, NY, or DC, the process of making friends was obscenely difficult. Perhaps it was because I was only one year out of the college scene where friend-making was a cinch by comparison. Still, I never had trouble making friends before in summer programs, abroad programs, or anywhere else. In Minneapolis, many people I encountered went to overnight camp together (I'm not exaggerating), or went to high school together and even college in some cases. Their friend plates were full, a real phenomenon Rachel explains well in the book. (Read that particular excerpt here.)
I remember that feeling of loneliness and desperation for new friends like it was yesterday. Bryan was a wonderful companion—most of the time—but I've always been a girl's girl. I value my friends as much now as when I was kid at Camp Chippewa making those hideous friendship bracelets out of yarn.
The desire to make friends, however, doesn't help the problem. You have to go out there and find friends. As Rachel states in the book, "When you tell someone, 'I'm looking for new friends,' what they hear is, 'I have no friends.'" That was the feeling I got from people in those first few years in the Twin Cities—like I must be a big loser to always be making such an effort to get together. Meanwhile, I considered myself a likable person—a very good friend. Just like Rachel, I had (and still have) best friends all around the country. When I'd meet new people here, I wanted to shout "I come highly recommended! Just give me a chance!" I didn't. I hope.
Also like Rachel, I was nowhere near starting a family so I didn't have the built-in potential friend pool of Mommy & Me or the preschool. Reading about the ways Rachel went about meeting new people, however, I realize now that my efforts those first few years were basic at best. I didn't expand much beyond the Jewish community, and I didn't stretch myself by trying new activities outside of my comfort zone.*
I suppose I'm not necessarily worse off for my slower process. Almost twelve years from the day I arrived in town, I have friends who feel like "old" friends. "Lifers" as Rachel calls that category. These "in town" friends and I are watching our children grow up together. We don't need to know the dramatic details of every childhood or college moment to know that the depth of our connection now  is quite real. Still, my experiences as the awkward newcomer have left me open to the idea of continually meeting new people. My plate will never be 100% full, even if I'm no longer burdened with the perpetual first move.
Still not convinced you MUST read this book? Check out Rachel's great press.
I was not compensated in any way to promote this book, nor was I given a free copy. I'm just a super fan!
---
The following two tabs change content below.
Nina Badzin is a freelance writer, a writing workshop leader at ModernWell in Minneapolis, ModernWell's book club host, and the friendship columnist at The HerStories Project. She reviews 50 books a year on her blog and writes essays, short stories, and articles for other sites and print magazines. She lives in Minneapolis with her husband and four children.
Latest posts by Nina Badzin (see all)