Today's HerTake question at The HerStories Project comes from a woman who is regretting a friendship after letting a relationship with a neighbor get too close too quickly and now must find a way to establish better boundaries.
I gave some advice, including research about what makes friends click in the first place and how those "click accelerators" can be deceiving. For example, living nearby and sharing the same interests may create the perfect chemistry at first, but it takes time to really know a person and assuming a good match too quickly can definitely make it harder to keep the boundaries you really want.
Do you have advice for "Suffering From Friendship Regret?" Come read about her situation and see if you can help based on your own experiences.
I discussed the question last night on CBS WCCO with host Jordana Green. Podcast is below. Don't mind the spelling of Badzin! 
And always feel free to ask an anonymous question of your own!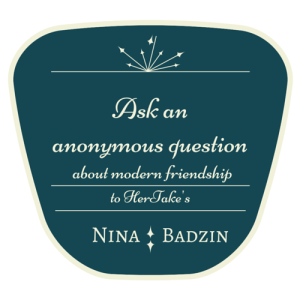 The following two tabs change content below.
Nina Badzin is a freelance writer, a lead writing instructor at ModernWell in Minneapolis as well as ModernWell's book club director. She reviews 50 books a year on her blog, writes reviews for other sites, and has a friendship advice column at The HerStories Project. She lives in Minneapolis with her husband and four children.
Latest posts by Nina Badzin (see all)