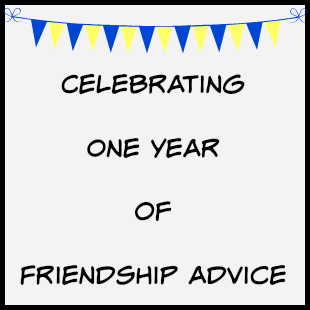 Some time in the summer of 2014 I got an email (or was it a phone call?) from the fantastic
editors at The HerStories Project asking if I wanted to start a friendship advice column at their site. Jessica and Stephanie are entrepreneurs, great editors, and compelling writers. Also, I love thinking, reading, and writing about friendship. It took me 30 seconds to say yes, and the "HerTake: Practical Tips for Modern Connections" friendship column was born.
Did I have any credentials to discuss friendship other than my own over-analysis of the topic in my life and a history of writing about it for my blog and other sites? Nope, I sure didn't. But I have a knack (can I brag like that?) for finding the real question within the question and for treating each letter writer with seriousness and respect. I think readers have responded well to the column because these are topics that many of us like to discuss, but we don't want to seem so obsessive when we're talking to our "real life" people about the intricacies of friendship "stuff."
My first column went up in September 2014. In the early days I was doing two posts a month and answering two questions within each post, but after a while I realized that I was putting so much into each answer that doing two in a post was making each one impossibly long to read. I really DID have a lot to say about friendship! Now I answer one question at a time. You can see all the topics I've covered at the bottom of this post. If you've written a question and I have not answered it, that's because I probably did something too similar OR because it was about ME. (That actually happened once. I'm still traumatized. It's the one down side of an anonymous form.)
When I get a new letter I hold my breath before I open it, hoping that it's something new. Recently I received one about the issue of unfriending on Facebook (you'll see it next week). It's EXACTLY the type of question that made Jessica and Stephanie want to start the column and why they called it "Practical Tips for Modern Connections." The issue of online unfriending is not one that any advice columnist would have received a decade ago. We are truly in a new era of friendship conundrums, and yet, some of the questions, even the ones involving technology, have an "age old" quality to them. Relationship tension often comes to down to the same few factors: Friend 'A' has one set of expectations and assumptions and Friend 'B' is operating under different expectations and assumptions. It's not always that simple, but it IS that simple more than you might think.
CELEBRATING WITH A GIVEAWAY! WOO-HOO!
I want to thank readers for coming along with me on this friendship ride so I'm doing a giveaway to celebrate our year of obsessing about friendship TOGETHER. Leave me a comment saying either why you read the column OR why you also like the topic of friendship. I will pick one comment using randompicker.com and that person can choose any book on my "Books I've Read" page as the prize. I will send you a brand new copy!
Giveaway ends on Friday, Oct 9th at 7:00AM Central.
_________________________________________________________
Also, I would LOVE to get some new and interesting questions! (Here's that anonymous form.)  And here's what I've covered already.
Long Distance Limbo and Friends Who Put You Down
Reconnecting After a Friendship Break and Friends Who Disappoint During Crisis
When You Detest Your Friend's Spouse and Friends Who Over-Ask For Help
The More the Merrier vs. Quality Time
Turning an Acquaintance Into a Friend
Sharing Friends With an Ex-Friend
Bucking a Trend: Birthday Parties and More
When a Friendship Gets Too Close Too Quickly
Missing Friendships With the Opposite Sex
When a Close Friend Does Not Support Your Passion
When Your Friendships Feel Shallow
Staying Friendly Without Committing to a Friendship
When Friends and Family Make Racist Comments
Only When Her Real Friends Are Busy
Dropped From a Group of Friends
Your Friend, Not Your Free Editor (On Being Asked for Professional "Favors")
The following two tabs change content below.
Nina Badzin is a freelance writer, a lead writing instructor at ModernWell in Minneapolis as well as ModernWell's book club director. She reviews 50 books a year on her blog, writes reviews for other sites, and has a friendship advice column at The HerStories Project. She lives in Minneapolis with her husband and four children.
Latest posts by Nina Badzin (see all)