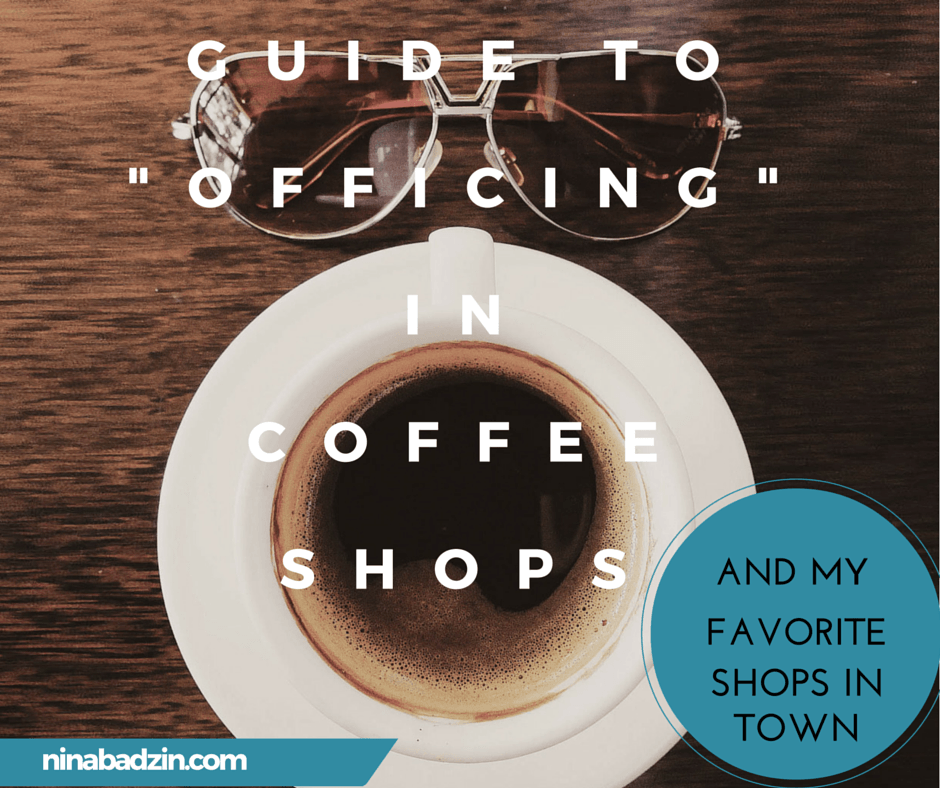 ESSENTIAL COFFEE SHOP BEHAVIOR 
Make multiple purchases if using a table and/or WiFi for multiple hours. A coffee shop is not a community center and nobody is entitled to "office" for free. They're running businesses. Act accordingly.
Leave tips! (See previous point)
Don't be an outlet hoarder. If you're fully charged and someone is obviously looking around at the walls in an agitated fashion, offer to switch seats. This is what I like to call

"outlet karma."

One day you will need an outlet. Be a giver.
Coffee shops are NOT for long business calls. Seriously, people. This place is not actually your office.
If your child is watching a video without headphones, you should probably be working from home that day and possibly banned from coffee shops forever.
Let's just make an overall "no video without headphones EVER" rule. It's never acceptable to watch a video in public without headphones. Even for a minute.
BEST COFFEE SHOPS IN MY PART OF TOWN 
Warning: this list is not representative of Minneapolis other than the small part of town where I have time to drive, get work done, and still pick up my kids from school. As this guide was not an assignment for a local publication, I don't have to pretend I drive to some uber-hip corner of South Minneapolis with cleverly-named doughnuts or The North Loop, which would mean more time driving than working. So before you local readers point out that all my favorite spots are within five miles of highway 100 and Minnetonka Blvd, I'm already aware of that fact.
I go to Rustica in St. Louis Park several afternoons a week. It's right next to Barnes and Noble, which feels inspiring in some cosmic way. The food is delicious, but beware of the beckoning chocolate chip and the bittersweet chocolate cookies, which can become a dangerous habit. They added more eggs to the breakfast options and they rotate the salads, sandwiches, and soups. Today I had a white bean and kale soup. Fantastic. The table next to the sugar/cream/utensil stand is very drafty. And the tables closest to the window can create a bad glare at a certain time of day. Otherwise it's a good set up, though the tables are close together so don't show up with major brain work to do. I come to Rustica for editing or for social media stuff, rarely to write a first draft. Almost no outlets. Arrive fully charged.
STARBUCKS SLP (THE ONE ACROSS FROM YUM):
I'm sorry to follow up a stellar independent shop with something as mundane as Starbucks, but a peaceful atmosphere exists in this particular location, and I spend quite a bit of time there for real writing. It's much bigger than it looks from the outside, and since most people seem to use this Starbucks for the drive-through, it's quiet. If you say hello and I do that weird half-smile/half-nod thing, I am actually writing and not just putzing around on social media. Lots of outlets. Yum, across the street, is one of my favorite lunch places and bakeries in the area, but it's not a working spot.
CARIBOU (THE ONE BY WHOLE FOODS)
The only Caribou in the SLP area where I can get work done is this one. The one by Lifetime SLP is a disaster and the one next to Bruegger's by West End is even worse. This location is a pleasant place to work now that they've remodeled. Note: Caribou's coffee is my least favorite in the city and there is not one thing worth eating at any location. If you need to run to the grocery store for dinner before picking up the kids from school, this is a great option. You're here for the work space and caffeine emergency in this scenario, not for a snack. The cinnamon rooibos tea is legit.
VITALI'S BISTRO
Vitali's Bistro is a kosher, dairy restaurant/coffee shop with a salad dressing that is so delicious it's worth the visit alone. The coffee is also very good. My favorite salad is the Greek. Love the tuna salad. Dress in layers because it's freezing in there. Also come with time because the service is not quick. Very fresh food so if you have plenty of time and need a quiet place to work and eat, I think Vitali's is a great spot, as opposed to Starbuck's down the road where the food is blah. Maybe two outlets. Arrive charged.
MUNKABEANS
Moving into Hopkins now, I love Munkabeans, a quirky coffee shop and breakfast/lunch spot across from Hopkins Center for the Arts (where I co-teach a writing class once a week). There are not many tables so do not assume you can or should spend hours there. If you need more time, breakfast is quieter.
OTHER RANDOM GOOD SPOTS
I don't get to these other spots often, but depending on where my kids are at camp and what else is going on during random weeks, I will write in the following places: Sparrow Cafe by Lake Harriet, Dunn Brothers on Xerxes, Common Roots on Lyndale, Starbucks at 50th/France, Caribou at 169/Bren Rd, Dunn Brothers in Hopkins. (The Depot in Hopkins is remodeling. I look forward to seeing a new and improved space.)
---
OTHER NON COFFEE-RELATED NEWS TO SHARE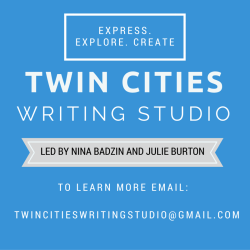 #1. At the Twin Cities Writing Studio we are full for our spring adult class, but we opened registration for the "tween" one-week camp in June and the college essay admissions boot camp in August. Details are here.
#2. From my editors at The HerStories Project (where I write my friendship column): "We're thrilled to offer a chance for you to take two of our online classes — our Publish Your Personal Essay Bootcamp and the new Balanced Writer class — as self-paced online courses. You'll can access all of the same course material, but you'll be able to complete it at your own pace. Although you'll do most of the class "on your own," you'll be given access to a private FB group with current and prior students of each class. In those groups, you can ask questions, receive feedback, and get support and motivation — both from us and from other students." (Note: I am an affiliate for the classes.)
#3. My next "Tiny Letter" is coming out soon! Note that I'm now offering very cool and coveted (I hope!) freebies to new subscribers and not-yet-revealed freebies with each new letter that comes out. (I send one about once a month.) Woohoo! I'm happy to send the "new sign-up downloads" along to previous subscribers as well. Next time a newsletter comes out, let me know you want them. You'll see the details for those downloads here and I'll have the links in the next letter as well. (Should be next week.)
The following two tabs change content below.
Nina Badzin is a freelance writer, a writing workshop leader at ModernWell in Minneapolis, ModernWell's book club host, and the friendship columnist at The HerStories Project. She reviews 50 books a year on her blog and writes essays, short stories, and articles for other sites and print magazines. She lives in Minneapolis with her husband and four children.
Latest posts by Nina Badzin (see all)