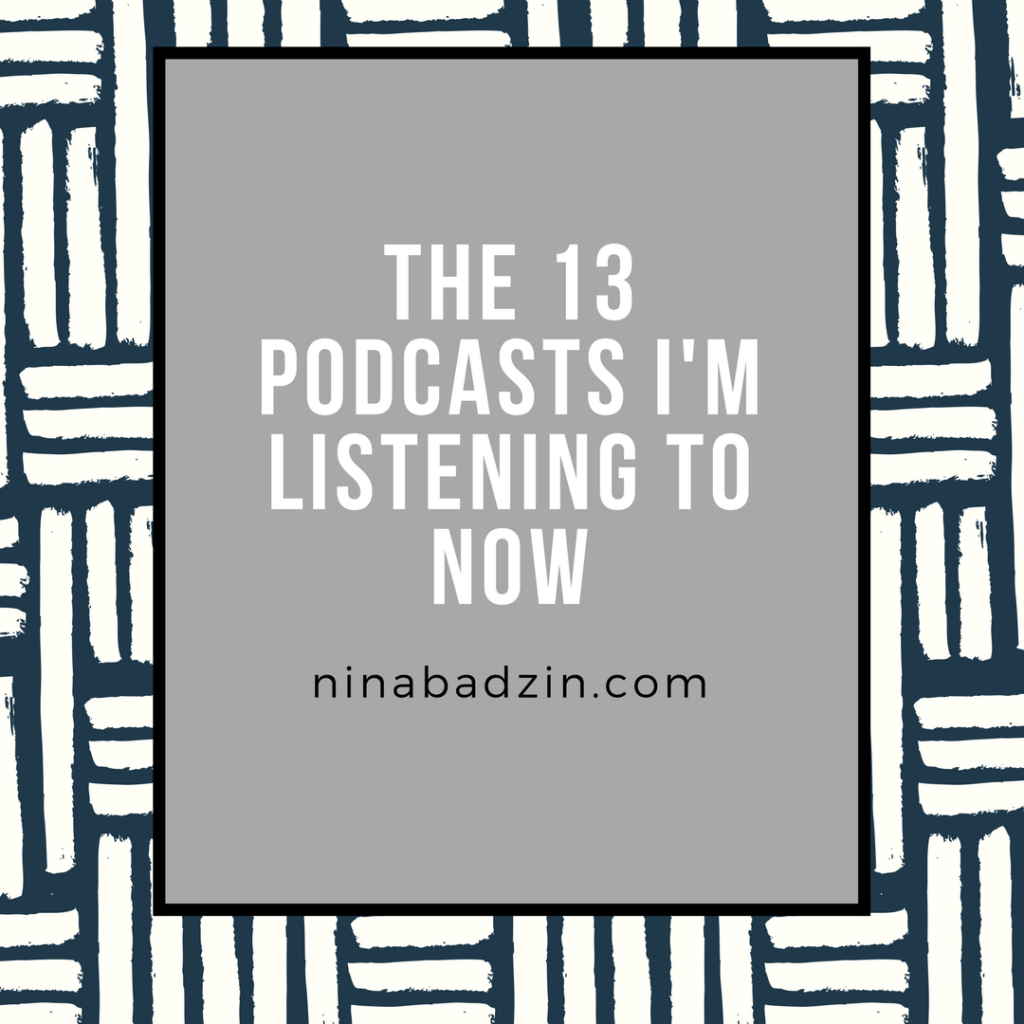 The last time I discussed all the podcasts I'm "listening to now" was in February 2016. In that post I also gave step-by-step directions for how to listen to podcasts on an iPhone.
SO, in this post I'm assuming you know how to listen to podcasts, but in case you don't, (you're not alone) then click above for help.
Even though my current list of podcasts is long, I am always looking for recommendations for the following reasons: #1. Some podcasts are sporadic with their episodes as in only once a month or less. #2. I need a break from certain voices and topics sometimes. #3. I suffer from FOMO (fear of missing out) when it comes to podcasts and books.
When do I have time to listen to this massive list of podcasts? I've answered this before, but I want to say it here. #1. I listen when I'm driving, walking, cooking, and putzing around the internet. #2. I don't listen to music much anymore except with my kids. #3. I do not listen to every episode of all the podcasts below, or I may listen to one guest on an episode and skip the rest. #4. I'm a podcast junkie. What else can I say?
THE 13 PODCASTS I'M LISTENING TO NOW (in alphabetical order)
#AmWriting With Jess & KJ: I like KJ Dell'Antonia and Jess Lahey's practical discussions about writing longform and shortform nonfiction and fiction. Favorite current episode: "From A to Book."
By The Book: Two friends read self-help books together and strictly follow the advice for a few weeks then report on their findings. It's funny and smart. Favorite current episode: "The Life-Changing Magic of Tidying Up" (maybe wasn't as magical as they'd hoped)
Dear Sugars: Cheryl Strayed and Steve Almond give great advice about all kinds of relationship issues. This one is now produced by the NYT. Favorite current episode: "When Friendships End." Also the ones with Esther Perel as the guest. 
The Friend Pod: This podcast is still new! I love the Twin Cities-based host, Kate, and her concept of interviewing a different person each week for a frank discussion of friendship etiquette. And I'm not just saying that because I will be a guest soon! I will put the episode on my Facebook page as soon as it's out. (Well, as soon as I preview it and make sure I don't sound like a moron.)
Happier in Hollywood: Two friends who have been writing partners for almost two decades talk about their work and life. (One is Gretchen Rubin's sister and co-host in the podcast below.)
Happier with Gretchen Rubin: One of my first podcasts and still one I listen to regularly. I like the realistic tweaks for efficiency, practicality, and yes–happiness. Favorite current episode: "September Is the Other January, the Fun of Post-It Notes, and What "They" Think."
Judaism Unbound: Out-of-the-box discussions of the organized and not-so-organized Jewish community. Favorite current episode: #85, "B-Mitzvah Revolutions"
Modern Love: The popular NYT column "Modern Love" read by actors then discussed later with the authors and the editor, Daniel Jones. Favorite episode of all time: "#31, "The Race Grows Sweeter."
Pop Culture Happy Hour: Writers from NPR, led by "Monkey See" blogger Linda Holmes, discussing books, TV, and film. Favorite recent episode: "Game of Thrones"
Radio Atlantic: Journalists from The Atlantic talking about current issues. Favorite current episode, "What are Public Schools For?"
Slate's Double X: Noreen Malone, Hanna Rosin, and June Thomas discuss current issues through a feminist lens. Favorite recent episode: "Under His Eye Edition." I assume a Harvey Weinstein episode is coming soon. Double X doesn't update too often, sadly.
Unorthodox: Three Jewish writers I like from Tablet Magazine discuss current and age-old issues with revolving Jewish and non-Jewish guests. Favorite recent episode: "My Big Fat Jewish Wedding."
---
The following two tabs change content below.
Nina Badzin is a freelance writer, a writing workshop leader at ModernWell in Minneapolis, ModernWell's book club host, and the friendship columnist at The HerStories Project. She reviews 50 books a year on her blog and writes essays, short stories, and articles for other sites and print magazines. She lives in Minneapolis with her husband and four children.
Latest posts by Nina Badzin (see all)