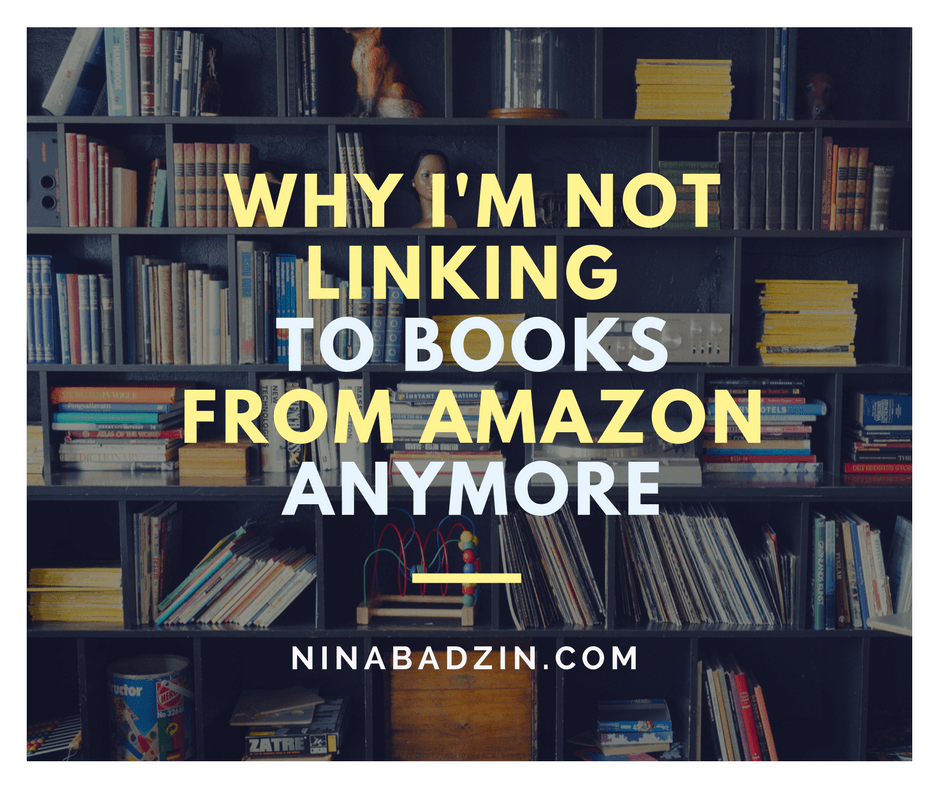 Amazon and I are breaking up over books. I'm not saying I won't purchase the occasional last-minute slime ingredient that my kids nag me about as I'm trying to get them to bed. I am, however, done ordering books from Amazon. And I'm done linking to Amazon on the most popular page on my site–my reading lists with pithy reviews.
I had been using Amazon links for two reasons. #1. I write short reviews (a few lines) so I like to make it easy for my readers to learn more about a book. #2. As I had always stated clearly on my reading list page, at no cost to the customer, Amazon pays affiliates a tiny commission for sales that come from these links. There is no shame in being an affiliate. I consider my book review page a service to fellow book lovers, and if I can make $10-$20 a month from my crazy pace of reading–that's a fun little bonus.
But last week I read a compelling article in Publisher's Weekly by Mary Laura Philpott, who is an author, a bookseller at Parnassus Books in Nashville, and the editor of the store's online magazine. In her piece, "Hey, Writers: Think Before You Link to Amazon," Philpott recounts being asked by an entertainment site for book recommendations only to see her suggestions and another independent bookseller's suggestions linked to Amazon.
I gasped at the chutzpah of that writer using independent booksellers as a source then linking to Amazon as the purchase option. Then I read Philpott's next paragraph and had to face an uncomfortable truth about the questionable nature of my own practices. She writes,
"It seems to be a trend. Even as people seek out the expertise of indie booksellers, they treat Amazon as the default for book links. Bloggers write about shopping local while linking to Amazon."
If you know me in real life or from my blog/social media, then you know I LOVE books. I adore getting lost in a good story, but I also have a deep appreciation for the physical aspect of books and bookstores. I consider browsing the tables at bookstores one of my favorite activities, which is why I rarely accept offers from publicists to read their client's books and review them on my site. If I accepted all of those requests, I'd never get to read the books I find while browsing at a bookstore. When I travel, one of my favorite stops is to the local bookstore. l also love shopping at the independent bookshops in the Twin Cities and attending some of the many author events we are lucky enough to have in this town–because we have bookstores. 
All of the above is why I felt like such a jerk when I read Philpott's piece, which goes on to make other excellent points about how bloggers and other influencers can support (or harm) what she calls "the cultural ecosystem."
I knew I had to make a change. If I love bookstores so much, then I should be linking to bookstores. PERIOD. My two reasons for linking to the titles I discuss are still valid, and I'm grateful to Philpott's article for introducing me to indiebound.org, which allows me to do the linking I like while directing readers to stores in their own cities.
Do I think the average reader will still click over from Indie Bound to Amazon? Perhaps, but I don't need to be the one personally directing traffic there. I spent a long time this week changing the links on my 2017 reading page, but the links from 2011-2016 will take more time. (Not that anyone is looking at my lists from previous years, per se, but I will get it done.)
And listen up fellow bloggers: I don't blame other bloggers for linking to Amazon. Really, no judgement from me. It's just that I recognized myself in that line about bloggers who encourage shopping local then link to Amazon. And I didn't like it–so I changed it. Philpott's entire piece is worth a thorough read. Here it is again. Happy book shopping, friends.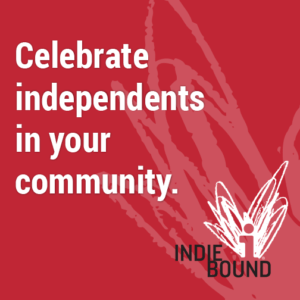 ---
Oh and by the way, if you missed it last week, I was a guest for the entire episode of The Friend Pod with Kate Summers. I had a great time discussing juicy questions from my friendship column. And I realized after listening to the interview that I have some STRONG opinions to share about friendship etiquette! 
---
The following two tabs change content below.
Nina Badzin is a freelance writer, a writing workshop leader at ModernWell in Minneapolis, ModernWell's book club host, and the friendship columnist at The HerStories Project. She reviews 50 books a year on her blog and writes essays, short stories, and articles for other sites and print magazines. She lives in Minneapolis with her husband and four children.
Latest posts by Nina Badzin (see all)