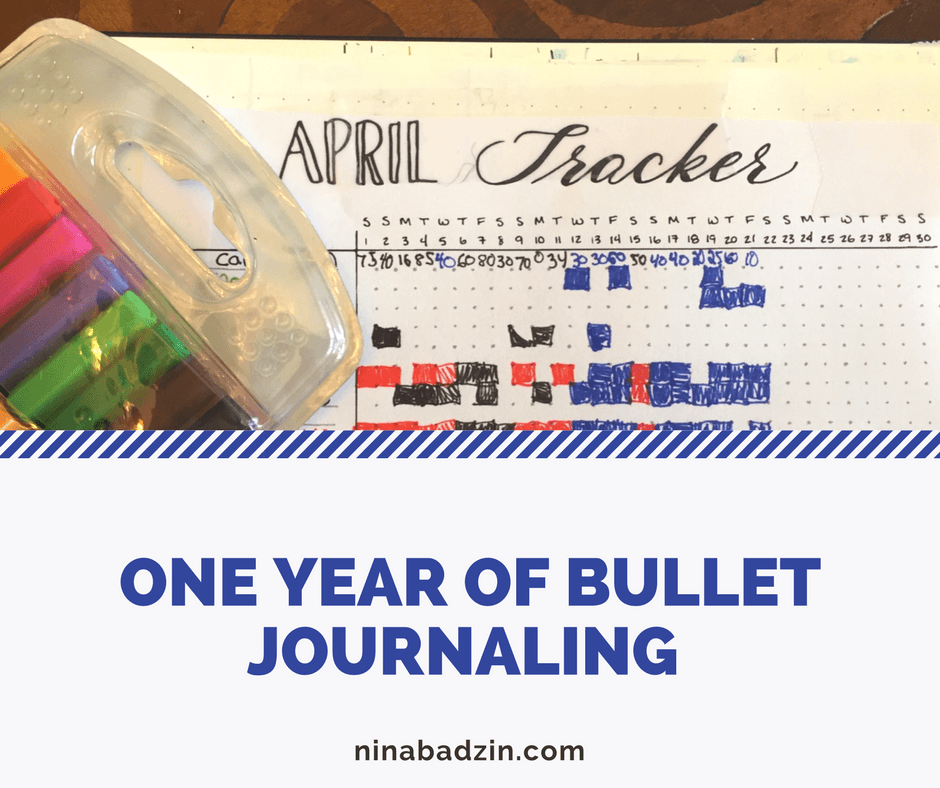 I started using a Bullet Journal in February 2017, but it's close enough to a year to draw big conclusions. The first one is this: I LOVE that I have this particular kind of record of the past year. Looking through my notes after one year of Bullet Journaling was a different experience than reading old diary-type entries or glancing through past months on my iPhone. (Especially since I rarely keep a regular journal, and I erase most events on my iCall after they've happened.)
Why did I start using a Bullet Journal in the first place? As an internet, blogging, and social media junkie, I was seduced into the Bullet Journal universe by the pretty pictures of notebooks, pens, lists, and charts. There was lots of hype.
And you know what? The hype is well-deserved. I wrote two informative posts in 2017 about how I started my Bullet Journal and how I keep it simple. I'm not artsy so my notebook does not resemble the pretty stuff on Instagram. I love it anyway.
In fact, I'm keeping it SO simple that I'm not starting a brand new notebook for 2018. I'm continuing in my navy Leuchtturn1917 Hardcover Medium Dotted Journal (even though I want the yellow one) because it still has plenty of pages, and it seems silly to rewrite some of the lists I reference often. I bet I'm ready for the yellow one in early summer. Some people go through a notebook every six months, but they are the ones making daily pages. I use two pages a week and a few extra at the beginning of each month.
What I do differently now than when I started: I no longer use a ruler. That's how much I've let go of how it all looks. I experiment with different weekly spreads. Sometimes on especially busy weeks, it's easiest to forget the weekly spread and use the Bullet Journal for a basic to-do list and rely on my iCal for the appointments (mine and the kids'). Some to-do lists were not weekly lists but a larger goal list. For example, to keep track of what needed to be done for my son's bar mitzvah, I referenced a two-page spread in my notebook for many months at a time. I will start a new two-page list for my daughter's bat mitzvah, which is later this year. (We are doing hers at age 12, which is why the events are so close to each other.)
The two most valuable types of pages I use:
#1. The monthly habits check list (pictured above) is the chart I reference every night. The habits I'm focusing on change month to month, but the chart is always the same. I print the chart from BohoBerry's tribe resource library, then tape it into my notebook.
#2. I also got the idea from BohoBerry to have a page at the beginning of each month titled "one line a day." It's from these pages that I got a sense of what I was up to in 2017.
What I learned about my past year that needs to change: After reading through those "one line a day" pages, I saw the uncomfortable evidence of how much TV I watched. You guys. I'm so embarrassed. Yes, it was all excellent stuff, but whoa. I've already watched WAY less since early December and it's no shock that I wrote so much more in December.
Habits I succeeded in by the end of the year (which I know after reviewing my monthly charts) I added healthy smoothies at least five times a week; I made my 10,000 steps on most days. Yes, many times while watching something on my phone–the only good thing about all that TV. I did lots of barre classes. Starting in November with National Novel Writing Month, I wrote almost every day. I read 50 books, but I keep track of that here, not in the notebook.
Habits that still need work in 2018: I rely way too much on sugar. I still need to be more careful about what I say (yes, I note at the end of the day if I feel good about what came out of my mouth or not). One thing I didn't keep track of but I just know in my gut, I didn't see my friends as often as I'd like. My kids switched schools in September so that probably contributed to a bit of an unmoored feeling. But now that I'm used to our new schedule, it's time to get back to making regular time for the people I adore. It's of course easier when we can walk outside, but I don't want to wait until May to catch up with my favorite ladies.
In conclusion: I HIGHLY recommend using a Bullet Journal. There's no right way. If you're toying with the idea, just jump in with any old notebook and pen. You really do not need anything fancy or specific. Good luck! And Happy New Year!
---
The following two tabs change content below.
Nina Badzin is a freelance writer, a writing workshop leader at ModernWell in Minneapolis, ModernWell's book club host, and the friendship columnist at The HerStories Project. She reviews 50 books a year on her blog and writes essays, short stories, and articles for other sites and print magazines. She lives in Minneapolis with her husband and four children.
Latest posts by Nina Badzin (see all)