What lights you up? I love that question so much. It's just right for this season if you want to put some deeper thought into Hanukkah. (Probably works for all the winter holidays, really.) It's taken me a long time to get to this mindset for Hanukkah to tell you the truth.
When it was a time for me to writer an article for Kveller this year on the subject of Hanukkah, I thought I had nothing left to say. I've been blogging for four years, which means I have had four years of holiday posts. (Two got syndicated to the Times of Israel this week, which is sort of the Huffington Post of Israel. The same ones were syndicated in print Jewish papers all around the U.S.)
However, most of my Hanukkah posts, including those syndicated ones, were not really about Hanukkah at all. Actually, they were more about Christmas. Frankly, I've been something of a Hanukkah downer. As I wrote this year's Hanukkah post, I realized it was time for me to change my Hanukkah attitude and put the same passion into it that I put into most other Jewish holidays throughout the year.
Here's a snippet from my post on Kveller this week: "No More Hanukkah Downer."
"Reforming my ways also means that when I see stores selling Hanukkah stockings, Hanukkah tree toppers, and Hanukkah tinsel or wreaths, I'll take a deep breath and not let it send me into a tailspin of worry about the future of pluralistic Judaism. It means I will remember that it's not Bed, Bath and Beyond's responsibility, nor Amazon's, to preserve the logical thematic separation between Hanukkah and Christmas."
At the end I talk a bit about what lights me up, and ask what lights you up. I hope you'll join me over there to discuss.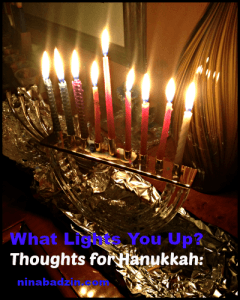 AND, I have a RADIO UPDATE!
I had such a great time on the Jordana Green show the other night on our local CBS radio station (WCCO). The best surprise was that my husband, Bryan, joined in on the conversation. We talked about what to do if you don't like the spouse of a close friend. AND, we discussed a news item related to the question of whether you should tell a stranger if you know their spouse is cheating.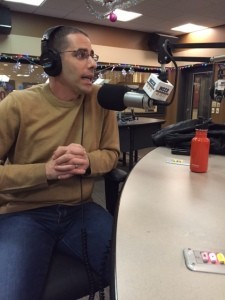 The following two tabs change content below.
Nina Badzin is a freelance writer, a writing workshop leader at ModernWell in Minneapolis, ModernWell's book club host, and the friendship columnist at The HerStories Project. She reviews 50 books a year on her blog and writes essays, short stories, and articles for other sites and print magazines. She lives in Minneapolis with her husband and four children.
Latest posts by Nina Badzin (see all)